Gone Girl (Mass Market Paperbound)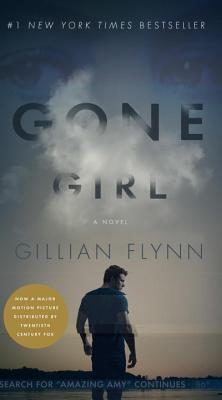 Email or call for price
Special Order - E-mail us directly - We may have a used book!
Staff Reviews
---
While I admit to not being objective about her books – her first two were also brilliant, audacious and astonishing – this one deserves those words in bold, italicized caps. The trick is that I cannot tell you much about it. Fran's right – it is pretty much a 'trust me' book.
Nick and Amy had both lost their jobs in NYC and moved back to Nick's hometown in Northwest Missouri to help care for his dying mother. They've been there a couple of years at the start of the story and their relationship has withered. On the morning of their 5th wedding anniversary, Amy vanishes. There are signs of a struggle in the house. As the cops investigate, they're frustrated by Nick's inability to explain much and how his answers don't add up. These chapters are told by Nick.
They alternate with chapters from Amy's diary, which tell you the history of the relationship, how happy they were at first but how things began to slide once they reached Missouri.
It becomes clear early that Nick isn't telling all he knows to you, the reader, or to the cops. You want to pull for Nick but you begin to have your doubts. He's just such a schlub: "Desi seemed the definition of a gentleman: a guy who could quote a great poet, order a rare scotch, and buy a woman the right piece of vintage jewelry. He seemed, in fact, a man who knew inherently what women wanted – across from him, I felt my suit wilt, my mannner go clumsey. I had a swelling urge to discuss football and fart."
At the same time, you want to side with Amy but it starts to feel as if she was no peach, either. In one part, she watches from the motel pool: "I can see a blond head bobbing across the parking lot, and then the girl with the split lip comes through the chain-link gate with one of the bath towels from the cabins, no bigger than a tea towel, and a pack of Merits and a book and SPR 120. Lung cancer but not skin. She settles herself and applies the lotion carefully, which is different from the other beat-up women who come here – they slather themselves in baby oil, leave greasy shadows on the lawn chairs."
And that is all I can tell you. There are turns you might see coming, but I sure as hell didn't. Here is where other adjectives are needed: stunning, mind-blowing and funny come into play.
"I got nothing more than a fussy nap toward dawn, woke up an hour later with a hangover. Not a disabling hangover, but decent. I was tender and dull. Fuggy. Maybe a little drunk. I stutter-walked to Go's Subaru, the movement feeling alien, like my legs were on backward."
If you haven't read Gillian, please do. These are engrossing books peopled with full-blooded characters who are both believable and familiar. Her three books are not connected, so you can start anywhere. Her first was Sharp Objects, the second was Dark Places. It is always hard to peg an author easily to give someone an idea of what their writing is like: off the top of my head, I'd say Gillian is a mix of Woodrell, Pelecanos and Lehane – edgy, honest and with the raucus dark humor of the cynic.
"He had beefed up over the years, as had his brother: they weren't just barrel-chested but barrel-everythinged. Standing side by side, they were about five hundred pounds of dude."
Book of the year, hands down.
Brilliant, audacious and astonishing.
— JB
If you like dark, twisty, wickedly intelligent and fast-paced books, have you tried Gillian Flynn? You need to. Seriously.
With her third book, Gone Girl, Flynn takes a good, hard look at how people percieve themselves, the people they love and the way society percieves them and us. It isn't pretty, but it is disturbingly real.
I don't want to get too much into the plot; JB covered it brilliantly at the first of the month (you can see his review on our GoodReads page) except to say that Nick Dunne's wife, Amy, is missing, and the story is told in alternating chapters, Nick's point of view and Amy's diary.
It's the writing, the observations Gillian Flynn makes about people that hits home with a vengeance.
"We stare at the wonders of the world, dull-eyed, underwhelmed. Mona Lisa, the Pyramids, the Empire State Building. Jungle animals on attack, ancient icebergs collapsing, volcanoes erupting. I can't recall a single amazing thing I have seen firsthand that I didn't immediately reference to a movie or TV show. [snip] I've literally seen it all, and the worst thing, the thing that makes me want to blow my brains out, is: The secondhand experience is always better. The image is crisper, the view is keener, the camera angle and the soundtrack manipulate my emotions in a way reality can't anymore. I don't know that we are actually human at this point, those of us who are like most of us, who grew up with TV and movies and now the Internet. If we are betrayed, we know the words to say; when a loved one dies, we know the words to say. If we want to play the stud or the smart-ass or the fool, we know the words to say. We are all working from the same dog-eared script."
There are twists and turns, and I found my sympathies changing almost on a page-by-page basis. These people, with all their flaws and strengths, moments of brilliance and complete jackassery, altruism and overwelming selfishness, these people have carved a place in my heart. JB may very well be right. If this isn't the book of the year, it's in the top two. Read it.
— F
This is a joint movie/book review, of a sort. (wow – what an engaging way to begin something!)
I've been a fan of Gillian Flynn's writing
since I first read the advance copy of her debut in 2005. She's a
brilliant writer, with sparkling sentences and dynamic plots. Added to
this is that she purposefully creates characters who are difficult to
like and puts them in uncomfortable situations, and her works are
fascinating combinations of opposites. When it was announced that Gone
Girl was to be made into a movie with David Fincher directing a script
that she'd write I saw it as good news. The book would not be an easy
book to transfer to film. But I was perplexed to hear, as the movie
neared release, that she'd changed the ending for the movie. Why mess
with a great thing?
When I saw the movie, I couldn't really tell
what had been changed. It had been at least two, if not three, years
since I read it and details of even the most enjoyed books fade. But it
seemed as it the movie stayed true to the book. The only thing to do was
to re-read the book. So I just did.
Certainly, plot lines are streamlined.
Scenes are omitted, characters are marginalized or dropped
altogether.That happens with nearly any adaptation. But the movie Gone
Girl is a very faithful adaptation that has minor changes to the story
but nothing major. The ending of the movie is faithful to the ending of
the novel with some small tweaks.
Like what? Nope – can't tell you that.
What I can tell you is that what is missing
from the movie is the joy of reading her writing. Crimminy, that woman
can write sentences that astonish, that end up in unexpected places.
Chandler wrote that Hammett's strength was that he wrote scenes that
never before had been written. Flynn does that but also writes sentences
that have never before been written.
So do go see Gone Girl. Great movie, great cast, very well crafted by very talented people. But read the book first.
— JB
June 2012 Indie Next List
---
"Told from the alternating perspectives of Amy and Nick whose marriage is falling apart in small-town Missouri, this is first a story of perfect young love in Manhattan, followed by its slow disintegration after both partners lose their jobs and move to Nick's hometown to help his family through his mother's terminal illness. When Amy disappears, who is innocent and who is guilty? Slowly, each spouse's lies and deceptions are laid bare until the real foundation of their relationship is revealed. A tale reminiscent of Scott Turow, with a veneer of crazy all its own!"
— Susan Taylor, Book House of Stuyvesant Plaza, Albany, NY
Description
---
The #1 "New York Times" Bestseller
On a warm summer morning in North Carthage, Missouri, it is Nick and Amy Dunne's fifth wedding anniversary. Presents are being wrapped and reservations are being made when Nick's clever and beautiful wife disappears. Husband-of-the-Year Nick isn t doing himself any favors with cringe-worthy daydreams about the slope and shape of his wife's head, but passages from Amy's diary reveal the alpha-girl perfectionist could have put anyone dangerously on edge.Under mounting pressure from the police and the media as well as Amy's fiercely doting parents the town golden boy parades an endless series of lies, deceits, and inappropriate behavior. Nick is oddly evasive, and he's definitely bitter but is he really a killer?
About the Author
---
GILLIAN FLYNN is the author of the runaway hit "Gone Girl," an international sensation that has spent more than seventy-five weeks on the "New York Times" bestseller list. Her work has been published in forty languages." Gone Girl" is soon to be a major motion picture from Twentieth Century Fox. Flynn s previous novels, "Dark Places" and Dagger Award winner "Sharp Objects," were also "New York Times" bestsellers. A former writer and critic for "Entertainment Weekly," she lives in Chicago with her husband and son."