Spirit of Steamboat: A Walt Longmire Story (Hardcover)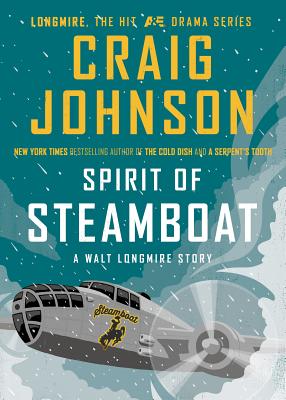 Email or call for price
Special Order - E-mail us directly - We may have a used book!
Staff Reviews
---
Craig Johnson and Charles Dickens, the perfect combination, if you ask me. Craig's book, Spirit of Steamboat is a Christmas tale, interweaving snippets of A Christmas Carol into a beautiful and poignant tale of long ago and how it spins into now.
Walt's reading the Dickens classic in his office on the Tuesday before Christmas, the snow falling softly and Dog asleep by his side, when Ruby tells him there's a young lady who wants to talk to him. 
"A dark-haired woman dressed in jeans and a long, elegant black wool coat stood in the doorway -- she was clutching a garment bag and smiling a nervous smile, and was small and delicately boned with pale skin and what looked like a hairline crack in the porcelain of her forehead, almost as if she'd been made of china and at one point dropped."
She refuses to give her name, but is really searching for Lucian Connally; she has something to give him. Walt takes her to see Lucian, and the story that is revealed is filled with typical Johnson heart, compassion and some seriously seat-edge action. 
This is a beautiful, little book, and fans of Craig Johnson are going to want a copy of Spirit of Steamboat. It is signed on a tipped-in page, but we're positive Craig will be back in at some point -- probably next year (right, Craig?), and you can get it signed on the title page, if that's your style. But the heart of the book is one that will touch every Scrooge, and is perfect for the upcoming season of kindness and remembrance.
— Fran
Description
---
A Christmas novella for fans of the hit drama series LONGMIRE now on Netflix and the New York Times-bestselling series.
Craig Johnson's new novel, The Western Star, will be available from Viking in Fall 2017.

Sheriff Walt Longmire is in his office reading A Christmas Carol when he is interrupted by a ghost of Christmas past: a young woman with a hairline scar and more than a few questions about his predecessor, Lucian Connally. With his daughter Cady and undersherrif Moretti otherwise engaged, Walt's on his own this Christmas Eve, so he agrees to help her.
At the Durant Home for Assisted Living, Lucian is several tumblers into his Pappy Van Winkle's and swears he's never clapped eyes on the woman before. Disappointed, she whispers -Steamboat- and begins a story that takes them all back to Christmas Eve 1988--a story that will thrill and delight the bestselling series' devoted fans.
About the Author
---
Craig Johnson is the author of the award-winning and New York Times bestselling Walt Longmire mystery series, the basis for Longmire, the hit A&E original drama series. Johnson's next Longmire novel, Any Other Name, will be published June 3, 2014. He lives in Ucross, Wyoming, population twenty-five. Visit craigallenjohnson.com and aetv.com/longmire.
Praise For…
---
Praise for Spirit of Steamboat

"A nail-biter."—Publishers Weekly

"Johnson is a born storyteller, and he spins this old-fashioned adventure tale deftly….An extremely pleasant present for fans of this popular series."—Booklist

"A suspenseful adventure story….Series fans along with adventure and Western readers will raptly devour the details."—Library Journal

"Like flint to stone, the sparks fly and the humour is brilliant and barbed. . ."—Fresh Fiction

Praise for Craig Johnson and the Walt Longmire Mystery Series
 

"Like the greatest crime novelists, Johnson is a student of human nature. Walt Longmire is strong but fallible, a man whose devil-may-care stoicism masks a heightened sensitivity to the horrors he's witnessed. Unlike traditional genre novelists who obsess mainly over every hairpin plot turn, Johnson's books are also preoccupied with the mystery of his characters' psyches."—Los Angeles Times
 

"Johnson knows the territory, both fictive and geographical, and tells us about it in prose that crackles."—Robert B. Parker
 

"The characters talk straight from the hip and the Wyoming landscape is its own kind of eloquence."—The New York Times
 

"[Walt Longmire] is an easy man to like…Johnson evokes the rugged landscape with reverential prose, lending a heady atmosphere to his story."—The Philadelphia Inquirer
 

"Stepping into Walt's world is like slipping on a favorite pair of slippers, and it's where those slippers lead that provides a thrill. Johnson pens a series that should become a 'must' read, so curl up, get comfortable, and enjoy the ride."—The Denver Post
 

"A winning piece of work…There's a convincing feel to the whole package: a sense that you're viewing this territory through the eyes of someone who knows it as adoring lover and skeptical onlooker at the same time."—The Washington Post
 

"Johnson's pacing is tight and his dialogue snaps."—Entertainment Weekly
 

"Truly great. Reading Craig Johnson is a treat…[He] tells great stories, casts wonderful characters and writes in a style that compels the reader forward."—Wyoming Tribune Eagle