The Book of Life (Hardcover)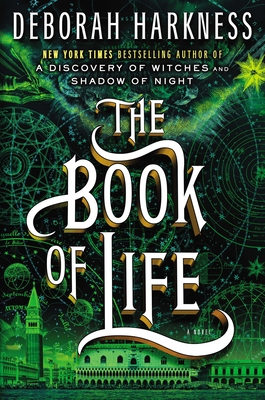 $28.95
Usually Ships in 1-5 Days
Staff Reviews
---
When Deborah Harkness came in to sign The Book of Life, talking with her inspired me to re-read the first two, to read the completed trilogy as a whole. So I started with Discovery of Witches (Perseus, $16.00), continued with Shadow of Night (Perseus, $17.00) and finished up the trilogy four days after I started the whole journey again.
Man, are these good books!
For those who are already in love with the "All Souls" books, Ms. Harkness fulfills the promise of the first two books. Her resolutions to the various problems, including what Ashmole 782 really is and can do, and how it relates to Diana, is beautifully complex, and is completely satisfying. She's left herself openings to continue in this world if she wants to, but if she doesn't, that's fine too, although I hope she does come back to it, because I really love these people.
For those who are unfamiliar with the trilogy, Diana Bishop is a professor of history focusing on alchemy. She's also a witch, one who hates to use her magic and keeps track of any infractions she indulges in. When she "calls" a dusty old book to her for her research, Ashmole 782, Diana sets into motion events that will change more than just her life.
You see, Ashmole 782 may very well be the history of the origins – and possibly the ways to destroy – all the witches, vampires and daemons roaming the earth. Each species wants it, and will do anything to keep the others from finding it. However, Diana teams up with Matthew, a vampire with a secret. She and Matthew challenge the established order of things, and in doing so, find each other.
Deborah Harkness is herself a professor of history, so her take on the creation of Ashmole 782 and the impact a single book can have on whole populations. What happened to witches in the past, and various historical events that highlighted the vampires' lives is brilliantly depicted and elegantly woven. You know you can trust the facts as well as her interpretation and spin on what happened. Her writing is rich and lush, and she has built a world that is completely believable and real.
But it's her people who are at the heart of the trilogy. All the beautiful background in the world wouldn't matter if you didn't care about the people, and in the pages of these books. You meet some amazing, troubled, determined, and memorable characters. Even her secondary and tertiary characters are fully developed; they matter.
I enjoyed re-reading the first two, and I know without a doubt that I'll re-read these time and time again. This is, without a doubt, one of the best trilogies I've ever read.
— Fran
August 2014 Indie Next List
---
"It's finally here, the book all Harkness' fans have been waiting for! Matthew and Diana have returned to the future and things have changed, as have they. Surprising twists and turns make this a delightful conclusion to the All Souls trilogy. While Harkness ties up loose ends, her complex characters leave enough room for her to return to this world should she wish to. With history, genetics, and morality all playing out, this is the very best in escapist fantasy for all readers!"
— Marika McCoola, Northshire Bookstore, Manchester Center, VT
Description
---
The highly anticipated finale to the #1 New York Times bestselling trilogy that began with A Discovery of Witches After traveling through time in Shadow of Night, the second book in Deborah Harkness's enchanting series, historian and witch Diana Bishop and vampire scientist Matthew Clairmont return to the present to face new crises and old enemies. At Matthew's ancestral home at Sept-Tours, they reunite with the cast of characters from A Discovery of Witches--with one significant exception. But the real threat to their future has yet to be revealed, and when it is, the search for Ashmole 782 and its missing pages takes on even more urgency. In the trilogy's final volume, Harkness deepens her themes of power and passion, family and caring, past deeds and their present consequences. In ancestral homes and university laboratories, using ancient knowledge and modern science, from the hills of the Auvergne to the palaces of Venice and beyond, the couple at last learn what the witches discovered so many centuries ago. With more than one million copies sold in the United States and appearing in thirty-eight foreign editions, A Discovery of Witches and Shadow of Night have landed on all of the major bestseller lists and garnered rave reviews from countless publications. Eagerly awaited by Harkness's legion of fans, The Book of Life brings this superbly written series to a deeply satisfying close.
About the Author
---
Deborah Harkness is the number one New York Times bestselling author of A Discovery of Witches and Shadow of Night. A history professor at the University of Southern California, Harkness has received Fulbright, Guggenheim, and National Humanities Center fellowships. She lives in Los Angeles.