Any Other Name (Hardcover)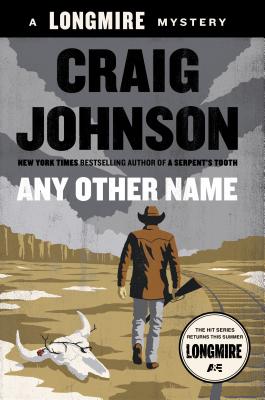 Email or call for price
Special Order - E-mail us directly - We may have a used book!
Staff Reviews
---
The books that grab me the most are those that are organic, which is how I describe a book where everthing fits together, where the writing, the desriptions, and the plot all weave together with the themes to become an organic whole. Take one element out and the book is simply ordinary instead of being outstanding.
Any Other Name, the new and 10th Longmire novel from Craig Johnson, is outstanding, a step above even his high level of work.
Though he's expected in Philadelphia for the birth of his first grandchild, Walt is dragooned by Lucian into investigating the suicide of a retired cop from another county, an old friend who was so straight-arrow that suicide is inexplicable. Lucian is doing this for the widow who wants answers even though he tells her: "'I want to warn you that if you put Walter on this you're going to find out what it's all about, one way of the other'. Another pause, and I could imagine the face that was peering down at her, a visage to which I was accustomed. 'You Sure you want that? Because he's like a gun; once you point him and pull the trigger, it's too late to change your mind.'" And off we go, even as the countdown to the birth of Cady's child is running.
And things running, things speeding toward you, change and danger on a collision course are everywhere in this book in the personification of trains – long, fast, massive trains, unstoppable and as implacable as time. It's like a riff in an old blues song. And when he's away from the iron rails, he's confronted by buffalos in a blizzard, creatures potentially as deadly as iron horses.
"Still holding her next to me, I watched silently as the thing passed by, car after car. She began crying and clutched me, finally converting the sobs into a low and steady moan that unintentionally mimicked the train's whistle in a sad and wrenching lament."
Boy, howdy…
Walt – that poor man – is once again up to his knees in snow, as well as crime. But he's supported by all of the people you expect and hope to find in one of his stories. Will they all make it to Philadelphia for the birth? Can Walt wrap up the case and make his flight in time? Will Lucian shoot another coffee pot? (you'll understand.)
If you haven't read any of the Longmires, you're missing out on a spectacular treat. If you've watched the show "Longmire" you're getting only half the fun, as good as the show is.
Book of the Year.
— JB
Description
---
A sheriff's mysterious death spurs the tenth novel in theNew York Timesbestselling Longmire series, the basis for the hit drama seriesLONGMIRE, now on Netflix
InAny Other Name, Walt is sinking into high-plains winter discontent when his former boss, Lucian Conally, asks him to take on a mercy case in an adjacent county. Detective Gerald Holman is dead and Lucian wants to know what drove his old friend to take his own life. With the clock ticking on the birth of his first grandchild, Walt learns that the by-the-book detective might have suppressed evidence concerning three missing women. Digging deeper, Walt uncovers an incriminating secret so dark that it threatens to claim other lives even before the sheriff can serve justice Wyoming style.
About the Author
---
Craig Johnson lives in Ucross, Wyoming, population 25.