The Reckoning (Hardcover)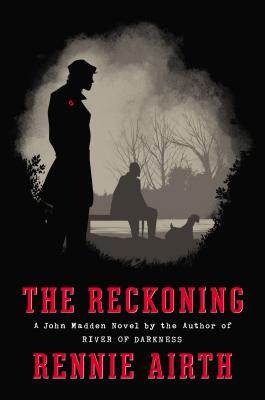 Email or call for price
Special Order - E-mail us directly - We may have a used book!
Staff Reviews
---
Rennie Airth isn't a book-a-year writer, which is frustrating for us, his fans, but the trade-off is that, when one arrives, you know you're in for a wonderful read, and his latest book, The Reckoning is just as good as you know it will be.

The year is 1947, John Madden is retired from the Yard and he's quietly content being a farmer and sometimes looking after retired Chief Inspector Angus Sinclair's roses while Sinclair's visiting his sister in Scotland. Then a man named Oswald Gibson is murdered, and among his papers is a letter to Scotland Yard, asking how to find John Madden. Despite Madden's phenomenal memory, he has no recollection of Gibson, and further investigation leads Madden to believe that what's happening now stems from something that happened in the Great War. With Billy Styles taking the lead, Madden is drawn into a race to catch what may be the most ruthless executioner they've ever tracked down.

Full disclosure here, I figured out whodunnit partway through. But the joy of Rennie Airth's writing is that, in a way, it took pressure off me and I could relax and enjoy the seamlessness of his writing, the beautifully crafted story that is compelling and human and a total joy to read. The Reckoning had the enviable and almost impossible to fill position of being an old friend I'd met for the first time.

If you haven't read the John Madden series, you really do need to read them in order. Begin with River of Darkness and continue on through The Blood-Dimmed Tide and The Dead of Winter so that when The Reckoning comes out in August, you'll be ready to spend quality time with wonderful and complex people. I can't recommend this series highly enough!
— Fran
Description
---
Inspector John Madden who debuted in River of Darkness returns in a gripping post World War II murder mystery
On a quiet afternoon in 1947, retired bank manager Oswald Gibson is shot in the head while fishing. In Scotland, a respectable family doctor is killed in the same
manner and with the same gun. What is the connection? Scotland Yard's Detective Inspector Billy Styles and local detective Vic Chivers are baffled until a letter from
Gibson is discovered that might shed some light on the case a letter concerning former Scotland Yard detective John Madden. Despite Madden's legendary memory, he has no recollection of meeting Gibson or any idea of what their relationship might have been. Madden is happily retired from police work, but agrees to help his former protege Styles and the clues they uncover only deepen the mystery. When a third man is killed in a similar fashion, Madden and Styles find themselves in a race against time to find the killer before another man ends up dead.
A smart, intricately plotted mystery, this is the fourth title in the critically acclaimed and much loved John Madden series.
About the Author
---
Rennie Airth is the author of six novels, including the John Madden series. The first, River of Darkness, was nominated for Edgar, Anthony, and Macavity awards, and won the Grand Prix de Litterature Policiere."