Nothing Stays Buried (Hardcover)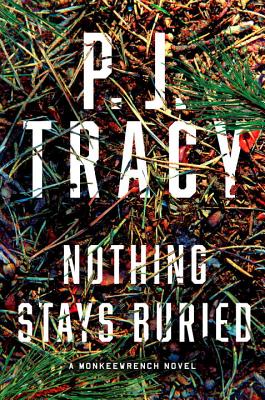 Staff Reviews
---
I have a confession to make.
I tend not to read the last book in a series that I like. I don't want it to be over, and it isn't if there's still one more book, right? Yeah, I'm weird, we all know that.
So, knowing that Patricia Lambrecht had passed on, I was prepared to set the last Monkeewrench novel aside until, well, sometime. Understand, I haven't read the last John Dunning yet. It could be a long time.
But then I saw that Traci was planning on keeping things going, so I dove into the new P.J. Tracy, Nothing Stays Buried and it's fabulous, as usual. There's a serial killer loose in the Twin Cities that has Magozzi and Rolseth deeply worried because they know they may have at least two undiscovered bodies out there. And the Monkeewrench gang have taken their gigantic mobile station into the southern part of the State to help an old farmer find his missing daughter.
And then there's the lion.
In The Sixth Idea, I whined that there wasn't enough time spent with the rest of the Monkeewrench gang, and I am happy to report that the whole gang is back together and doing what they do best! Nothing Stays Buried is a fast, fast read, and the trademark twists and unexpected goings-on are present as always, along with the wit and dark shadows.
If you haven't read any of the Monkeewrench books, it's high time you started!
— Fran
Description
---
The Monkeewrench crew returns to face the city of Minneapolis's worst nightmare--a rampant serial killer on the loose--in the electrifying new thriller. When Minneapolis homicide detectives Leo Magozzi and Gino Rolseth are called to a crime scene in a heavily wooded city park, everything about the setting is all too familiar. And when they discover a playing card on the victim's body, their worst fears are confirmed--there's a serial killer operating in the city for the first time in years. Across town, Grace MacBride and her unconventional partners at Monkeewrench Software find themselves at both personal and career crossroads. Weary of the darker side of their computer work for law enforcement, they agree to take on a private missing-persons case in a small farming community in southwestern Minnesota. As the violence accelerates in Minneapolis, Magozzi and Gino soon realize their killer is planning to complete the deck, and they enlist Monkeewrench to help stop the rampage. As a baffling tangle of evidence accumulates, the cops and Monkeewrench make the unlikely connections among a farmer's missing daughter, a serial killer, and a decades-old stabbing that brings them face-to-face with pure evil.
About the Author
---
P. J. Tracy is the pseudonym of the bestselling mother-daughter writing team Patricia ("P. J.") Lambrecht and Traci Lambrecht, whose Monkeewrench novels have won the Anthony, Barry, Gumshoe, and Minnesota book awards. P. J. was a longtime resident of Minnesota until her death in December 2016. Traci remains in rural Minnesota, just outside Minneapolis, and continues writing about the Monkeewrench gang.