The Hanging Tree (Mass Market Paperbound)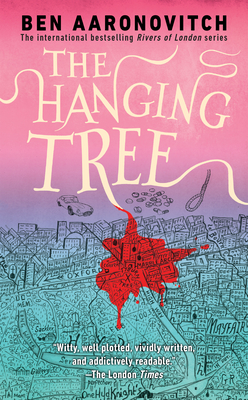 $7.99
Usually Ships in 1-5 Days
Staff Reviews
---
Remember last year when I spent a great deal of hollering, "Darn you, Amber!"? Well, one of the series she got me hooked on was Ben Aaronovich's "Rivers of London" series, and the latest one, The Hanging Tree is out and I've got to tell you, he's hit it out of the park again. Ben Aaronovich is one of those consistantly great authors, and you know you're in for a treat when you pick up his books.
I don't want to say too much about the plot because it relies on you having read the rest of his books, but suffice it to say that Peter's in trouble again. Remember in Whispers Underground where he made a promise to Lady Tyburn? She's out to collect. AND Peter's mom is starting ask when she'll be a grandmother. It's hard to say which pressure has Peter more wide-eyed and shaken.
If you haven't read the "Rivers of London" series, Peter Grant is a biracial London copper who works with Detective Inspector Thomas Nightingale invesitgating those crimes that are suspiciously otherworldly. The first book is Midnight Riot (Daw, $7.99) and the prime witness in a murder there is a ghost. One of the fabulous things about this series is that Ben Aaronovich lays out threads early on, and when you've forgotten them, he tugs at them and reminds you that he's got all kinds of interesting things burbling under the surface of his books.
The fact that they're very smart and really funny doesn't hurt either! I love them so much, I re-read the entire series before I picked up The Hanging Tree so I'd be completely immersed in Peter Grant's world, and now I don't want to leave!
— Fran
Description
---
Ben Aaronovitch's bestselling Rivers of London urban fantasy series - "The perfect blend of CSI and Harry Potter." --io9
Suspicious deaths are not usually the concern of Police Constable Peter Grant or the Folly--London's police department for supernatural cases--even when they happen at an exclusive party in one of the flats of the most expensive apartment blocks in London. But the daughter of Lady Ty, influential goddess of the Tyburn river, was there, and Peter owes Lady Ty a favor.
Plunged into the alien world of the super-rich, where the basements are bigger than the houses, where the law is something bought and sold on the open market, a sensible young copper would keep his head down and his nose clean.
But this is Peter Grant we're talking about.
He's been given an unparalleled opportunity to alienate old friends and create new enemies at the point where the world of magic and that of privilege intersect. Assuming he survives the week...
About the Author
---
Ben Aaronovitch was born in London in 1964 and had the kind of dull routine childhood that drives a man either to drink or to science fiction. He is a screenwriter, with early notable success on BBC's legendary Doctor Who, for which he wrote some episodes now widely regarded as classics, and which even he is quite fond of. After a decade of such work, he decided it was time to show the world what he could really do, and embarked on his first serious original novel. The result is Midnight Riot, the debut adventure of Peter Grant. He can be contacted at his website, http: //www.the-folly.com/.