The Wrong Girl (Hardcover)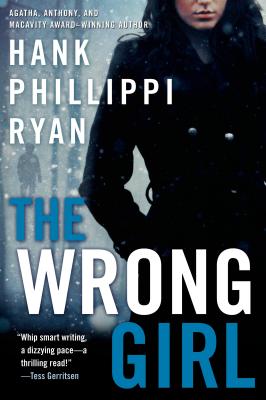 Email or call for price
Special Order - E-mail us directly - We may have a used book!
Staff Reviews
---
Nowadays I tend to read grittier novels and urban fantasy, but there was a time when I read everything by Mary Higgens Clark. While reading Hank Phillippi Ryan's latest, The Wrong Girl, I was reminded of Clark's style, but with perhaps a bit more complexity, which I really enjoyed.
Jane Ryland now works for a Boston newspaper, having lost her TV reporting gig for refusing to disclose a source. Her investigative instincts are triggered when a friend of hers, Tuck Cameron, believes that the agency responsible for reuniting Tuck with her birth mother, the Brannigan Agency, may have sent her to the wrong woman. Jane wonders, if that's true, could it have happened to other families? Or is Tuck simply unwilling to believe the truth?
Detective Jake Brogan is investigating the death of a woman that looks like domestic violence, with the added horror of two toddlers having been left with the dead woman. If it hadn't been for that anonymous 911 call, who knows how long they would have been there? But Brogan notices something unsettling: in addition to the beds for the toddlers, there's an empty crib that looks like it's been used. If so, where's the baby?
In addition to following their own stories, and discovering how they overlap, Jane and Jake have their own personal issues to resolve, making both their investigations even more difficult.
The Wrong Girl is the sequel to The Other Woman, for which Ms. Ryan won the Mary Higgens Clark Award this past May. While I'm an advocate of reading series books in order, I can promise that The Wrong Girl does stand on its own, although if you read it first, you'll want to go back and read The Other Woman as well, I guarantee it!
Hank Phillippi Ryan is, in addition to being an award-winning author, an investigative reporter for 7News in Boston, and she's very good at what she does there, having won an impressive 28 Emmys and 12 Edward R. Murrow awards for her work, so when she writes about the journalistic world, you know you're getting the real deal.
The Wrong Girl is fast paced, complex, and very, very human. At the end, even though you know what has happened, whodunnit and why, Ryan doesn't tie everything up with a neat little bow. You're left with the knowledge that there are lives out there ready to be shattered, and not everyone is going to have a happy ending. Honestly, I very much liked the reality of it, getting the satisfaction of closure with the story without the cloying sweetness of everybody living happily ever after. This is a great book for people who like excellent writing and deeply human characters.
— Fran
Description
---
Award-winning and "Boston Globe" bestselling author Hank Phillippi Ryan presents a spine-chilling, heart-wrenching suspense novel that explores a terrifying scenario striking at the heart of every family.
Does a respected adoption agency have a frightening secret? Tipped off by a determined ex-colleague on a desperate quest to find her birth mother, Boston newspaper reporter Jane Ryland begins to suspect that the agency is engaging in the ultimate betrayal reuniting birth parents with the wrong children.
For detective Jake Brogan and his partner, a young woman's brutal murder seems a sadly predictable case of domestic violence, one that results in two toddlers being shuttled into the foster care system. Then Jake finds an empty cradle at the murder scene. Where is the baby who should have been sleeping there?
Jane and Jake are soon on a trail full of twists and turns that takes them deep into the heart of a foster care system in crisis and threatens to blow the lid off an adoption agency scandal. When the threatening phone calls start, Jane knows she is on the right track but with both a killer at large and an infant missing, time is running out .
"The Wrong Girl" is a riveting novel of familial relationships both known and unknown vile greed, senseless murder, and the ultimate in deception. What if you didn't know the truth about your own family?
"The Wrong Girl" is the winner of the 2013 Agatha Award for best contemporary novel.
About the Author
---
HANK PHILLIPPI RYAN is the investigative reporter for Boston's NBC affiliate, and has won twenty-eight Emmys and ten Edward R. Murrow awards. A Boston Globe bestselling author, Ryan has won the has won two Agatha Awards, in addition to the Anthony, Macavity, Daphne du Maurier, and Mary Higgins Clark Award. She's on the national board of directors of Mystery Writers of America and Sisters in Crime and is the author of The Other Woman, The Wrong Girl and Truth be Told.
Praise For…
---
"Whip-smart writing and a dizzying pace make The Wrong Girl a thrilling, one-night read!"
-- Tess Gerritsen, New York Times bestselling author of Last to Die
Praise for THE OTHER WOMAN

"Hank Phillippi Ryan is a star."
—Joseph Finder, New York Times bestselling author

"Innocent bystanders beware! This series is off and running. You better hope you can catch up."
—Sue Grafton, New York Times bestselling author

"What a wonderful heroine!  Anyone who loves smart, multi-dimensional characters will fall for Jane Ryland... It's a thrilling ride and thrilling read."
—Louise Penny, New York Times bestselling author