Martians Abroad (Hardcover)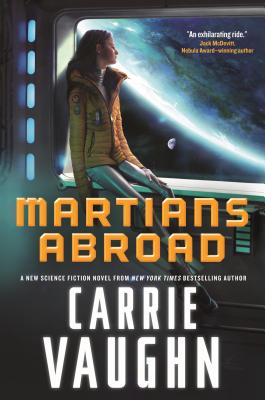 $24.99
Usually Ships in 1-5 Days
Staff Reviews
---
Polly and Charles are leaving home for the first time to join other kids at the Galileo Academy. Which wouldn't be remarkable - except home is Colony One on Mars. And Polly has to learn how to navigate in a whole new world, literally, as she will be leaving Mars for the first time to attend school on Earth….with the children of Earth's elite, navigating a social stratum which doesn't exist in Colony One, with rules she doesn't understand or even really care about.
Soon enough Polly starts making a few friends, others who come from settlments on orbiting stations and the Moon – and a few earth natives as well. Just when she's starting to adjust to her surroundings (and gravity) weird accidents start happening…
This is an interesting read – in a good way. Vaughn does a good job in placing you in Polly's shoes a human who is a Mars native viewing Earth and its eccentricities (and waste) for the first time - while keeping the narrative on track and without Polly ever sounding fussy or pretentious. And believe me, the narrative is tight, well plotted and never takes a break - every interaction is important for one reason or another.
There is one thing which makes me hesitate recommending this book to anyone who devours light science fiction mysteries. The reason? While the book is billed as an adult novel – it isn't. This is very much a young adult novel packaged to look like an adult one. It is told from the perspective of a seventeen year old girl who needs to discover who she is on Earth and who is out to sabatoge normally safe endeavors. So you need to have at least a small interest in reading YA novels to read this one – which is fine with me – but not everyone's cup of tea. I think due to her adult series, the publisher thought it was better to bill the book this way – but that is just me speculating.
But make no mistake about it - I enjoyed reading this book and would recommend it to any YA reader, adult or kid alike, who wants a fast-paced, focused mystery to read!
— Amber
Description
---
Well known for her Kitty Norville bestselling series, Carrie Vaughn has written Martians Abroad, a novel with great crossover appeal. Polly Newton has one single-minded dream, to be a starship pilot and travel the galaxy. Her mother, the Director of the Mars Colony, derails Polly's plans when she sends Polly and her genius twin brother, Charles, to Galileo Academy on Earth--the one planet Polly has no desire to visit. Ever.
Homesick and cut off from her own plans for her future, Polly cannot seem to fit into the constraints of life on Earth, unlike Charles, who deftly maneuvers around people and sees through their behavior to their true motives. Strange, unexplained, dangerous coincidences centered on their high-profile classmates begin piling up. Charles may be right--there's more going on than would appear, and the stakes are high. With the help of Charles, Polly is determined to find the truth, no matter the cost.
About the Author
---
CARRIE VAUGHN, the New York Times bestselling author of the Kitty Norville books, is also the author of the standalone novels After the Golden Age and Discord's Apple, and the young adult books Voice of Dragons and Steel.