A Deeper Darkness (Paperback)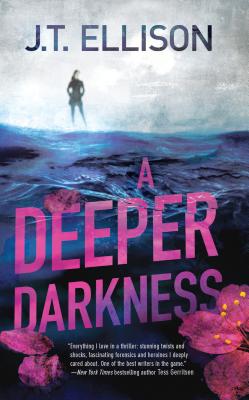 $14.95
Usually Ships in 1-5 Days
Staff Reviews
---
It's no secret I'm a fan of J.T. Ellison's "Taylor Jackson" series. Have been from the very beginning. So I was intrigued by her latest book, A Deeper Darkness since it follows Jackson's best friend, Dr. Samantha Owens, Nashville's forensic examiner. Sam has been by Taylor's side through all her challenges, and has taken a few serious hits along the way. So putting Sam into the spotlight seems to me to be a natural event. But could Ellison pull it off? Why yes. Yes, she can. I was puzzled, at first. At the beginning of the book, Sam is recovering from a serious loss, and I didn't remember that happening. But that's the beauty of A Deeper Darkness. As anyone who's read the Taylor Jackson series (and you have, haven't you?) knows, J.T. Ellison is not afraid of hitting hard, and she's more than deliciously capable of carrying you along in a flash flood of intrigue and heartbreak. In a nutshell, Sam is asked to go to Washington, DC, by the mother of a man Sam almost married fifteen years ago. Eddie Donovan was killed in what looked like a carjacking gone bad, but Eleanor is doubtful. Eddie's wife resents Sam being asked in, but grudgingly agrees to a second autopsy. When one of Eddie's friends, another Army Ranger and one of his closest buddies, is found murdered, things begin to really spiral and it's a race to see who will survive. J.T. Ellison has proved over and over again that she can spin a tale, write a non-stop thriller with the best of them. But with A Deeper Darkness, she examines some of the darkest and most trying times of anyone's life, and she does it with compassion and honesty. But don't let the emotions fool you, this is still a rollercoaster ride of a book!
— FRAN
May 2012 Indie Next List
---
"Eleanor Donavon doesn't believe her son's death resulted from a car-jacking gone bad, so she asks his former girlfriend, medical examiner Samantha (Sam) Owens, to perform a second autopsy. When Sam discovers a link between Eddie Donavon and another murder victim, she is drawn into the investigation. As the death toll increases, so does the mystery, until not just Sam, but also Donavon's wife and children are at risk as well. Tightly plotted and often surprising, this story drew me in and wouldn't let go. A gem!"
— Keri Rojas, Cornerstone Cottage Kids, Hampton, IA
Description
---

As a medical examiner, Samantha Owens knows her job is to make a certain sense of death with crisp methodology and precision instruments.
But the day the Tennessee floods took her husband and children, the light vanished from Sam's life. She has been pulled into a suffocating grief no amount of workaholic ardor can penetrateuntil she receives a peculiar call from Washington, D.C.
On the other end of the line is an old boyfriend's mother, asking Sam to do a second autopsy on her son. Eddie Donovan is officially the victim of a vicious carjacking, but under Sam's sharp eye the forensics tell a darker story. The ex-Ranger was murdered, though not for his car.
Forced to confront the burning memories and feelings about yet another loved one killed brutally, Sam loses herself in the mystery contained within Donovan's old notes. It leads her to the untouchable Xander, a soldier off-grid since his return from Afghanistan, and then to a series of brutal crimes stretching from that harsh mountainous war zone to this nation's capital. The tale told between the lines makes it clear that nobody's hands are clean, and that making sense of murder sometimes means putting yourself in the crosshairs of death.

About the Author
---
J.T. Ellison is the bestselling author of the critically acclaimed Taylor Jackson series, with novels published in 21 countries. A former White House staffer, she moved to Nashville and began research on a passion: forensics and crime. She has worked extensively with the Metro Nashville Police, the FBI and various other law enforcement organizations to research her novels. Visit www.JTEllison.com or follow her on Twitter @Thrillerchick.
Praise For…
---
"A DEEPER DARKNESS is not only a compelling thriller but a multilayered meditation on grief and loss. Dr. Samantha Owens is a forensic investigator with heart and soul and this is the start of a most promising new series for rising star JT Ellison."-New York Times bestselling author Jeff Abbot



"Fans of intelligently written, intricately crafted thrillers should definitely check out J.T. Ellison's latest Taylor Jackson novel, 14. Fusing gritty cop drama with dark psychological thriller, Ellison distinguishes herself with exceptional character development, consistently breakneck pacing and a sense of authenticity throughout."
-Chicago Tribune



"Mystery fiction has a new name to watch."
-John Connolly



"Ellison gets her Hitchcock on...just plain messing with her characters' heads until the superbly explosive end. Not to be missed!" – Lisa Gardner on Where All the Dead Lie



"Combines The Silence of the Lambs with The Wire."
-January Magazine on The Cold Room



"What J.T. Ellison has done with the city in her award-winning Taylor Jackson books is magnificent... Lovers of mystery and suspense fiction could not ask for more."
-Bookreporter



"Outstanding... The police procedural details never get in the way of the potent characterization and clever plotting, and Ellison systematically cranks up the intensity all the way to the riveting ending."
-Publishers Weekly, starred review on The Immortals



"Darkly compelling and thoroughly chilling, with rich characterization and a well-layered plot, All the Pretty Girls is everything a great crime thriller should be."
-Allison Brennan