Lie to Me: A Fast-Paced Psychological Thriller (Hardcover)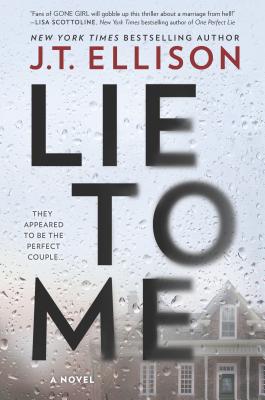 $26.99
Usually Ships in 1-5 Days
Staff Reviews
---
Fran Recommends:
"You aren't going to like me very much."
That's how J.T. Ellison's latest thriller, Lie To Me begins, and it ramps up from there.
"Of course it's my fault. I chose this path."
Sutton and Ethan Montclair's lives seem to be absolutely perfect. Two world-reknowned authors who've built a life together, obviously head over heels in love with each other, it just doesn't get better than this.
"But I also know right from wrong. I know good from evil."
Then Sutton goes missing, and of course, everyone looks to the husband first – standard procedure, after all – and it turns out that they've got some ugly secrets they've been hiding, both from the public and each other.
"I may be compelled to ruin the lives in front of me, but I could walk away if I wanted.
"Couldn't I?"
It's no secret I'm a long-time fan of J. T. Ellison (and I'm so jazzed about finally getting to meet her, you have NO idea!) so I knew I was in for a tautly told tale that would spin in all kinds of different directions. If you've read any of her work, you know how she can leave all the clues in plain sight and still blindside you.
"Truly, deep down, you are going to despise me. "
There will be the inevitable comparisons to Gillian Flynn's Gone Girl, and insofar as top-notch writing and breathless suspense go, those comparisons are on the mark. Lie To Me will keep you turning pages long into the night.
"I am all the bad things that happen to you."
But oh, as always, it's the people who draw me in, and J.T. Ellison has a particular talent of making each character, no matter how seemingly trivial, into a complete person, and it's easy to keep everyone clear because they're all so powerfully created.
"You're mine now. You are powerless against me. So don't bother fighting it."
She's right. You are. Holy cats, you want to read this book!
— Fran
Description
---
Domestic noir at its best. Readers will devour this stunning page-turner about the disintegration of a marriage as grief, jealousy, betrayal and murder destroy the facade of the perfect literary couple. New York Times bestselling author J.T. Ellison takes her exceptional writing to a new level with this breakout novel. They built a life on lies Sutton and Ethan Montclair's idyllic life is not as it appears. They seem made for each other, but the truth is ugly. Consumed by professional and personal betrayals and financial woes, the two both love and hate each other. As tensions mount, Sutton disappears, leaving behind a note saying not to look for her. Ethan finds himself the target of vicious gossip as friends, family and the media speculate on what really happened to Sutton Montclair. As the police investigate, the lies the couple have been spinning for years quickly unravel. Is Ethan a killer? Is he being set up? Did Sutton hate him enough to kill the child she never wanted and then herself? The path to the answers is full of twists that will leave the reader breathless.