House Odds (Hardcover)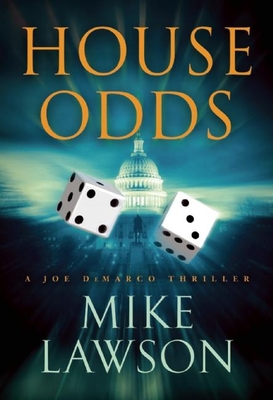 Email or call for price
Out of Print - E-mail us directly - We may have a used book!
Staff Reviews
---
If you've been reading and enjoying Block, Crais, Child, Pelecanos, Winslow, et al, you should also be reading Mike Lawson. He's not as well known, but definitely belongs among these heavy-hitters.
Mike happens to live in Seattle, but his books are primarily about "the other Washington," dealing mercilessly with the shenanigans that go on there. The protagonist of the series, Joe DeMarco, is a beneath-the-radar aide to the Speaker of the House of Representatives, an old-school politician named John Mahoney. Mike's a lawyer, but his father had mob ties, so Mike's not a good candidate for traditional law practice. Instead he handles delicate situations which Mahoney needs to keep out of the news. And Mahoney gets into a lot of delicate situations.
In House Odds, Mahoney's daughter has been accused of insider trading. In addition to giving him private distress as a parent, this may give Mahoney public distress as a politician whose rivals will surely use it in attempts to discredit him. So of course Mahoney turns to DeMarco to clean up the mess. And the scheme that Mahoney suggests is a wild one.
Mike Lawson is a very fine writer. His plots are devious and intriguing, and his characters are well developed. One of them, the mysterious retired spy-or-something Emma, often nearly takes over the story. (In fact she wouldn't let me end these comments without mentioning her.) Best of all, Mike writes with a barely contained chuckle in his voice.
House Odds is the 8th in this excellent series. I think it's the best one yet, based on its ingenious plot and on DeMarco's recognition that the one upright character (who fares badly in the story) is the sort we need most in our government. That said, my favorite is House Divided, which I think of as intra-national intrigue (a cat-and-mouse story about the FBI versus the CIA). Read them all, in order if you can but sequence is not terribly important.
— Bill
Description
---
Washington, D.C. fixer Joe DeMarco has been asked to handle a lot of difficult situations over the years for his boss, congressman John Mahoney. But nothing has ever been quite so politically sensitive, or has hit so close to home, as the task Mahoney hands DeMarco in "House Odds."
Mahoney's daughter has been arrested and charged with insider trading. An engineer with a high-flying technology firm, she allegedly placed a half-million dollar bet on one of the firm's clients. DeMarco's job is to clear her name and keep his boss clean. But how did she get her hands on so much money to invest in the first place? Before long, DeMarco uncovers far more about the case than meets the eye, and the risk to Mahoney is more than just a little political embarrassment.

About the Author
---
A former senior civilian executive for the U.S. Navy, MIKE LAWSON is the author of seven novels starring Joe DeMarco: "The Inside Ring," "The Second Perimeter," "House Rules," "House Secrets," "House Justice," "House Divided" and "House Blood." He lives in Seattle.
Praise For…
---
Outstanding."Publishers Weekly (starred review)