Cross and Burn (Hardcover)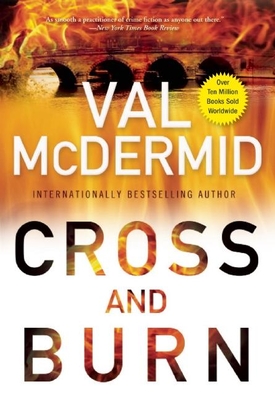 Email or call for price
Out of Print - E-mail us directly - We may have a used book!
Staff Reviews
---
You could pick up Val McDermid's latest book, Cross and Burn and read it without having read the earlier books in the "Tony Hill and Carol Jordan" series, but I wouldn't recommend it. Yes, it's wonderful, and the central crime is resolved, but the power of this book comes from knowing the characters, being invested in them. That's the power of any long-running series, isn't it? You care about the people.
I can't say too much about the plot without blurting out spoilers. There's a man kidnapping women who look a lot like Carol Jordan. The bodies are turning up, badly beaten and disfigured. All the evidence points to Tony. Things go very badly in many ways.
After the events in The Retribution, I have to admit I approached Cross and Burn with a certain amount of trepidation. So very much had happened in The Retribution and none of it was good. I knew that if anyone could salvage something from that firestorm, it would be Val McDermid, but I was still apprehensive. I have to, at times, remind myself to trust my authors, and that was never more true than this time.
There's a fluidity and power to Val McDermid's writing that makes her books flow smoothly and easily, and that talent makes reading the hard things she depicts compelling. But it's the people! Flawed, deeply damaged, but struggling to do the best they can, often at odds not only with others but with themselves, it's the people in her books that will bring you back time after time. In Cross and Burn, we get to see a lot more of Paula McIntyre, and I have to admit that I was pleased to see her take a more prominent role, to find her own strength while holding true to her core values.
If you haven't read this series and you like powerful, gritty, brilliant books, begin with The Mermaid's Singing and brace yourself for a real treat!
— Fran
Description
---
"McDermid is as smooth a practitioner of crime fiction as anyone out there. . . . She's the best we've got."--New York Times Book Review Internationally best-selling crime writer Val McDermid's work speaks for itself: her books have sold millions of copies worldwide, won numerous accolades, and attracted a devoted following of readers around the globe. Her latest, Cross and Burn, picks up where The Retribution left off: following the best crime-fighting team in the UK--clinical psychologist Tony Hill and police detective Carol Jordan--who when we last saw them were barely speaking, and whose relationship will now be challenged even further. Guilt and grief have driven a wedge between long time crime-fighting partners psychologist Tony Hill and ex-DCI Carol Jordan. But just because they're not talking doesn't mean the killing stops. Someone is killing women. Women who bear an unsettling resemblance to Carol Jordan. And when the evidence begins to point in a disturbing direction, thinking the unthinkable seems the only possible answer. Cornered by events, Tony and Carol are forced to fight for themselves and each other as never before. An edge-of-your-seat page-turner from one of the best crime writers we have, Cross and Burn is a chilling, unforgettable read. "Smooth. Confident. Deeply satisfying. What else can you say about McDermid's writing? . . . The Jordan-Hill relationship remains the star of the show. . . . It's a match made in heaven amid hell on earth."--Entertainment Weekly on The Torment of Others
About the Author
---
Val McDermid is the best-selling author of twenty-six previous novels, which have been translated into over forty languages and have sold over ten million copies worldwide.
Praise For…
---
Praise for The Vanishing Point

The Vanishing Point . . . is marked by [McDermid's] trademark stunners, including a climax that packs a vicious punch. And readers are again left to marvel at her ingenuity."Jay Strafford, Richmond Times-Dispatch

McDermid knows crime, but more importantly, she knows the dark side of men and women and the havoc they can wreak on each other's lives. . . . The Vanishing Point is a stand-alone and does it ever. . . . [The] opening is shocking, edge-of-your-seat unnerving and violent on different levels. The reader is immediately drawn in by Harker's overwhelming panic and fear. It's taut, smart, vivid writing."Victoria Brownworth, Lambda Literary

Her 26th novel opens with a nerve-shredding set piece that will send a chill down many a parent's spine. . . . . McDermid vividly conveys the rising terror and panic of the situation. . . . . McDermid keeps tension high with red herrings and plot twists. The sheer brio of her writing produces that increasingly rare thing, a genuine page-turner that doesn't insult its readers' intelligence."Shirley Whiteside, The Independent on Sunday (UK)

Praise for The Retribution

It's no big deal for an author to return to a beloved sleuthbut a beloved serial killer? . . . Hill and Jordan are two very bright detectives, but you still want to toss them under the bus when Jacko, who is every bit as charming as he thinks he is, flashes his come-hither smile."Marilyn Stasio, The New York Times Book Review

Everyone else's serial killers seem pale imitations. . . . Val McDermid . . . has the ruthless psychological scalpel that forms part of the equipment of all good novelists, whatever their genre. And, fortunately for us, she knows just how to use it."The Guardian

Gripping and well-written."The Philadelphia Inquirer