House Blood (Paperback)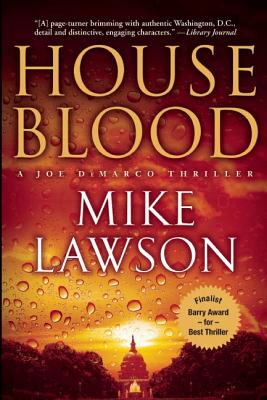 $15.00
Usually Ships in 1-5 Days
Staff Reviews
---
What can you say about a novelist whose books are so reliably spectacular that the annual write-up seems like a repeat? How many times can you say 'wonderful', 'terrific', 'entertaining' and 'amusing' without being tuned out? I know, authors would say 'don't worry about it – keep it up!'. They never get tired of hearing it. So here goes - -
Mike Lawson's House Blood is a flawless thriller, as they all have been. DeMarco is once again detailed to probe a matter for Rep. Mahoney (that's right, Mahoney is no longer the Speaker of the House, which leaves everyone uncertain about his – and DeMarco's – power). One of Mahoney's constituent's son was found guilty of murder. DeMarco is sent to go through the motions of an investigation to appease the woman but, as expected, he finds aspects of the story that don't add up. And off we go, with DeMarco, Emma and a crew of villains, oddballs, dupes and one great and awful femme fatale. Wait 'til you meet Fiona West. She's the evil mirror image of Emma and the center around which this crazy universe spins.
We're thrilled that all of Mike's earlier books are back in print. You never have had to read them in order – though we'd try to convince you to – but now you can easily plow through them. If you haven't read Lawson and would like to try him, maybe start with The Second Perimeter. It is set mostly around the Olympic Peninsula and is a good way for Northwesterners to start reading him. The first of what will soon be the seven books in the series is The Inside Ring and concerns an attempt on the President's life. I guess the point is not which book you pick to start reading Mike Lawson. The point is to begin reading him – now, hurry, what're you waiting for? He gets a full staff recommendation from the inmates at 117 Cherry.
Don't wait to start reading his outstanding thrillers with Joe DeMarco. You've got enough time to read all of the preceeding books before House Blood is out. You won't be sorry!
— JB
Okay, can someone please get in touch with Anthony LaPaglia's agent and pitch him Mike Lawson's House Blood? Seriously, this would be a massive blockbuster, if someone would take the time to make the film, and I've always envisioned LaPaglia as Joe DeMarco, although I'm sure there are other actors who could do a fine job. Actually, somebody should pitch the whole series, starting with The Inside Ring but House Blood has it all and would make one hell of a movie.
Granted, whichever director's smart enough to take it on (calling Mr. Soderbergh, Ms. Foster, Mr. Woo), no one will be able to capture the immense richness of the book. Sure, there's enough action -- a life-or-death scene on a back road in Peru, a shoot-out in downtown D.C., mercenaries in Uganda -- but it's the people and their situations that make this an exceptional book.
For those of us in the know, simply knowing it's a DeMarco book, that Emma has a life-threatening condition, that Mahoney is no longer Speaker of the House adds tension. But add into that a couple of truly psychopathic people, some good guys doing bad things, some good guys caught up in situations they're completely overwhelmed by, and then toss in power politics and big pharma, and you've got a gripping thriller that runs from gaspingly sad to laugh-out-loud funny, and the pages just can't be turned fast enough. No director will be able to capture the true scope of this book (sorry, Mr. Soderbergh, Ms. Foster, Mr. Woo, but it's just too rich to be captured in an hour-and-a-half thrill-ride), so you definitely need to read it.
But that doesn't mean it shouldn't be a movie, because it will be a seriously huge hit. Remember, you heard it here first!
— FRAN
About the Author
---
A former senior civilian executive for the U.S. Navy, MIKE LAWSON is the author of seven novels starring Joe DeMarco: "The Inside Ring," "The Second Perimeter," "House Rules," "House Secrets," "House Justice," "House Divided" and "House Odds." He lives in Seattle.