A Spy Among Friends: Kim Philby and the Great Betrayal (Hardcover)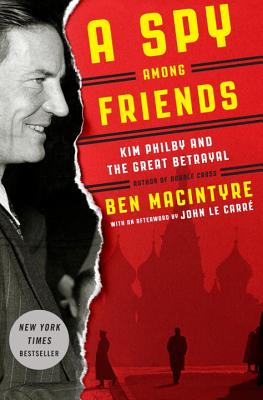 Email or call for price
Special Order - E-mail us directly - We may have a used book!
Staff Reviews
---
There's something particularly attractive to
me about the murky world of the background/underground of political
maneuverings and espionage and intelligence    work in the 20th C. From
the 1930s through WWII, and into the Cold War, was perhaps the only
period in American history to come close to what we think the Wild West
was like. Trenchcoats and fedoras replaced dusters and 10-gallon hats,
and the type of handguns differed, but that sensibility of an unruly
frontier is very similar. At least it is to me.
I've read a number of Ben MacIntyre's
earlier books on WWII spies and enjoyed them immensely and I can
unreservedly recommend his next book, A Spy Among Friends: Kim Philby
and the Great Betrayal. 
While Philby and the other Cambridge Spies
have been buried under thousands of pages of histories, analysis, and
psychological autopsy, MacIntyre takes a different aim. He rightly notes
that the world doesn't need yet another biography of the creep. Rather,
he comes at this period of time through the lens of the friendships of
the people involved, the relationships, and what was hidden from whom
and what that meant, and how those friendships affected how it all
played out. It is a fascinating book.
And what is most fascinating of all is that
we may never really know who was doing what. Here we are, six or seven
decades away from the betrayals at the center of the story, and the
facts are obscured through governmental policies of secrecy and personal
embarrassments. And we just have to live with that. In the meantime, we
have MacIntyre's brilliantly drawn image of the people and the places
involved without any numbing recitation of political philosophies. The
game is afoot and those playing are masters of their craft. What is most
astonishing is not that few suspected Philby of treachery, or that so
many could not conceive of it due to his being 'one of them', it is that
none of them died of alcohol poisoning before they were 30!
All of the Usual Suspects are present: James
Jesus Angleton, Donald MacLean, Guy Burgess, Ian Fleming, J. Edgar
Hoover, and Anthony Blunt, as well as some you may not know about - Klop
Ustinov (father of Peter), and Miles Copeland, Jr., a jazz trumpeter
from the Deep South who played in the Glen Miller Orchestra, was a
war-time spy, ex-CIA agent and 'espionage fixer', and whose son Stewart
would become a rock drummer (with The Police).
The thread that weaves throughout the book
is how everyone liked Philby, how everyone - men and women of all
nationalities - loved being in his company and thought of him as a great
friend, and MacIntyre, without ever saying it, leaves us to wonder if
we, too, could be taken in by this traitor, or if we believe we'd never
be fooled like these poor people were. And I think MacIntyre makes it
clear that we would have been, without a doubt.
Great book. Vastly entertaining. And very, very sad for all concerned and all touched by this man.
— JB
Description
---
Master storyteller Ben Macintyre's most ambitious work to date brings to life the twentieth century's greatest spy story. Kim Philby was the greatest spy in history, a brilliant and charming man who rose to head Britain's counterintelligence against the Soviet Union during the height of the Cold War--while he was secretly working for the enemy. And nobody thought he knew Philby like Nicholas Elliott, Philby's best friend and fellow officer in MI6. The two men had gone to the same schools, belonged to the same exclusive clubs, grown close through the crucible of wartime intelligence work and long nights of drink and revelry. It was madness for one to think the other might be a communist spy, bent on subverting Western values and the power of the free world. But Philby was secretly betraying his friend. Every word Elliott breathed to Philby was transmitted back to Moscow--and not just Elliott's words, for in America, Philby had made another powerful friend: James Jesus Angleton, the crafty, paranoid head of CIA counterintelligence. Angleton's and Elliott's unwitting disclosures helped Philby sink almost every important Anglo-American spy operation for twenty years, leading countless operatives to their doom. Even as the web of suspicion closed around him, and Philby was driven to greater lies to protect his cover, his two friends never abandoned him--until it was too late. The stunning truth of his betrayal would have devastating consequences on the two men who thought they knew him best, and on the intelligence services he left crippled in his wake. Told with heart-pounding suspense and keen psychological insight, and based on personal papers and never-before-seen British intelligence files, A Spy Among Friends is Ben Macintyre's best book yet, a high-water mark in Cold War history telling.
About the Author
---
BEN MACINTYRE is a writer-at-large for The Times of London and the bestselling author of Double Cross, Operation Mincemeat, Agent Zigzag, The Napoleon of Crime, and Forgotten Fatherland, among other books. Macintyre has also written and presented BBC documentaries of his work.
Praise For…
---
"The Philby story has been told many times, but never with such sensitivity. Almost inadvertently, Ben Macintyre, a Times columnist, provides a devastating critique of the British class system and the disasters that result when people assume they know people… A Spy Among Friends is an extraordinary book about a sordid profession in which the most important attribute is the ability to lie…. Macintyre's focus on friendship brings an intimacy to this book that is missing from the cardboard stereotypes that populate spy novels and conventional espionage histories…I'm not a lover of spy novels, yet I adored this book." –The Times of London
 
"Macintyre writes with the diligence and insight of a journalist, and the panache of a born storyteller, concentrating on Philby's friendship with and betrayal of Elliott and of Angleton, his pathetically dedicated admirer at the top of the CIA. Macintyre's account of the verbal duel between Elliott and Philby in their final confrontation in Beirut in 1963 is worthy of John le Carré at his best."–The Guardian

"A Spy Among Friends, a classic spookfest, is also a brilliant reconciliation of history and entertainment…An unputdownable postwar thriller whose every incredible detail is fact not fiction…[a] spellbinding narrative…Part of the archetypal grip this story holds for the reader is as a case study in the existential truth that, in human relations, the Other is never really knowable. For both, the mask became indistinguishable from reality…A Spy Among Friends is not just an elegy, it is an unforgettable requiem." –The Observer
 
"Ben Macintyre's bottomlessly fascinating new book is an exploration of Kim Philby's friendships, particularly with Nicholas Elliott… Other books on Philby may have left one with a feeling of grudging respect, but A Spy Among Friends draws out his icy cold heart…This book consists of 300 pages; I would have been happy had it been three times as long." –The Mail on Sunday 
 
"Such a summary does no justice to Macintyre's marvellously shrewd and detailed account of Philby's nefarious career. It is both authoritative and enthralling... The book is all the more intriguing because it carries an afterward by John le Carré." –The New Statesman

"No one writes about deceit and subterfuge so dramatically, authoritatively or  perceptively [as Ben Macintyre]. To read A Spy Among Friends is a bit like climbing aboard a runaway train in terms of speed and excitement–except that Macintyre knows exactly where he is going and is in total control of his material." –The Daily Mail
 
"Philby's story has been told many times before–both in biography and most notably in John le Carre's fictional masterpiece Tinker Tailor Soldier Spy–but never in such exhaustive detail and with such panache as in Ben MacIntyre's brilliant, compulsive A Spy Among Friends… Reads like fiction, which is testament to the extraordinary power of the story itself but also to the skills of the storyteller…One of the best real-life spy stories one is ever likely to read." –The Express
 
 "Ben Macintyre has written an engaging book on a tantalising and ultimately tragic subject. If it starts as a study of friendship, it ends as an indictment." –The Spectator