Lockdown: A Novel of Suspense (Hardcover)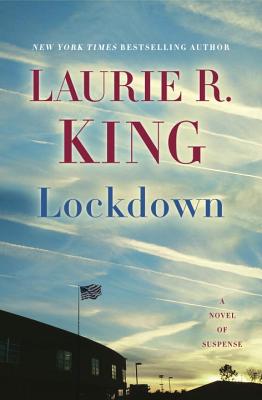 $28.00
Usually Ships in 1-5 Days
Staff Reviews
---
Laurie R. King took Alfred Hitchcock's rules of suspense to heart in her new stand-alone, Lockdown. You suspect you know what's going to happen – the title's Lockdown and there's a picture of a school on the front cover, so it's not really a spoiler there – so you go into the story knowing something bad will happen.
The ratchet-up, the suspense, comes from the way Laurie R. King builds our knowledge of Guadalupe Middle School in the small California town of San Felipe. Like many small schools in small towns, Guadalupe has seen its share of trouble, not the least the recent disappearance of 11-year-old Bee Cuomo. Linda McDonald is the principal who's doing her level best to make Guadalupe a good school again, and bit by bit, she's been succeeding. She's decided to have a Career Day for the kids, and bring in people to talk about what their jobs really entail.
Meanwhile, across town, a former student is on trial for the shooting death of another of Guadalupe's students, and as the trial progresses, tensions intensify since the accused has plenty of supporters, as does the surviving sister, a current student.
Told from multiple points of view, we come to know all the players who will ultimately be involved in the incident. Under the surface of small town life, there are plenty of secrets, and some could rip families into shreds.
"She had to be careful. This thespian-voiced Englishman could be some honest-to-God nut case setting a trap for a cop. A backwater town like San Felipe might not shelter as many toxic individuals as a big city, but that didn't rule anything out.
"When in doubt, take backup.
"And always be in doubt."
I freely admit I'm an anomaly in the Laurie R. King fanbase in that I tend to prefer her "Kate Martinelli" series over "Mary Russell". I know! But there you go, that's how I roll. So when Ms. King told me that a character from one of my favorite Martinelli books - Brother Erasmus, the Fool for God – makes an appearance in Lockdown, well, Amber can tell you that I both squeed AND did a happy dance! I was such a fangirl, it would be embarrassing, except I own it.
Lockdown is not a rollercoaster thriller. It builds, step by careful step, to its inexorable end, and if you think Laurie R. King isn't afraid of doing serious damage to her characters, you haven't been paying attention. And you will care about these people, even when you don't trust them. The kids, the teachers, the principal and her husband, the janitor, the cop, the secretary, the overbearing volunteer, they all catch your heart.
And she's left an opening for a sequel, so I can dream!
— Fran
Description
---
A community comes together when threatened by someone with a thirst for revenge in this stunningly intricate, tautly plotted novel of rich psychological suspense from the New York Times bestselling author of the Mary Russell mysteries. Career Day at Guadalupe Middle School: A day given to innocent hopes and youthful dreams. A day no one in attendance will ever forget. A year ago, Principal Linda McDonald arrived at Guadalupe determined to overturn the school's reputation for truancy, gang violence, and neglect. One of her initiatives is Career Day--bringing together children, teachers, and community presenters in a celebration of the future. But there are some in attendance who reject McDonald's bright vision. A principal with a secret. A husband with a murky past. A cop with too many questions. A kid under pressure to prove himself. A girl struggling to escape a mother's history. A young basketball player with an affection for guns. Even the school janitor has a story he dare not reveal. But no one at the gathering anticipates the shocking turn of events that will transform a day of possibilities into an explosive confrontation. Tense, poignant, and brilliantly paced, Laurie R. King's novel charts compelling characters on a collision course--a chain of interactions that locks together hidden lives, troubling secrets, and the bravest impulses of the human heart. Praise for Lockdown " Laura R.] King delivers, providing both a drama-filled anatomy of the school and a chance for its community to show its best by the way it confronts the worst Career Day imaginable."--Kirkus Reviews (starred review) "Shocking."--New York Post "A riveting story of suspense and tragedy out of the most seemingly mundane ingredients: kids and adults preparing for a day at school. The violence doesn't explode until we're well into the book, but the lead-up to the explosion has the feel of a brewing storm: we know something is going to happen, even if we don't know what it is. A fine thriller, as timely as it is gripping."--Booklist (starred review) The award-winning novels of Laurie R. King are . . . "Sharp, inventive and rewarding."--The Seattle Times "Audacious."--Los Angeles Times "Rousing . . . riveting . . . suspenseful."--Chicago Sun-Times "Impossible to put down."--Romantic Times "Beguiling . . . tantalizing."--The Boston Globe "Stunning."--The Christian Science Monitor "Delightful."--Booklist
About the Author
---
Laurie R. King is the New York Times bestselling author of fourteen Mary Russell mysteries, five contemporary novels featuring Kate Martinelli, the Stuyvesant & Grey novels Touchstone and The Bones of Paris, and the acclaimed A Darker Place, Folly, Califia's Daughters (written under the pen name Leigh Richards), and Keeping Watch. She lives in Northern California.