The Return (Hardcover)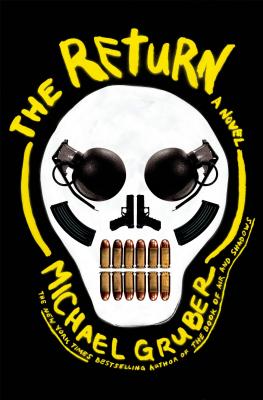 Email or call for price
Special Order - E-mail us directly - We may have a used book!
Staff Reviews
---
Fran Recommends:
We're all told not to judge a book by its cover, and I hope you'll keep that in mind when you pick up Michael Gruber's latest book, The Return. The cover gives the impression that The Return is a war novel, and to a certain extent that's true, but it's so much more than that!
Rick Marder has been living a quiet life in New York. But when he receives some life-changing news, he decides the time has come to complete something he's planned on doing for quite some time now down in Mexico. So he packs up and heads down to the Michoacán town of Playa Diamante where he has purchased a retirement home. His old Vietnam army buddy, Patrick Francis Skelly, decides to tag along, which is a good thing since Marder finds himself unexpectedly embroiled in a drug cartel war, and if anyone can cover his back, it's Skelly.
One major complication is that Marder's daughter, Carmel, worried that her dad is going through some crazed mid-life crisis, abandons her MIT career and heads after him, trying to forestall any foolishness he may have gotten himself into. Thanks to her deceased Mexican mother, Carmel is bi-national, and her journey to her mother's hometown goes a long way toward helping her understand what her father is up to.
And he's up to a lot. Rick Marder has secrets he's been keeping from everyone, but he won't be able to keep them for much longer.
Michael Gruber has the uncanny ability to create ferociously human characters, and he has the ability to convey a sense of place and culture that can transport his readers into these places. I didn't think he could harness lightning again -- his book The Good Son remains one of my all-time favorites (Stephen King advised President Obama to read it), and his novel, The Book of Air and Shadows, remains a tour-de-force of literary prowess -- but the people and situations in The Return prove that Michael Gruber is the real deal. He's a master at his craft, and it shows.
Back to the cover, though. The weaponry makes perfect sense; not only is Marder caught in the dealings of two drug cartels and the various law enforcement agencies, but he and Skelly are dangerous in their own rights, due in no small part to their time in Vietnam. And the sugar skull symbolizing The Day of the Dead is completely perfect. But what the cover doesn't convey is the deep connections and importance of family that run through The Return. Even as the cartels provide their own sense of familia, the relationships forged by the people who are affected by Marder's presence in Playa Diamante echo and reinforce a stronger, broader theme: family matters.
Oh, but his people! Rick Marder is quietly unassuming, but he moves mountains as if they're nothing, and he does it in a way that is absolutely believable. Skelly is the bad guy you always want on your side, the loyal killer. Carmel is intellectually brilliant but her relationships are almost impersonal, and her journey to figure out who she really is may be one of the best developments in the book. The other people -- the journalist Pepa Espinoza, the wilful teenager Lourdes, both the heads of the cartels, even minor characters like the housekeeper and the tenant who sublets Marder's New York apartment -- are all uniquely crafted, complete human beings with flaws and passions and moments of greatness. Even Marder's deceased wife becomes a fully formed person before the book is done. I'd go so far as to say the entire Michoacán area is a character, and a well developed one at that!
Gruber captures the passion, the spirit, the strength, and the power of the Mexican people in The Return. Well, and the food. I have to admit I spent a lot of time craving authentic Mexican cuisine! But his fierce and dynamic portrayal of the inhabitants of Playa Diamante is an authentic tribute to a culture steeped in history, weaving threads of an ancient and varied past with modern conflicts. What may be the best thing about Michael Gruber's writing is that you are compelled to care. These people, these situations matter. They're important.
This is truly a book not to be missed, and is absolutely one of my top picks for this year, possibly any year!
— Fran
Mild-mannered NYC book editor Richard Marder is given a death sentence by his doctor. His brain aneurism is inoperable and will kill him at some point. And while it is like having a little grenade buried in his head, Marder finds it freeing. With an indeterminate time left and money enough to fund his plans, he drops out of his comfortable life and heads to Mexico to inter his late wife's ashes with the rest of her family and find some sort of peace with her family.
        He inadvertantly ends up between warring narco-gangs and creating a new little town of refugees from their violence. That's the bare-bones of the story but like all skeletons it doesn't tell you much. But I don't want to tell you much, either.
        Marder is accompanied by Skelly, his buddy from Viet Nam. Skelly is one of those handy people to have around when times get tense – a shadowy figure, he's somewhere between a soldier-of-fortune and a goon-for-hire, but he's loyal to Marder and owes him his life. Honor may be a fluid thing but Skelly has it.
        Then there is Carmel, Marder's daughter, who drops her graduate work at MIT to find out why her father has vanished and who fears the worst. She's a tall and brainy woman who really doesn't know her father that well and fears he's had a breakdown.
        You'll meet a large cast of characters as the novel progresses – villains, soldiers, a reporter and a priest, camposinos, artisans, cooks, blacksmiths… sounds like a lot but it isn't.
        Marder finds himself inexplicably in the middle of so much life and tragedy and that he's become the patron of the community. New hopes are formed even as the sandbanks and gun emplacements are established. Marder's name begins to blur into murder and martyr, and the area – Playa Diamante - blurs from a place of diamonds to a place of dynamite. Marder finds himself to be a figure of respect from all, even from his enemies. He really is fearless in his actions and pursuits because he has nothing to lose.  And since no one else knows about his health issue – he tells no one of his diagnosis – this provides him with freedom that others can sense but not understand.
        "He wrapped his arms around her smooth, warm back. 'Yes, well, irony is not protection when yuou can feel the breeze from his scythe on your skin and hear the rustle of his wings.'"
        It's a brilliant book of love and death, philosoply and spirituality, courage and compassion, and, of course, humanity in the midst of madness.
        Not a doubt that this will be in my Top Ten Books of the Year list.
— JB
Description
---
From the New York Times bestselling author of The Book of Air and Shadows, the story of one man's fearless quest for revenge among some of the world's most dangerous criminals
Lauded as his #1 favorite book of the year, Stephen King advised President Obama, in the pages of Entertainment Weekly, to pick up Michael Gruber's previous book, The Good Son. With an unforgettable hero, The Return is as exciting and provocative as Gruber's best work.
The real Richard Marder would shock his acquaintances, if they ever met him. Even his wife, long dead, didn't know the real man behind the calm, cultured mask he presents to the world. Only an old army buddy from Vietnam, Patrick Skelly, knows what Marder is capable of. Then a shattering piece of news awakens Marder's buried desire for vengeance, and with nothing left to lose, he sets off to punish the people whose actions, years earlier, changed his life. Uninvited, Skelly shows up and together the two of them raise the stakes far beyond anything Marder could have envisioned.
As Marder and Skelly head toward an apocalypse of their own making, Marder learns that good motives and sense of justice can't always protect the people a man loves. A range of fearsomely real characters, from a brutally violent crime lord to a daringly courageous young woman, a roller-coaster of twists and turns, and a shattering exploration of what constitutes morality in the face of evil, Michael Gruber has once more proven that he is "a gifted and natural storyteller" (Chicago Tribune) and shows why he has been called "the Stephen King of crime writing" (The Denver Post).
About the Author
---
Michael Gruber is the author of The Good Son, The Book of Air and Shadows, and The Forgery of Venus. He has a PhD in marine sciences and began freelance writing while working in Washington D.C., as a policy analyst and speech writer. Since 1990, he has been a full-time writer. He is married and lives in Seattle, Washington.