Saturn Run (Mass Market Paperbound)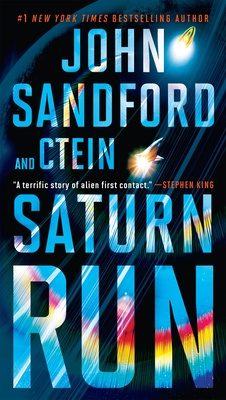 $9.99
Usually Ships in 1-5 Days
Staff Reviews
---
It's been a long time since I've read a book that I felt compelled to just carry around with me, simply to be next to the words, it was that good.
Saturn Run is straight up science fiction, a thriller set about 50 years in the future. Technology has progressed quite a bit, but not out of the reach of today's knowledge. The US has a manned space station that can be routinely visited in a matter of hours. The Chinese are planning on a visit to Mars, ostensibly just to visit but it's an ill-kept secret that they're planning on colonizing.
Then Sandy Darlington, playboy reprobate whose job at Caltech Astrophysics Group was obviously purchased for him by his extremely wealthy father, notices an anomaly in one of Saturn's rings. He brings it to his superior's attention and it goes quickly up the chain of command to President Santeros. The object Darlington saw was decelerating, stopping in the ring. Aliens are no longer theoretical.
And the race is on. The Chinese scramble to repurpose their colony ship while the US tries to figure out how to retrofit the space station into an interstellar vehicle. Who gets to the technology out there, who makes First Contact, will determine the Earth's future, and each country is determined to be that superpower.
In addition to being a world-acclaimed photographer, Ctein is a physicist, and he made sure that the actual physics necessary to make those ships functional within a tight timeline actually work, and that they're understandable to those of us, like me, who didn't fare well in high school physics. There's an explanation at the back of the book that you MUST NOT READ until you've finished the book (serious spoilers), that explains how the two authors came up with the calculations and designs they ultimately utilized. It's fascinating and completely over my head, but I suspect engineers everywhere are going to go glassy-eyed considering possibilities.
That's not enough, though, to take this from a good book to a great one. John Sandford has a proven ear for dialogue, a talent for pacing and action and humor, and a true sense of story that makes Saturn Run the fabulous book it is. The breakneck pace and the ratcheting tension are further proof of his incredible talent, but it's the people. Oh good heavens, the people.
I cared. I cared about all of them. There's the possibility of a saboteur, and the idea that it could be one of these folks whom I have come to admire and trust was disturbing. Literally, I stayed up nights thinking about it, and I hated my conclusions. And I must admit to a tear or two during some of the scenes, I care that much. Just amazing. With a cast this big, keeping all the personalities separate and distinct takes huge talent, which Sandford has in spades.
In the interests of fairness and honesty, I have to admit there is one kind of clunky bit that I found a bit disappointing, but that's a small bit in comparison to the overall brilliance of the book, and I can say with absolute certainty that it will take something beyond spectacular to knock Saturn Run out of first place in my Best of the Year list.
— Fran
Description
---
Fans of The Martian will enjoy this extraordinary new thriller of the future from #1 New York Times bestselling and Pulitzer Prize-winning author John Sandford and internationally known photo-artist and science fiction aficionado Ctein.

In 2066, a Caltech intern notices an anomaly from a space telescope--something is approaching Saturn, and decelerating. Space objects don't decelerate. Spaceships do... A flurry of top-level government meetings produce the inescapable conclusion: Whatever built the ship is at least one hundred years ahead of our technology, and whoever can get their hands on it will have an advantage so large, no other nation can compete. The race is on, and a remarkable adventure begins. Soon a hastily thrown-together crew finds its strength and wits tested against adversaries of this earth and beyond. So buckle up, because two perfectly matched storytellers are about to take you for a ride...
About the Author
---
John Sandford is the author of twenty-five Prey novels, most recently Gathering Prey, eight Virgil Flowers novels, and eight other books, including the young adult novels Uncaged and Outraged, written with Michelle Cook. He lives in Santa Fe, New Mexico. Ctein is an internationally known photographer and expert on photographic printing. He holds a double degree from Caltech in English and physics, and is the author of more than five hundred articles, columns, books, and manuals. A celebrated member of the science fiction community, he lives in San Francisco.