City of Ghosts (Hardcover)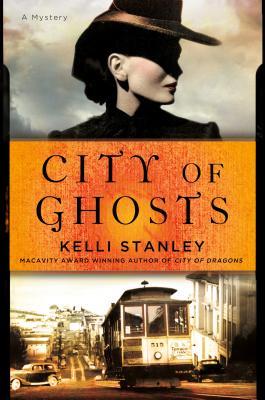 $26.99
Usually Ships in 1-5 Days
Staff Reviews
---
In Kelli Stanley's new "Miranda Corbie" novel, City of Ghosts (We'll let you know about signed copies) Miranda has just wrapped up a case - jade missing from a socialite's house - when the man who made her license possible knocks on her door with a deal. He'll pay her, and pay her well, and he'll get her a ticket on a freighter for London so she can track down her mother. The price? She's got to follow a chemistry professor who may be dealing with "degenerate art", the art confiscated by the Nazis who are rapidly taking over Europe. The State Department, for whom MacLeod works, is afraid that the professor is dealing in more than art; he has access to some high level secrets. If Miranda can verify the professor's dealings, one way or the other, her trip to London is assured.
But then murder rears its ugly head and Miranda's caught squarely in the crosshairs. She has to clear her name or the only place she'll be going is the pen.
If you ever wonder about the "city" in Kelli Stanley's Miranda Corbie books (City of Dragons, Minotaur; City of Secrets, Minotaur, City of Ghosts, ), she explains in City of Ghosts:
"San Francisco, built and rebuilt, wicked and always willing, forever old, forever young, smelling of sex and sin and newly minted money, guardian, lover, mentor, the cobbled streets and dim lights and salt-stained tears and wave lapped piers, the smell of fresh-baked sourdough and jook from Sam Wo's, grappa in front of the Italian saints, quiet Victorians nodding on quiet streets, ice shaking in cocktails at the Top of the Mark.
"Lying city, dying city, Lazarus and the phoenix. Wide open and proud of it, a city built on stolen sand and abandoned ships, reclaimed by the ones that stayed and built for the ones that left. A city made by dreamers who died paupers and paupers who lived like kings, dream keeping them alive in the only way that mattered.
City of Dreams, broken or not, it didn't matter.
No need for a City of Angels when there's gold in the mountains and cars that climb hills and bridges that span seas."
With a pace as fast as Miranda's tapping stilettos and prose as lean as a street hustler, Kelli Stanley brings us into 1940's San Francisco at a dangerous time, when cops play for keeps and everyone has secrets. If you've read the first two, you won't want to miss this one. If you haven't, now's the time to start.
— Fran
Description
---
June, 1940.
For the United States, war is on the horizon.
For Miranda Corbie, private investigator and erstwhile escort, there are debts to be paid and memories long-suppressed and willfully forgotten to be resurrected. Enter the U.S. State Department and the man who helped Miranda get her PI license. A man she owes. A man who asks her to track a chemistry professor here in San Francisco whom he suspects is a spy for the Nazis. Playing along may get Miranda a ticket to Blitz-bombed England and answers about her past if she survives.
Through sordid back alleys and art gallery halls, from drag dress nightclubs to a Nazi costume ball, Miranda's journey into fear takes her on the famed City of San Francisco streamliner and to Reno, Nevada, the Biggest Little City in the World where she finds herself framed for a murder she never anticipated. Forced to go underground, Miranda soldiers on alone, determined to find the truth about a murder, a Nazi spy, and her own troubling past.
But Miranda will have to learn the difference between reality and illusion, from despair to deceit and factual to fake, as she tries to get her life back and navigates a City of Ghosts.
Miranda Corbie's back. Noir will never be the same.
And Kelli Stanley will once again mesmerize readers with the most thrilling novel yet in her award-winning series.
About the Author
---
KELLI STANLEY is the author of two previous Miranda Corbie mysteries, most recently the award-winning City of Secrets. The first in her highly acclaimed series, City of Dragons, has won the Macavity and Bruce Alexander awards for best historical mystery and was a finalist for The Los Angeles Times Book Prize and a Shamus Award nominee. She lives in San Francisco, California.