Obsession Falls (Hardcover)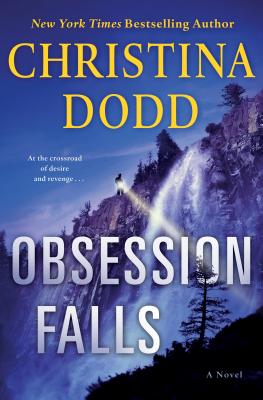 $26.99
Usually Ships in 1-5 Days
Staff Reviews
---
Fran Recommends:
A couple of weeks ago, I reviewed Christina Dodd's latest "Virtue Falls" hardcover, Because I'm Watching (St. Martins hc, $26.99, signing tomorrow at noon!) and I said I was impressed with her gritty style, and that I had a crush on one of the characters. So, in completely atypical fashion for me, instead of going back to the beginning of the series and moving forward, I went to the book immediately before Because I'm Watching, just to see how it compared.
Obsession Falls (St. Martins, $8.99, did I mention the signing tomorrow?) starts off in Idaho but does end up in Virtue Falls, WA, and it's just as good as Because I'm Watching. If anything, it's a bit grittier, which I definitely enjoyed!
Taylor Summers has come back to Idaho to visit her family's old homestead, now owned by strangers. She's trying to rekindle her artistic ability, having proven herself as an interior designer and private concierge and shopper to some of the biggest names on the East Coast. However, she's in the wrong place at the wrong time and witnesses two men threatening to kill a child, who is to be left displayed as a warning to someone else. Taylor's no hero, but she can't let that happen, so she does what she can do to save the boy, thereby putting herself at great risk. She's forced into hiding, barely surviving in the wilderness, and eventually, through desperate need and sacrifice, she ends up in Virtue Falls.
However, to get her life back, Taylor is going to have work with someone she has no way of trusting. And yet, she has no choice. Or does she?
As I said, Obsession Falls is somewhat grittier than Because I'm Watching but man oh man, is it excellent, and I'm completely hooked on this series. Yes, I'll go back and read the first one, Virtue Falls (St. Martins, $8.99) and I suspect I'll end up re-reading the entire series, plus novellas if I can track them down, being the Luddite that I am about e-readers, simply because I love the people in this small town. Christina Dodd knows her suspense!
And yes, my Virtual Falls crush was present, so yay!
Description
---
In Obsession Falls, New York Times bestselling author Christina Dodd returns to the town of Virtue Falls, Washington-an idyllic place on the surface, but one that holds close its secrets...
When Taylor Summers witnesses the death threat to a young boy, she does the only thing she can do-she sacrifices herself to distract the killers. Her reward is a life in ruins, on the run in the wilderness, barely surviving a bitter winter and the even more bitter knowledge she has lost everything: her career, her reputation, her identity. She finds refuge in Virtue Falls, and there comes face to face with the knowledge that, to live her life again, she must enlist the help of the man who does not trust her to defeat the man who would destroy her.
She's being hunted, but it's time to turn the tables....
About the Author
---
New York Times bestselling author CHRISTINA DODD builds worlds filled with suspense and adventure and creates the most distinctive characters in fiction today. Her more than fifty novels have been translated into twenty-five languages, featured by Doubleday Book Club, recorded on Books on Tape for the Blind, and been called the year's best by Library Journal. Dodd herself has been a clue in the Los Angeles Times crossword puzzle. With more than fifteen million copies of her books in print, her legions of fans always know that when they pick up a Christina Dodd book, they've found, as Karen Robards writes, "an absolute thrill ride of a book!"