The Disciple of Las Vegas (Paperback)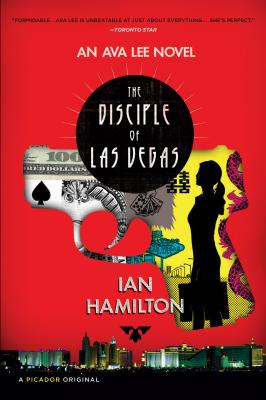 $15.00
Usually Ships in 1-5 Days
Staff Reviews
---
Ian Hamilton's US debut, The Disciple of Las Vegas is a very neat side-step from either private eye or espionage fiction, though it fits nicely in that vein.
Ava Lee is a forensic accountant. She's adept at tracing missing money that she returns for a fee. Based in Toronto, she works with "Uncle", a shadowy Chinese personage who lives in Hong Kong. The jobs come through him and, usually, involve very large sums of money. She's the 'leg man', jetting around the globe and dealing with those involved. Uncle stays in Asia to work his connection. Ava has her own connections throughout the Asian communities of Canada and around the world but Uncle is there to send in muscle if she thinks it'd be useful. And sometimes it is. Like The Blood Gospels, The Disciple of Las Vegas moves at a ferocious pace. After all, money is so fluid these days, being sent around the world in transfers, that Ava has to move fast to try to keep the trail from growing cold. In this story (according to Hamilton's website, this is actually the 2nd of the Ava Lee books and he's working on the 6th, so this is an established series), they're hired to find millions missing from a Philippines' company. One of the richest men in Asia is hopping mad and the trail will take Ava across oceans and North America and into the world of on-line poker playing. You can add Ava to the list of hardcore female heroines that already includes Mallory, Aud Torvingen, Bridgett Logan, Angie Gennaro, Ana Gray, Lisbeth Salander, Mrs. Peel, and Claire Parker. You don't want to cross her, lie to her, or slow her down. DO NOT.
If I can end with one critcism it would be that Hamilton is far too in love with naming the brands of everything. Within two pages I was tired of it. I just don't care about the brands of clothes Ava is wearing, that she doesn't regret the opulence of her Cartier Tank Française wristwatch, or that she gets into a silver Audi A6 when she lands in San Francisco – I really don't care what kind of rental car she gets… it is of no importance at all and the continual naming of brands just ends up being pretentious and visual clutter. Still, I look forward to spending more time with Ava. The second (3rd written) in the series will be out next Summer, so the wait won't be long!
— Fran
Description
---
"One of my favorite new mystery series, perfect escapism." Sarah Weinman, "National Post"
Fifty million dollars has disappeared into thin air from the accounts of one of the richest men in the Philippines, Tommy Ordonez. His one hope is Ava Lee sleek, capable forensic accountant and sleuth. With the help of her Triad-connected partner, Uncle, Ava follows the money trail from San Francisco to Costa Rica to the casinos and illegal gambling dens of Las Vegas. Meanwhile, a vengeful adversary from Ava's past has put out a contract on her life, and the shadowy hit man is close at her heels every step of the way. Will Ava recover the stolen cash without stepping into the crosshairs of a growing list of enemies? The first book of an electrifying new series, Ian Hamilton's "The Disciple of Las Vegas "introduces Ava Lee: a deadly martial artist with a taste for luxury and a mind like a steel trap.
About the Author
---
Ian Hamilton has had a range of careers over the span of his life, from journalist to diplomat, but it wasn't until a health scare that he sat down to write his first novel. Ava Lee was the heroine that came to him and so the series was born. Hamilton's journalism has been featured in Maclean's and Saturday Night Magazine. He is the author of The Disciple of Las Vegas, The Wild Beasts of Wuhan, The Red Pole of Macau, and The Water Rat of Wanchai. He lives in Burlington, Ontario, with his wife, Lorraine. He has four children and seven grandchildren.
Praise For…
---
"Hamilton makes each page crackle with the kind of energy that could easily jump to the movie screen....This riveting read will keep you up late at night. It may also make you look twice from now on at any woman wearing pointy shoes."—Rachel Kramer Bussel, Penthouse

"Formidable...Ava Lee is unbeatable at just about everything....She's perfect."—Toronto Star "Ian Hamilton makes the global search for hidden money as thrilling as James Bond fleeing down a snowy slope on one ski. Ava Lee is tough, fearless, quirky, and resourceful, and she has more---well, you know---than half a dozen male detectives I can think of. Ian Hamilton knows his stuff, and he has created a true original in Ava Lee."—Linwood Barclay, author of No Time for Goodbye
"A fascinating story of a hunt for stolen millions. And the hunter, Ava Lee, is a compelling heroine: tough, smart, and resourceful."—Meg Gardiner, author of The Nightmare Thief
"Ian Hamilton really knows his stuff, offering intriguing insights into a secret world and a heroine as fascinating as she is fierce. A fantastic read, I can't wait for the next one."—Simon Lewis, author of Bad Traffic

"Hamilton has created a marvelous character in Ava Lee."—The Globe and Mail (Toronto)
"Readers will discern in Ava undertones of Lisbeth Salander....Irresistible."—The London Free Press

"Slick, fast-moving escapism reminiscent of Ian Fleming."—Booklist

"High-end travel, cuisine, and product placement add glitz, while Ava's circle of mostly offstage friends and family lend enough personal depth to lift this thriller above solely action-oriented fare."—Publishers Weekly