The Coal Black Asphalt Tomb (Hardcover)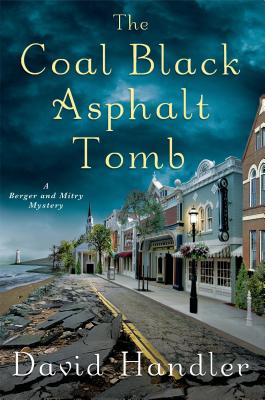 Email or call for price
Special Order - E-mail us directly - We may have a used book!
Staff Reviews
---
Mitch Berger and Des Mitry are back!
In his latest book, The Coal Black Asphalt Tomb, David Handler lets us see some of Dorset's past. Newly elected selectwoman, Glynis Fairchild-Forniaux has decided that historic Dorset Street must be repaved, since it hasn't been since 1967. There is all manner of opposition, especially from Dorset's aristocracy, including newly defeated selectman Bob Paffin. But Glynis will not be denied and the road is ground down to prepare it.
But the paving grinds to a sudden halt when a body is discovered over the asphalt, and judging from the clothing, it's Bob Paffin's older brother, Lance, who has been missing and presumed dead in a boating accident. And when was that? Suspiciously, in the summer of 1967…
And to bring even more pressure on resident trooper Des Mitry, her father, The Deacon, is taking an interest. So with mounting pressure to make this go away, Des and Mitch have to figure things out in a hurry.
Filled with the colorful characters that David Handler has led us to expect along with great film references, The Coal Black Asphalt Tomb is absolutely fun and charming, and fans of this series are going to want it right away.
"The newsroom was so crowded with people that Mitch felt as if he'd just walked into a color-drenched remake of Front Page Woman, a zippy little 1935 Warner Brothers newsroom drama helmed by Michael Curtiz. All that was missing were Bette Davis, George Brent and the zippy. There was no zippy."
Let me state once more for the record that I am sorely put out that the first books in this series are not available. Without the background, the history of these people and this town, someone picking up The Coal Black Asphalt Tomb won't understand how great it is that Des gets most – not all, but most – of Mitch's movie references, or why Buzzy makes some of the choices he does, or why Glynis is so shocked. Darn it, publishers, let us have the first NINE in paperback, please! Thank-You!
— Fran
Description
---
The historic New England village of Dorset has actually elected a living, breathing "woman" as its First Selectman. And now she's about to undertake the Historic District's biggest public works project in a generation the widening and re-grading of Dorset Street. The job has needed doing for ages but the previous First Selectman, Bob Paffin, always opposed it. So did a lot of Dorset's blue-blooded old guard.
The long put-off dig uncovers a body buried underneath the pavement in front of the Congregational Church. It belongs to Lt. Lance Paffin, Bob Paffin's older brother, a dashing U.S. Navy flyer who went missing off his sailboat the night of the country club's spring dance more than forty years ago. Everyone had assumed he just left town. But now it's clear Lance has been under Dorset Street this whole time, and that he was murdered.
Des and Mitch soon discover that there are deep, dark secrets surrounding Dorset's elite, and some very distinguished careers have been built on lies. "Coal Black Asphalt Tomb" is the tenth in David Handler's original and very funny Berger and Mitry mystery series featuring this engaging biracial couple.
About the Author
---
DAVID HANDLER is an Edgar Award winner and Anthony, Derringer, and Dilys Award finalist. He has written extensively for television and films. David is the author of Runaway Man, Snow White Christmas Cookie, Blood Red Indian Summer and Shimmering Blond Sister. He lives in a two-hundred-year-old carriage house in Old Lyme, Connecticut.
Praise For…
---
Praise for The Coal Black Asphalt Tomb:

"Warm and cozy...The affable Burger mines town gossip, and Mitry digs into some sordid town history en route to the satisfying resolution."-- Publishers Weekly

"Filled with the colorful characters that David Handler has led us to expect along with great film references, The Coal Black Asphalt Tomb is absolutely fun and charming, and fans of this series are going to want it right away"— Seattle's Mystery Bookshop

Praise for David Handler:

"Neither rain, nor sleet, nor dark of night can keep postmen from their appointed rounds. But how about murder?...Fans of Des and Mitch will giggle as Mitch decorates his Hanukkah bush with her teeny weeny yellow bikini."—Kirkus Reviews on The Show White Christmas Cookie

"Laugh-out-loud humor, zany characters, suspicious deaths and a freezing-cold, holiday setting make David Handler's The Snow White Christmas Cookie a must read. Fans of Christmas mysteries...won't be disappointed."—Gumshoe

"A must read for fans of hilarious crime dramas . . . The Blood Red Indian Summer is a whirlwind of hilarity, mystery . . . and romance. It is best described by a one-word expression that is often used by Mitch Berger's dad, Chat: 'Sa-weet.'" —Gumshoe Review

"Series fans will have fun catching up with the latest twists in the always interesting relationship of this interracial couple." —Publishers Weekly on The Shimmering Blond

"Well paced and cheerfully written, this book has a number of fun perks." —RT Book Reviews (4 stars) on The Shimmering Blond

Praise for The Snow White Christmas Cookie:

"Police procedure frames this complex tale set in small-town Dorset, Connecticut. An appealing mix of procedural and cozy." —Booklist

"Funny, smart and the perfect antidote to the seasonal treacle, The Snow White Christmas Cookie—the ninth novel by David Handler in the excellent Mitch Berger and Desiree Mitry series—turns the Christmas cozy on its head . . . Don't mistake this for a traditional holiday novel with lots of cute bits. Handler knows how much sugar needs a dose of realism." —The Globe and Mail