Murder at the Brightwell (Hardcover)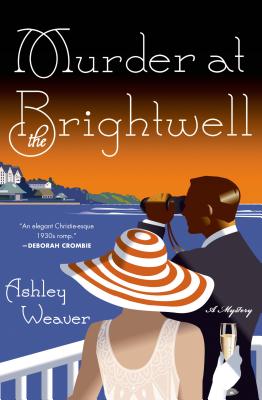 Email or call for price
Special Order - E-mail us directly - We may have a used book!
Description
---
Amory Ames is a wealthy young woman who questions her marriage to her notoriously charming playboy husband, Milo. Looking for a change, she accepts a request for help from her former fiance, Gil Trent, not knowing that she'll soon become embroiled in a murder investigation that will test not only her friendship with Gil, but will upset the status quo with her husband.
Amory accompanies Gil to the luxurious Brightwell Hotel in an attempt to circumvent the marriage of his sister, Emmeline, to Rupert Howe, a disreputable ladies' man. Amory sees in the situation a grim reflection of her own floundering marriage. There is more than her happiness at stake, however, when Rupert is murdered and Gil is arrested for the crime. Amory is determined to prove his innocence and find the real killer, despite attempted dissuasion from the disapproving police inspector on the case. Matters are further complicated by Milo's unexpected arrival, and the two form an uneasy alliance as Amory enlists his reluctant aid in clearing Gil's name. As the stakes grow higher and the line between friend and foe becomes less clear, Amory must decide where her heart lies and catch the killer before she, too, becomes a victim.
Murder at the Brightwell is a delicious novel in which murder invades polite society and romance springs in unexpected places. Ashley Weaver's debut is a wonderful testament to the enduring delight of the traditional mystery.
About the Author
---
ASHLEY WEAVER is the branch manager at Oberlin, the headquarters branch of the Allen Parish Libraries in Louisiana. Weaver has worked in libraries since she was 14; she was a page and then a clerk before obtaining her MLIS from Louisiana State University. She lives in Oakdale, Louisiana. Murder at the Brightwell is her first novel.
Praise For…
---
"Murder at the Brightwell is an elegant Christie-esque 1930s romp that will delight fans of Rhys Bowen's Lady Georgie series with its wit, charm, and strong independent heroine. With its dash of romance, Amory Ames and her rakish husband Milo might just be the new Nick and Nora Charles."—Deborah Crombie, New York Times bestselling author of To Dwell in Darkness
"If you love Downton Abbey, you'll adore Ashley Weaver's charming debut novel, set amidst the upper-crust of British society at a posh seaside resort in the 1930s. There are handsome cads, gorgeous gowns, and red herrings galore as our winsome heroine Amory Ames puts all the clues together to find the murderer—as well as love."—Susan Elia MacNeal, New York Times-bestselling author of the Barry Award-winning Maggie Hope series.
"A charming mystery including all my favorite elements—a grand seaside hotel in 1930s England with a background love story."—Rhys Bowen, New York Times bestselling author of the Molly Murphy and Royal Spyness mysteries

"Ashley Weaver's debut novel delivers the goods--an appealing heroine, an abundance of  suspects and enough red herrings to satisfy the most demanding of readers—all rendered with an expert hand."—Carol K. Carr, national bestselling author of the Madame of Espionage mysteries 

"A witty and charming debut mystery with a believably spunky sleuth and a compelling story of love that never runs smoothly. I was caught up by the author's subtle humor and gift for dialogue. I hope we see more of Amory Ames in the future."—G.M. Malliet, Agatha Award-winning author of the St. Just and Max Tudor mysteries

"An engaging mystery that kept me guessing right up to the end. I especially enjoyed the playful and at times snarky banter between Amory and Milo, which had me rooting for them not only to solve the murder, but to realize how perfect they are for each other. I hope they will continue on in the vein of Nick and Nora Charles, for I would happily follow them on the trail of future mysteries!"—Jennifer Delamere, author of An Heiress at Heart