Orphan X (Hardcover)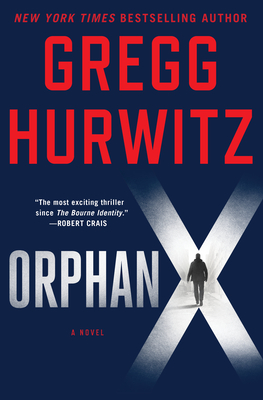 $25.99
Usually Ships in 1-5 Days
Staff Reviews
---
The first word that comes to mind after reading Gregg Hurwtiz's new novel, Orphan X is "slick". This is not a bad thing.
Evan Smoak was brought into the Orphan Project when he was twelve. At that time, his handler told him he was part of a special group, and that he, Jack, would never lie to Evan, who would henceforth be known as Orphan X. Orphans were trained as covert assassins, infiltrators, special ops individuals who do all those things we know the government has done but we'd really rather not think about.
However, once trained and working, Orphan X is given an assignment he refuses, and from that point on he has been out of the project and off the grid, working to help those who cannot help themselves. He's known as the Nowhere Man. Then one of his rescue missions goes sideways, and suddenly Evan Smoak is beset on all sides, and he doesn't even know if his training will be enough to save him.
Gregg Hurwitz is a powerful writer and Orphan X is no exception. I can see why it's already been optioned for film; Hurwitz writes screenplays and his sense of pace and timing is spot-on. And he's obviously researched long and hard to get all the bits and pieces into place to make Orphan X as sleekly honed as it is. He pushes right up to the edge of believability but stops gracefully short so that everything just works.
And if you're the sort who cheats, don't bother. The twists keep coming so that right up until the very end, you can't be sure who to trust and what the truth might really be.
Orphan X is the first in a series, and I suspect this is a series everyone will be into. It's fast, the characters are developed and complex, and the possibilities that Gregg Hurwtiz has left open for Evan are a delightful tease. I can't wait to see where he takes us next!
Description
---
""Orphan X" is the most gripping, high-octane thriller I've read in a long, long time. Hang onto your seat because Gregg Hurwitz will take you on a dizzying ride you'll not soon forget " -Tess Gerritsen
The Nowhere Man is a legendary figure spoken about only in whispers. It's said that when he's reached by the truly desperate and deserving, the Nowhere Man can and will do anything to protect and save them.
But he's no legend.
Evan Smoak is a man with skills, resources, and a personal mission to help those with nowhere else to turn. He's also a man with a dangerous past. Chosen as a child, he was raised and trained as part of the off-the-books black box Orphan program, designed to create the perfect deniable intelligence assets---i.e. assassins. He was Orphan X. Evan broke with the program, using everything he learned to disappear.
Now, however, someone is on his tail. Someone with similar skills and training. Someone who knows Orphan X. Someone who is getting closer and closer. And will exploit Evan's weakness---his work as The Nowhere Man---to find him and eliminate him. Grabbing the reader from the very first page, Orphan X is a masterful thriller, the first in Gregg Hurwitz's electrifying new series featuring Evan Smoak.
About the Author
---
GREGG HURWITZ is the New York Times bestselling author of 17 novels, most recently, The Nowhere Man. His novels have been shortlisted for numerous literary awards, graced top ten lists, and have been published in 30 languages. He is also a New York Times bestselling comic book writer, having penned stories for Marvel (Wolverine, Punisher) and DC (Batman, Penguin). Additionally, he's written screenplays for or sold spec scripts to many of the major studios (The Book of Henry), and written, developed, and produced television for various networks. Gregg resides in Los Angeles.