Echoes in Death (Hardcover)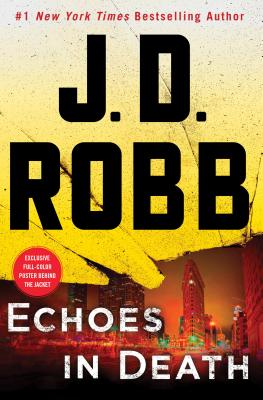 $27.99
Usually Ships in 1-5 Days
Staff Reviews
---
Eve and Roarke are on their way home from a fancy shindig when a naked, bloody woman steps in front of their car. With their quick thinking and even quicker driving they manage to save her – but discover her husband dead in their home - plunging the NYPD detective, Roarke and her team into a brutal new case.
This book is a very fast and absorbing read. The book is very focused on the crime Eve is investigating and on the detective herself. While I know she is the story's protagonist there is usually more of the side charecters present in the narrative than there was in this installment. However because this book was so laser-focused on catching the killer – you don't really miss them until you get to the end of the book – and wonder where the heck they were! Robb does mention them, moving their lives forward with news bandied about by other characters, so you are not totally out of the loop.
But as I said you don't really miss them – the case, book and Eve are so focused and fast paced (there isn't another word for it) you really don't notice until the end that they weren't there. I would recommend this book to any of the In Death fans – Robb (or whoever is writing them now) does a good job in hitting all the right notes in a way which doesn't make the book feel stale. Which, after 44 installments, is a job of work!
— Amber
Description
---
This chilling new suspense novel from #1 New York Times bestselling author J.D. Robb is the perfect entry point into the compelling In Death police procedural series featuring Lieutenant Eve Dallas.
As NY Lt. Eve Dallas and her billionaire husband Roarke are driving home, a young woman dazed, naked, and bloody suddenly stumbles out in front of their car. Roarke slams on the brakes and Eve springs into action.
Daphne Strazza is rushed to the ER, but it's too late for her husband Dr. Anthony Strazza. A brilliant orthopedic surgeon, he now lies dead amid the wreckage of his obsessively organized town house, his three safes opened and emptied. Daphne would be a valuable witness, but in her terror and shock the only description of the perp she can offer is repeatedly calling him the devil ...
While it emerges that Dr. Strazza was cold, controlling, and widely disliked, this is one case where the evidence doesn t point to the spouse. So Eve and her team must get started on the legwork, interviewing everyone from dinner-party guests to professional colleagues to caterers, in a desperate race to answer some crucial questions:
What does the devil look like? And where will he show up next?
About the Author
---
J.D. Robb is the pseudonym for #1 New York Times bestselling author Nora Roberts. She is the author of over 200 novels, including the futuristic suspense In Death series. There are more than 500 million copies of her books in print.