Thick as Thieves (Paperback)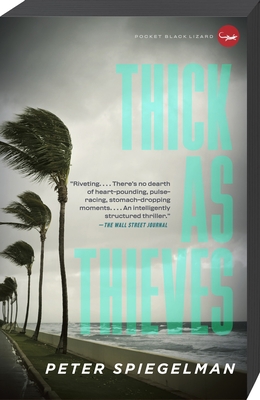 Email or call for price
Special Order - E-mail us directly - We may have a used book!
Staff Reviews
---
The best book I will read this year is Peter Spiegelman's Thick as Thieves. 
    I've been a fan of his for years, having read his Shamus-winning series with private eye John March. Thick as Thieves is, a step up from those, as hard to believe as that is.
    Thieves tells the story of a group of high-tech con artists. Think of them as being a combination of Parker's crew and the Mission Impossible team. They're lead by Carr who took over from his mentor Declan, lost months before in another job. They're funded and helped by the mysterious and intimidating Mr. Boyce, and their targets are bad guys with lots and lots of cash - villains who can complain to no one when they're taken down and cash that, though it can be bulky, is often electronic. The heists must be well-planned and expertly executed. But there are problems.
    "On his apartment's balcony, Carr switches to rum. He puts his bare feet on the railing and tilts back in his chair, and his thoughts skid like bad tires."
    For one, Carr can't quite accept the events that lead to Declan's death. And the crew is not quite ready to accept Carr as the boss. Then there is the problem that Carr, as the story proceeds, isn't sure he can trust those with whom he is working, let alone that the plan he's constructed will work - what Declan used to call 'paranoid calculus', a neat phrase that captures the doubts that expand as the tension tightens. Not only does Carr need to pay attention to the ominous Boyce but also his near-albino hit-woman Tina. There's the handsome and volatile Latin Mike who is continually challenging him, good-old-boy Bobby who seems too casual for what is going on, computer-hacker Dennis who is described as being the color and thinness of a stalk of wheat, and then there is Valerie, the delectable, erotic and unfathomable Valerie, his lover who seems to be running schemes within schemes. Or is he just paranoid? He has to work with this crew but he can't find the ability to trust them.
    Spiegelman has a talent for describing an aspect of a character in few words, but words that tell all: "He's pink from heat and from drink, and there are damp circles under the arms of his blue button-down shirt. His blazer hangs over his shoulders like a drowned thing." Carr, in recalling his mother as she was dying, thinks of her knitting: "...the pieces she made that were neither scarves nor hats, but simply long, dark panels. He remembers too the streaks of gray that appeared, overnight, in her black hair, and how her collarbones became so pronounced - the bones of a ship, laid bare by a storm." But besides his subtle and tasty writing, the plot of Thieves will screw you ever deeper into your couch as the 'paranoid calculus' screws the worries and doubts into Carr's head. There are pivots and screeching halts that you will not see coming and there are times, I can promise you, that you are certain you know what is coming and you will be staggered by how wrong you were. Thick as Thieves (Knopf hc, $24.95 - signed copies available!) will be released in late July. It was originally set to come out in May (it was in our Spring newsletter) with the title Circus Time - a much better title, less ordinary and more fitting to the action in Thieves. That was another of Declan's phrases. I would bet that Circus was Spiegelman's title and some genius in marketing insisted it be changed to the more bland and trite Thieves.
    Ah well, don't judge a book by its cover or its title. But you can judge this book by its incredible quality, inexorable pace and deadly serious intensity and you will thrilled to have finish it.
    Damn - what a book!
    I hope he brings back Carr. I hope he brings back March, too. But, more than anything, I hope he brings out another book, and quickly.
— JB
JB said that the new Peter Spiegelman, Thick as Thieves is the book of the year.  He may very well be right.
Declan, Carr's mentor, says about the people they rob from: "And, of course, the boys and me are stealthy bastards – they don't know we exist until we're over the threshold, and then it's in fast, out fast, and clear out of town. We don't leave footprints, and we never – but never – fish the same stream twice."  Later on he says about the downside of their business: "What you'd expect: people get cross, they brood over things, they have long memories, and if they catch you they'll kill you all kinds of dead – by which time death will seem like a mercy."
The plot is twisty and complex, and is as meticulously designed as the cons Carr and his band of thieves execute.  I've never been particularly fond of present-tense novels, but I got completely sucked into Thick as Thieves and didn't notice after the first page.  The characters are vivid, and as Carr's distrust of his fellow thieves and his concern over what happened in the ill-fated heist in South America grows, I found myself sympathizing with his distress, can he trust his colleagues?  And if he can't trust Valerie, his lover, what should he do about it?
The suspense is relentless, the writing superb and the characters fascinating.  The only negative is that it's over far too quickly! 
— FRAN
Description
---
TO Mr. Boyce
FROM Tina
SUBJECT Prager job
PRIORITY High THE SCORE:
$100 million in black money from Curtis Prager, hedge fund titan turned international criminal banker. A hard target, but a team of seasoned pros might pull it off. THE CREW
CARR--
Ex-CIA. Expert planner and organizer, but a reluctant and untested leader.
VALERIE
--Chameleon, honey trap, master manipulator, and lately, Carr's lover. Has an agenda of her own--maybe more than one.
LATIN MIKE
--Safecracker, muscle, a hot-headed hardcase. Unhappy with Carr's management, but the promised payout from the Prager job has so far kept him in line.
BOBBY
--Surveillance and security systems, and Latin Mike's running buddy. If Mike is making his own play, Bobby's certain to be a part of it.
DENNIS
--Ace hacker, youngest member of the team, brilliant but gun-shy. The death of their old boss, Declan, on their last job, has left the crew tense and paranoid. The Prager job could leave them set for life if they don't self-destruct first. UPDATE
A new security chief is beefing up protections around Prager's Cayman Islands front. Carr and his crew have to tighten their already punishing timetable. A nearly impossible job just got even harder.
About the Author
---
Peter Spiegelman is the author of Black Maps, which won the 2004 Shamus Award for Best First P.I. Novel, Death's Little Helpers, and Red Cat. Prior to becoming a full-time writer, Mr. Spiegelman spent nearly twenty years in the financial services and software industries, and worked with leading banks and brokerages around the world. He lives in Connecticut.
Praise For…
---
"Riveting. . . . There's no dearth of heart-pounding, pulse-racing, stomach-dropping moments. . . . [An] intelligently structured thriller." —The Wall Street Journal

"Slick, sophisticated, and satisfying. . . . This is thriller fiction at its best." —Lee Child
 
"Spiegelman's ability to find glimmers of morality in a story populated by rogues, thieves and worse people that makes Thick as Thieves an enjoyable visit to a dark world." —Pittsburgh Tribune-Review
 
"A pure delight. . . . Heists, money-laundering, and smart plotting in a novel that's reminiscent of Elmore Leonard's best work." —Jeffery Deaver
 
"Spiegelman, who has written three thrillers since leaving Wall Street nine years ago, is being acclaimed for bringing some of the hands-on expertise and literary grace that John LeCarre brought to espionage novels to stories of capers, heists and double crosses." —Weekend Edition, NPR
 
"Thick as Thieves takes the suspense of a typical heist caper and ratchets it up several notches. . . . An elegant feat of fictional engineering." —The Columbus Dispatch
 
"A thriller so nicely written you flip back a few pages to re-experience an especially well-turned bit of prose." —Booklist
 
"Thick as Thieves is anything but 'thick'--its sleek and subtle, with Spiegelman's rare eye for the telling detail. Thrilling in both tone and substance, these thieves will steal you away from whatever else you were doing, and leave you glad they did." —Don Winslow, author of Savages
 
"What really sets this apart is the quality of Spiegelman's writing. . . . It's not every day genre prose gets that kind of polish." —Kirkus Reviews (starred review)
 
"Thick as Thieves is part magic, part alchemy and utterly entertaining. It is what all thrillers should aspire to be, and Spiegelman is that rare writer with both the heart and talent to pull off such an ambitious undertaking." —Reed Farrel Coleman, three-time Shamus Award-winning author of Innocent Monster
 
"Thick as Thieves showcases the further development of Peter Spiegelman, one of our best writers of suspense and intrigue. His characters are forceful, smart, and his prose is supple, precise, and often poetic. Spiegelman gives us a deep inside look at scams and scammers of various sorts, and puts a big whirling plot into motion that ultimately delivers every satisfaction it promises at the start." —Daniel Woodrell, author of Winter's Bone