Footsteps in the Dark (Paperback)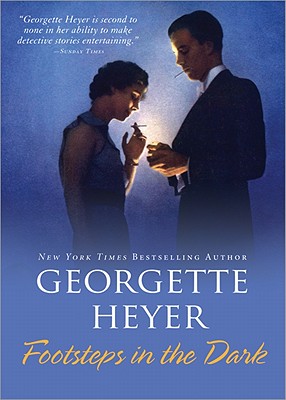 $13.99
Usually Ships in 1-5 Days
Description
---
"Bright and effervescent."
-The Time's Literary Supplement
What begins as an adventure soon becomes a nightmare...
Locals claim it is haunted and refuse to put a single toe past the front door, but to siblings Peter, Celia, and Margaret, the Priory is nothing more than a rundown estate inherited from their late uncle-and the perfect setting for a much-needed holiday. But when a murder victim is discovered in the drafty Priory halls, the once unconcerned trio begins to fear that the ghostly rumors are true and they are not alone after all With a killer on the loose, will they find themselves the next victims of a supernatural predator, or will they uncover a far more corporeal culprit?
What Readers Are Saying:
"One of the best stories Mrs. Heyer ever concocted, and of course written in her own inimitable style, with plenty of wit and dry humor."
"Spine-tingling enjoyment."
Georgette Heyer wrote over fifty books, including Regency romances, mysteries, and historical fiction. Her barrister husband, Ronald Rougier, provided many of the plots for her detective novels, which are classic English country house mysteries reminiscent of Agatha Christie. Heyer was legendary for her research, historical accuracy, inventive plots, and sparkling characterization.
About the Author
---
The late Georgette Heyer was a very private woman. Her historical novels have charmed and delighted millions of readers for decades, though she rarely reached out to the public to discuss her works or private life. It is known that she was born in Wimbledon in August 1902, and her first novel, The Black Moth, was published in 1921.

Heyer published 56 books over the next 53 years, until her death from lung cancer in 1974. Heyer's large volume of works included Regency romances, mysteries and historical fiction. Known also as the Queen of Regency romance, Heyer was legendary for her research, historical accuracy and her extraordinary plots and characterizations. Her last book, My Lord John, was published posthumously in 1975. She was married to George Ronald Rougier, a mining engineer, and they had one son together, Richard.