Detection Unlimited (Paperback)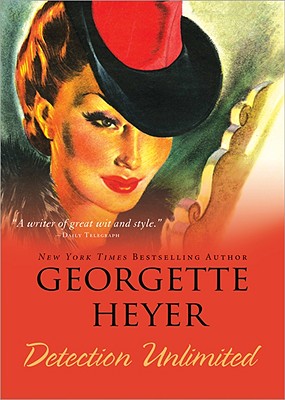 $17.99
Usually Ships in 1-5 Days
Description
---
"Miss Heyer's characters and dialogue are an abiding delight to me... I have seldom met people to whom I have taken so violent a fancy from the word 'Go'."
-Dorothy L. Sayers
"Slumped on a seat under an oak tree is old Sampson Warrenby, with a bullet through his head."
Everybody in the village is ready to tell Chief Inspector Hemingway who did it. Could the murderer have been the dead man's niece? Or perhaps it was the other town solicitor? The couple at the farm had a guilty secret-what was it? And why is it someone else actually "wants "to be the prime suspect?
Add to this the fact that Warrenby was blackmailing someone, and Hemingway has his work cut out for him.
"Georgette Heyer is second to none in her ability to make detective stories entertaining."
"-Sunday Times"
Georgette Heyer wrote over fifty books, including Regency romances, mysteries, and historical fiction. Her barrister husband, Ronald Rougier, provided many of the plots for her detective novels, which are classic English country house mysteries reminiscent of Agatha Christie. Heyer was legendary for her research, historical accuracy, inventive plots, and sparkling characterization.
About the Author
---
The late Georgette Heyer was a very private woman. Her historical novels have charmed and delighted millions of readers for decades, though she rarely reached out to the public to discuss her works or private life. It is known that she was born in Wimbledon in August 1902, and her first novel, The Black Moth, was published in 1921.

Heyer published 56 books over the next 53 years, until her death from lung cancer in 1974. Heyer's large volume of works included Regency romances, mysteries and historical fiction. Known also as the Queen of Regency romance, Heyer was legendary for her research, historical accuracy and her extraordinary plots and characterizations. Her last book, My Lord John, was published posthumously in 1975. She was married to George Ronald Rougier, a mining engineer, and they had one son together, Richard.