The Catalyst (Mass Market Paperback)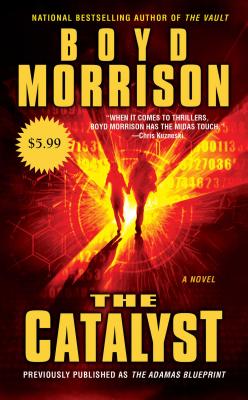 Staff Reviews
---
You can always count on Boyd Morrison for an action-packed adventure, and since The Catalyst is the first book he wrote, you can see that his flair for creating roller-coaster situations is natural.
Kevin Hamilton is a fairly typical grad student: he has $85.86 in his checking account, he's been fired from his position as a research assistant (something about blowing up the lab), he's close to missing the deadline for his financial aid, his car's running on its last legs, and the girl he's interested in has just given him the "let's be friends" speech.
Kevin gets a cryptic email from the professor who fired him, then discovers that the professor has died in a strange house fire. And when Kevin goes to the police, he's blown off by the investigating detective then shot at by other policemen (or were they really?), and things take off from there in typical Morrison fashion.
Combining jam-packed action with high tech science and chemistry, I promise you there's never a dull moment in The Catalyst. It kept me on the edge of my seat, and it certainly kept me up at night. It's just great fun!
And Boyd, I want a pair of those sunglasses too!
— FRAN
Description
---
THE EXPERIMENT WAS A FAILURE. THE RESEARCH SOUNDLY DISMISSED. BUT SOMEONE IS HUNTING DOWN THE SECRET KNOWLEDGE A YOUNG CHEMIST HAS UNEARTHED . . . IN AN EXHILARATING THRILLER FROM THE AUTHOR OF THE ARK. Chemistry grad student Kevin Hamilton is sure his advisor Michael Ward's death in a suspicious fire was no accident. The young Ph.D. candidate received a cryptic message from Ward just before the fatal blaze--a warning that their recent collaboration on a supposedly failed experiment had actually brought about one of the most important discoveries of the century: Adamas, a chemical process worth billions, and one with the potential to topple entire industries. Now on the run with his girlfriend, Erica, the two must elude relentless assassins long enough to protect the top-secret information, thwart a global conspiracy, and save their own lives before time runs out.