Blue Moon (Hardcover)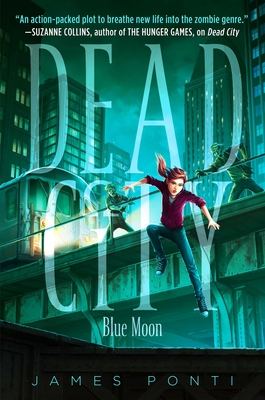 $17.99
Usually Ships in 1-5 Days
Staff Reviews
---
So here's the thing: I am not overly fond of zombie books. Generally I find them mildly boring and/or vaguely gross. This book however has me reconsidering my position on this undead scourge.
Molly is still recovering from her encounter with Marek Blackwell, the Dead City's mayor. While her broken wrist is healing up nicely, Molly is still mentally reeling. The discovery that her mother is a zombie is a lot to process. The more pressing problem at the moment is the fact her Omega team (an Omega team is made up of students from the Metropolitan Institute of Science and Technology, who know zombies exist and are a sort of police force to keep them in line and at peace with the living world) is on suspension due to their unauthorized zombie hunting activities, ie Marek Blackwell. Their reinstatement looks very shaky, and it isn't until they are invited to the Baker's Dozen that things start to turn around.
What's the Baker's Dozen? Well, Molly and her team have to figure it out fast, because Manhattan's zombies have a plan, Operation Blue Moon. A plan to consolidate their power in both living and dead communities, plus a large dollop of revenge thrown in for spice. It is up to Molly and her team to figure out who, what, when, where, and how to stop this Operation, before it is too late.
This is a seriously fun read. James Ponti does a great job in balancing all the plot lines within this book, each one enhancing and adding to the other --- While never becoming jumbled or garbling the story with irrelevant material. In doing so, the book never drags, and you have to pay serious attention to each page, so you don't miss any pertinent information.
Plus the Molly and the Omega team are really clever in how they uncover the zombies' plans. Using resources readily available to anyone, it makes their discoveries much more plausible. Plus while they are all a bit above average in their reasoning skills (and smarts) none of them are super geniuses. They have to work together as a team to figure out a solution to the puzzles and plots. Add the fact that each person in the book has their own flaws and talents, this makes for great reading!
While this is a zombie book, and does have the obligatory fight scenes and dismembered body parts, here again Ponti does a great job in being graphic (to a point) without being full out disgusting. Even these scenes hold important information needed to further the plot along.
This is a zombie mystery filled with clues, iffy allies and shady motives. I am highly recommending this book to any female (or open minded male reader, as there are a number of great guys in this book) reader age 9+ looking for a good urban fantasy/zombie book. I would suggest you start with the first book in the series, Dead City, as this second book relies heavily on knowledge from it. I would highly recommend this series!
— Amber
Description
---
Molly is ready for more nonstop, undead action in this follow-up to Dead City, which Kirkus Reviews described as "a fast-paced read for those who like their zombies with just a little fright." When Molly Bigelow discovered that zombies shared New York with humans, she didn't think life could get more shocking. Then she learned that her mother was once one of the greatest zombie killers ever--and she discovered that her dead mother is not technically dead at all (although she isn't alive, either). Molly's efforts to keep these secrets and to help her Omega team track down the identity of the original thirteen zombies will take her from the Macy's Thanksgiving Day parade to New Year's Eve in Times Square. Her loyalties to friends and family will be put to the test. And her life will be changed in ways she never could have imagined.