Trail of the Spellmans: Document #5 (Paperback)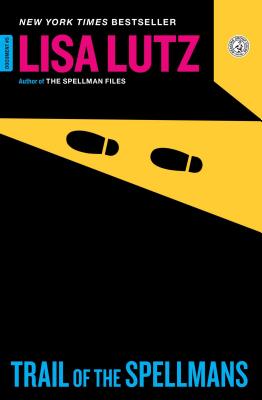 $15.99
Usually Ships in 1-5 Days
Staff Reviews
---
If you haven't read Lisa Lutz's Spellman documents (Document #1 - The Spellman Files, Document #2 - Curse of the Spellmans, Document #3 - Revenge of the Spellmans, and Document #4 - The Spellmans Strike Again, then it's time you did! The Spellmans are a family of private investigators, Albert and Olivia (Dad and Mom), David (the oldest), Izzy (our narrator) and Rae (the youngest), and they get into some tricky situations, laced with laugh-out-loud humor.
In Document #5, there are just a few things you need to know:
1. There are overlapping cases that will result in a Chinese wall.
2. Grammy Spellman is concerned about everyone's weight.
3. Rae gets arrested.
4. Walter's home may or may not have a plugged-in toaster.
5. Never, ever, under any circumstances, say "banana" to Sydney.
You can always count on Lisa Lutz for laughs, guaranteed*. But what makes Trail of the Spellmans so interesting is the huge change in the Spellman family dynamics. Things will never be the same for them after this book!
So don't forget, Lisa Lutz signs Trail of the Spellmans here at 1:00 on Sunday, April 1st, and there will be cake!
*And footnotes! Lots and lots of footnotes!
— FRAN
Description
---
The fifth in the critically acclaimed, New York Times bestselling, Edgar Award-nominated series about a fearless private investigator Izzy Spellman and her quirky, yet endearing, family of sleuths: "Lie back and enjoy this tale of intergenerational gumshoe mayhem" (Kirkus Reviews). FOR THE FIRST TIME IN SPELLMAN HISTORY, Isabel Spellman, PI, might be the most normal member of her family. Mom has taken on an outrageous assortment of extracurricular activities--with no apparent motive. Dad has a secret. Izzy's brother and sister are at war--for no apparent reason. And her niece keeps saying "banana" even though she hates bananas. That's not to say that Izzy isn't without her own troubles. Her boyfriend, Henry Stone, keeps wanting "to talk," a prospect Isabel evades by going out with her new drinking buddy, none other than Gertrude Stone, Henry's mother. Things aren't any simpler on the business side of Spellman Investigations. First, Rae is hired to follow a girl, but then fakes the surveillance reports. Then a math professor hires Izzy to watch his immaculate apartment while he unravels like a bad formula. And as the questions pile up, Izzy won't stop hunting for the answers--even when they threaten to shatter both the business and the family.
Praise For…
---
"Hilarious, but also tender and melancholy and full of hard-won wisdom. This one's going to stay with readers for a long time."

-Laura Lippman, author of I'd Know You Anywhere and the Tess Monaghan series


"Engaging….Lutz's dry, biting humor is in full force."



"A wise (and wise-cracking) choice for mystery readers seeking a break from the genre's bloodier fare."