The Infernals (Paperback)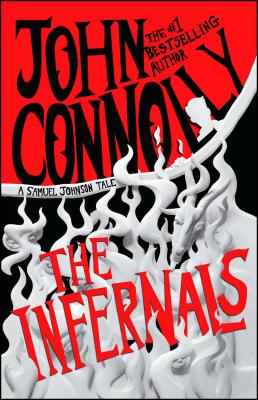 $15.00
Usually Ships in 1-5 Days
Staff Reviews
---
When I first read John Connolly's young adult novel, The Gates, I spent copious portions of my time reading parts of the book aloud to, well, anyone neaby whether I knew them or not.
I didn't do that with The Infernals, but that's because I read it in basically one night, and I figured my cats wouldn't appreciate the great fun I was having. I admit I might have been wrong, but they'll never say.
In The Infernals, a couple of years have passed since the events that took place in The Gates, and Samuel Johnson and his faithful dachsund, Boswell, have recovered (mostly) from those traumatic events, although Samuel misses Nurd, who is back in Hell. But things are about to take a decided turn for the worse, much to everyone's dismay.
By the way, you HAVE read The Gates, haven't you? Because you must read that one first. In fact, in one of the footnotes that liberally sprinkle both books, entertaining and enlightening readers, Our Narrator (one assumes Mr. Connolly) has this to say to you: "And what kind of person are you, reading the second part of a series before the first? I mean, really? Do you put on your shoes before your socks, or put your pants before your underwear? Now the rest of the readers have to hang around, whistling and examining their fingernails in a bored manner, while I give you special treatment. I bet you're the sort who arrives halfway through the movie, spilling your popcorn and standing on toes, then taps the bloke next to you on the shoulder and says, 'Have I missed anything?' It's people like you who cause unrest. . ."
— FRAN
Description
---
From New York Times bestselling author John Connolly, a wonderfully strange and brilliant novel about a boy and his dog and their journey to escape the fires of hell. "Roald Dahl meets Harry Potter"* in this wonderfully strange and brilliant novel about a boy, his dog, and their struggle to escape the wrath of demons. Young Samuel Johnson is in trouble. Not only is his eyesight so poor that he mistakenly asks out a letter box on a date but an angry demon wants revenge for Samuel's part in foiling the invasion of Earth by the forces of evil. When Samuel and his faithful dachshund, Boswell, are pulled through a portal into the dark realm, home of the Infernals, it gets its chance. Catching Samuel won't be easy, for the Infernals have not reckoned on the bravery and cleverness of a boy and his dog; a hapless demon's loyalty to the duo; or the presence of two clueless policemen and an unlucky, if cheerfully optimistic, ice-cream man. Most of all, no one has planned on the intervention of an unexpected band of little men who also have recently found themselves in the underworld. If you thought demons were frightening, just wait until you meet Mr. Merryweather's Elves. . . . *My Shelf Confessions
About the Author
---
John Connolly is the author of Every Dead Thing, Dark Hollow, The Killing Kind, The White Road, Bad Men, Nocturnes, and The Black Angel. He is a regular contributor to The Irish Times and lives in Dublin, Ireland. For more information, see his website at JohnConnolly.co.uk.
Praise For…
---
"Connolly's graceful prose, laced with acerbically witty footnotes, is a joy to read, and he easily alternates among slapstick comedy, powerful drama, and skin-crawling horror."—Publishers Weekly



"Brilliantly funny, often touching, with enough action to keep adventure fans on the edges of their chairs, this novel combines top-notch writing with cutting wit."—Kirkus Reviews



"Roald Dahl meets Harry Potter."—My Shelf Confessions



"Connolly lets his imagination and his wit run delightfully wild as he describes Hell's denizens and the human band's pilgrimage through its geography."—New Orleans Times-Picayune