Ordinary Grace (Hardcover)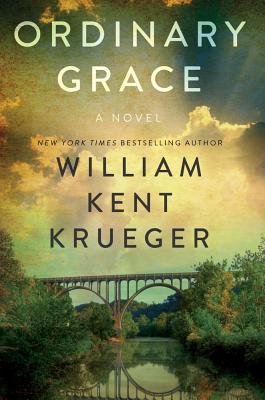 Email or call for price
Special Order - E-mail us directly - We may have a used book!
Staff Reviews
---
Once in a while you read a book that transports you to another place and time. There's a special kind of magic when that happens, and with William Kent Krueger's Ordinary Grace (no idea if we'll have signed copies), that magic hits hard.
It's 1961 in New Bremen, MN, and Frank Drum is thirteen years old. The Twins were new on the scene, Hot Stuff comics were the big hit and nothing quenched your thirst like an ice cold mug filled with root beer. Frank's father is the Methodist minister, his mother is rebellious enough to smoke in public, his older sister, Ariel (born with a harelip, which has been corrected) is headed for Julliard on a music scholarship, and Jake, Frank's kid brother, tags along wherever Frank goes, and rarely speaks in public because of his stutter.
One of Frank's classmates, Bobby Cole, was killed by a train on the trestle, and not long after, Frank discovers the body of a homeless man. Both are disturbing in a small, tight-knit community, but that was just the beginning, and the events of that hot, fateful summer changed everyone in New Bremen.
I am so very fond of Krueger's main character, Cork O'Connor, that I was a bit hesitant to pick up Ordinary Grace. It's so very different from what he's written in the past, and I can be intensely loyal to my characters. And the punctuation Kent used here is innovative, which should just annoy the heck out of the English teacher in me.
But oh. Oh my. Ordinary Grace is stunning! The build-up of suspense is almost Hitchcockian in its subtlty and pervasiveness. There's nothing horrific in what happens to the good folks of New Bremen, just people being themselves. But what those people do to themselves and each other, born of their own teaching, ignorance, biases, love, faith and determination, will touch you, I'm positive. And William Kent Krueger, with his amazing writing and beautifully human people, will teach you that it's an ordinary grace that means the most.
— Fran
Description
---
NEW YORK TIMES BESTSELLER
WINNER OF THE 2014 EDGAR AWARD FOR BEST NOVEL
WINNER OF THE 2014 DILYS AWARD
A SCHOOL LIBRARY JOURNAL BEST BOOK OF 2013 "That was it. That was all of it. A grace so ordinary there was no reason at all to remember it. Yet I have never across the forty years since it was spoken forgotten a single word." New Bremen, Minnesota, 1961. The Twins were playing their debut season, ice-cold root beers were selling out at the soda counter of Halderson's Drugstore, and Hot Stuff comic books were a mainstay on every barbershop magazine rack. It was a time of innocence and hope for a country with a new, young president. But for thirteen-year-old Frank Drum it was a grim summer in which death visited frequently and assumed many forms. Accident. Nature. Suicide. Murder. Frank begins the season preoccupied with the concerns of any teenage boy, but when tragedy unexpectedly strikes his family--which includes his Methodist minister father; his passionate, artistic mother; Juilliard-bound older sister; and wise-beyond-his-years kid brother--he finds himself thrust into an adult world full of secrets, lies, adultery, and betrayal, suddenly called upon to demonstrate a maturity and gumption beyond his years. Told from Frank's perspective forty years after that fateful summer, Ordinary Grace is a brilliantly moving account of a boy standing at the door of his young manhood, trying to understand a world that seems to be falling apart around him. It is an unforgettable novel about discovering the terrible price of wisdom and the enduring grace of God.
Praise For…
---
"A pitch-perfect, wonderfully evocative examination of violent loss. In Frank Drum's journey away from the shores of childhood—a journey from which he can never return—we recognize the heartbreaking price of adulthood and it's 'wisdoms.' I loved this book."

-Dennis Lehane, New York Times bestselling author of Live by Night and The Given Day


"A respected mystery writer turns his attention to the biggest mystery of all: God. An award-winning author for his long-running Cork O' Connor series, Krueger aims higher and hits harder with a standalone novel that shares much with his other work.... 'the awful grace of God,' as it manifests itself within the novel, would try the faith of the most devout believer. Yet, ultimately, the world of this novel is one of redemptive grace and mercy, as well as unidentified corpses and unexplainable tragedy. A novel that transforms narrator and reader alike."



"...elegiac, evocative.... a resonant tale of fury, guilt, and redemption."



"Once in a blue moon a book drops down on your desk that demands to be read. You pick it up and read the first page, and then the second, and you are hooked. Such a book is Ordinary Grace…This is a book that makes the reader feel better just by having been exposed to the delights of the story. It will stay with you for quite some time and you will always remember it with a smile."



"One cannot read Ordinary Grace without feeling as if it is destined to be hailed as a classic work of literature. Ordinary Grace is one of those very rare books in which one regrets reaching its end, knowing that the experience of having read it for the first time will never be repeated. Krueger, who is incapable of writing badly, arguably has given us his masterpiece."



"My best read so far this year."



"A thoughtful literary mystery that is wholly compelling and will appeal to fans of Dennis Lehane and Tom Franklin. . . Don't take the title too literally, for Krueger has produced something that is anything but ordinary."