The Last Word (Hardcover)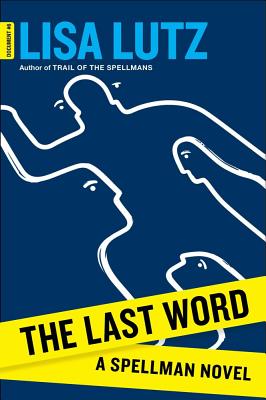 Email or call for price
Special Order - E-mail us directly - We may have a used book!
Staff Reviews
---
It's no secret I'm a huge fan of Lisa Lutz's writing. Her Spellman File documents have had me laughing out loud for years now. So when the latest document arrived, you'd think I'd've jumped right in. But there's a catch.
See, in all the other documents, the name "Spellman" was in the title. Not this one. It's called The Last Word, and the fact that it was not labelled a Spellman document in the main title (it's there, on the book, but that's not quite the same) made me wary. 
In The Last Word, Izzy Spellman draws us into her world again, with humor and footnotes. After her hostile takeover of Spellman Investigations, Izzy has discovered that sometimes being the boss isn't as easy as it looks. Her employees, most notably her mom and dad, are proving to be as difficult as Izzy herself was back in her 20's. David's caught up in staying at home to raise the precocious Sydney, Rae's finishing up college, and the other Spellman employees are caught up in their own dramas. But the biggest problem for Izzy is that her primary client, Edward Slayter, is finding that his Altzheimer's is rapidly worsening. When he accuses Izzy of embezzling, things take a decided turn for the worse, for both the company and Izzy personally.
This is just a much fun as each and every one of the other documents, but Megan Abbott is completely correct when she says, "Like Raymond Chandler meets Salinger's Glass family, Lutz offers, with The Last Word, her richest, funniest, and most bittersweet Spellman tale to date." I can't wait to see what Lisa Lutz comes up with next!
— Fran
Description
---
"The Last Word is Raymond Chandler meets Arrested Development. Zany, witty, and full of dark surprises, Lisa Lutz's novel is pure fun--and Izzy Spellman, PI, tops the list of 'Fictional Characters I'd Like to Meet for a Bourbon.'"--Gillian Flynn, New York Times bestselling author of Gone Girl
The sixth installment of the critically acclaimed, New York Times bestselling, Edgar- and Macavity-nominated and Alex Award-winning series by Lisa Lutz, finds our intrepid heroine of the series, Isabel Spellman, PI, at a crossroads. Izzy is used to being followed, extorted, and questioned--all occupational hazards of working at her family's firm, Spellman Investigations. Her little sister, Rae, once tailed Izzy for weeks on end to discover the identity of Izzy's boyfriend. Her mother, Olivia, once blackmailed Izzy with photo-graphic evidence of Prom Night 1994. It seemed that Spellman vigilance would dis-sipate after Izzy was fired for breaching client confidentiality, but then Izzy avenged her dismissal by staging a hostile takeover of the company. She should have known better than to think she could put such she-nanigans behind her. In The Last Word, Izzy's troubles are just beginning. After her takeover of Spellman Investigations, her employees are the fur-thest thing from collegial...and Izzy finds herself struggling to pay the bills. But when she is accused of embezzling from a former client, the ridiculously wealthy Mr. Slayter, the stakes become immense. If Izzy gets indicted, she could lose her PI license and the Spellman family's livelihood, not to mention her own freedom. Is this the end of Izzy Spellman, PI? The Last Word is, hands down, the most powerful book in the bestselling, award-nominated Spellman series.