Darkness Bound (Mass Market Paperbound)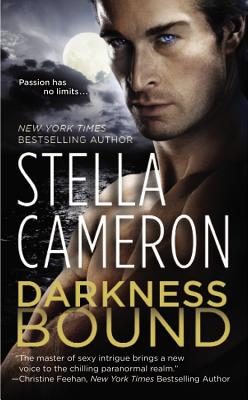 Email or call for price
Special Order - E-mail us directly - We may have a used book!
Staff Reviews
---
Paranormal romantic suspense is about to get even hotter. Stella Cameron's new series, the Chimney Rock series beginning with Darkness Bound adds a new twist to this wildly popular genre.
Leigh Kelly has returned to the town of Chimney Rock -- on Washington's own Whidbey Island! -- following the death of her beloved husband, Chris. She's pulling her life back together, with the home they once shared, a new job revitalizing the local hang-out, Gabriel's Place, and coming to grips with her future, although she's a little disturbed by the handsome man, Niles, whom Gabriel had asked to do some odd jobs around her house. Niles knows that Leigh is the one for him, but only if she can accept who he truly is, someone who is not fully human.
In a genre filled to the brim with excellence, it's always nice to find someone who both entertains and challenges, and Stella Cameron does both with Darkness Bound. She throws you into her world headfirst and, like Leigh, you have to learn who everyone is, what theiy are and what they want at a breakneck speed. At first, I have to admit, I thought I was reading the second book in the series, since so much was already established, but then I realized that I was expected to be intelligent enough to figure things out and keep up. That's a flattering assumption for an author to make, and I'm pleased to say I did. And honestly, it's refreshing to read a paranormal suspence novel where the werewolves and vampires are still the bad guys, and where even the heroes can surprise you.
If you're looking for something different and fun in the paranormal romantic suspense world (and there's plenty of romance, let me assure you!), Stella Cameron's new series is sure to please!
— FRAN
Description
---
WHEN NIGHT FALLS
After her husband's tragic death, Leigh Kelly arrives on Whidbey Island determined to start over. Yet the tiny town of Chimney Rock is not as peaceful as it seems. Women have been disappearing, and Leigh can't shake the feeling that she's being watched . . . especially at night. Soon, she's experiencing visions she can't explain and fighting her attraction to a handsome stranger who seems to know her most intimate desires.
PASSION TRANSFORMS THEM
As the leader of the Team, a pack of werehounds forced to hide their very existence, former special ops soldier Niles Latimer is desperate to prove a man's heart beats beneath his predator's body. And Leigh-the mysterious beauty possessing powers she doesn't yet understand-may be the one woman who can help him. But Niles isn't the only one who recognizes Leigh's true identity. Something evil is waiting in the woods-and the hunt has begun . . .
About the Author
---
Stella Cameron is the "New York Times" and USA Today bestselling, prize-winning author of more than sixty novels. She is the recipient of the Pacific Northwest Award for Literary Achievement. English by birth but a longtime Seattleite, Stella happily trips over the many authors who crawl out from every rock she turns over in the area and wouldn't live anywhere else.

You can learn more at:

StellaCameron.com

Twitter @StellaCam

Facebook.com/StellaCameron
Praise For…
---
"No matter the genre, you can always count on the gifted Cameron to deliver an exciting tale filled with passion and thrills. Cameron launches her sizzling Chimney Rock series featuring werehounds and other supernatural creatures. Dark things are stirring on Whidbey Island, which means that for lucky readers, chills and thrills aren't far behind!"
---- RT Book Reviews 4 1/2 Starred Review on Darkness Bound

"If you're looking for chilling suspense and red-hot romance, look no further than Stella Cameron!"
-Tess Gerritson, New York Times Bestselling Author

"Welcome to a thrilling new world where suspense runs WILD (literally)!! I devoured this book, I drooled over the hero, and now I'm panting for the next one in the series... Sexy, spooky, and suspenseful! Read this inside with the doors locked!"
-Kerrelyn Sparks, New York Times bestselling author

"A confident and compulsively readable paranormal romantic suspense series. ... . Cameron compellingly develops the sexy, bold protagonists and Marley's charming family as she strikes the perfect balance of action, sassy dialogue, and steamy love scenes ... just enough to leave readers wanting more."
-Publishers Weekly (starred review) on Out of Body

"Master of Sexy intrigue brings new voice to chilling paranormal realm."
-Christine Feehan, New York Times Bestselling Author on Out of Body

"This is a terrific paranormal story with the mix of humans, werehounds, werewolves, vampires and Faes. ...The story never loses fascination and is an excellent read."
---- romancereviewsmag.com