Red Moon (Hardcover)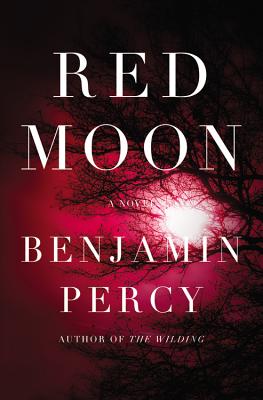 Staff Reviews
---
All teenagers believe they're different, but in Claire Forrester's case, it's true. In Benjamin Percy's new novel, Red Moon, there's a group of people living among us who are definitely different, even though they're trying to fit in. They're lycans, werewolves living as if they're human. For those who don't want to try to fit in, there's the Lupine Republic, but that's heavily guarded, really nothing more than a containment camp, and life there is incredibly hard. But with the proper medication, lycans have been living among us, mostly peacefully. However, when a lycan explodes into deadly fury on an airplane, leaving human Patrick Gamble the only survivor, the tenuous balance is shifted, and containing lycans becomes a political juggernaut. In this atmosphere, Claire's family is slaughtered by the government, and she alone escapes.
Red Moon is the beginning of what may be a series, is certainly headed for a trilogy (because I don't see how he'll wrap up everything he started here in a single follow-up book!), and Benjamin Percy has created a grim and powerful world where discrimination is expected, where political manipulation is expected, and where moments of joy and love stand out all the more for their passion and desperation. Percy has created some fabulous, dynamic people and put them in a struggle that is nothing less than epic. His bad guy has an air of evil masked in smiles that is decidedly creepy. I liked not only his main characters, but some of his secondary characters are equally vibrant. I know I want to see more of Miriam! My only whine -- and it is just that – is that it's becoming more and more difficult for me to read present-tense novels, so it took me a while to get into it because I had to twist my head into a space that can read and enjoy that style. But that's just my own quirk, and I'm more than willing to tackle it for the sequel!
— Fran
May 2013 Indie Next List
---
"A phenomenal writer at a cellular level, Benjamin Percy continues to develop into a beastly literary force. In his latest, he tears up the epic horror novel, transforming it into a war novel, a political novel, a novel of judgment and of revolution. When werewolves, who have lived side by side with humans through history, feel oppressed to the point of breaking, a faction rises up against the U.S. government using terrorist tactics, forcing everyone 'lycan and human' to decide which side they stand on, and which lines they are willing to cross. Red Moon is terrifyingly good, with sharp claws, sexy rumbles, and plenty of blood and guts. Stacie M. Williams, Boswell Book Company, Milwaukee WI"
— Stacie M. Williams, Boswell Book Company, Milwaukee, WI
Description
---
Award -winning author Benjamin Percy presents an explosive and deeply layered literary thriller set in the American West. They live among us.

They are our neighbors, our mothers, our lovers.

They change.

When government agents kick down Claire Forrester's front door and murder her parents, Claire realizes just how different she is.

Patrick Gamble was nothing special until the day he got on a plane and hours later stepped off it, the only passenger left alive, a hero.

Chase Williams has sworn to protect the people of the United States from the menace in their midst, but he is becoming the very thing he has promised to destroy.

So far, the threat has been controlled by laws and violence and drugs. But the night of the red moon is coming, when an unrecognizable world will emerge...and the battle for humanity will begin.
About the Author
---
Benjamin Percy has won a Whiting Writers Award, a Plimpton Prize, two Pushcart Prizes, and a grant from the National Endowment for the Arts. He is the author of the novel "The Wilding" and two short story collections, "Refresh, Refresh" and "The Language of Elk" (available as an ebook from Grand Central Publishing). He lives in Minnesota with his family. For more information, you can visit www.BenjaminPercy.com.
Praise For…
---
"Percy has a lusty flair for describing destruction. . . . When Claire and Patrick take the field, the book lights up, and the writing possesses a resonant, emotional honesty. . . . The story is imaginative and lots of fun, and it will deservedly charm many readers."—Justin Cronin, New York Times Book Review

"Atmospheric . . . While some writers of paranormal novels wrap their creatures in romance and comic subplots, Percy has chosen a darker, more literary path. Red Moon is a morality tale cloaked in fur, fangs and social injustice. Werewolves are the monsters in the story, but the bête noire is humanity's moral decline."—USA Today

"Percy is an ace world-builder, creating a massive cast of characters and a surprisingly believable alternate history. . . . Devastating and darkly funny."—Entertainment Weekly (grade: A-)

"Percy's latest novel is a smart, action-packed political thriller. . . . It's a high-wire literary act that the author pulls off with panache."—Entertainment Weekly's "Must List"

"An intelligent, topical thriller."—LA Times

"Audaciously complex and hauntingly composed. . . . [Percy] ballasts his nightmare with a poet's more natural magic. . . . Fear, this book reminds us, is a beast that's always hungry."—Christian Science Monitor

"...a terrifically hairy werewolf novel."—Vanity Fair

"[A] stunning new read."—O Magazine

"Smart and brisk and often poetic...Percy knows how to draw intense, dramatic scenes as the world goes feral."—Ron Charles, Washington Post

"Terrifying and tense."—Chicago Tribune

"Evocative, poetic prose...Percy's panoramic portrait is a welcome addition to literary horror."—Nylon

"Don't mistake this book for anything less than a great literary achievement; Red Moon is, in all likelihood, the most well-written werewolf novel you will come across."—New York Observer

"[Percy] deftly negotiates the delicate balance between crafting commentary and a compelling literary creation. . . . A gripping and violent story."—Roxane Gay, The Daily Beast

"This literary thriller by an award-winning young writer will excite fans of modern horror who enjoy a large canvas and a history to go with their bloody action. . . . Fans of Max Brooks's zombies and Justin Cronin's vampires will enjoy the dramatic breadth of Percy's tale of werewolves."—Library Journal (starred review)

"A splendid read. . . . Percy focuses on a trio of engaging and beautifully drawn characters. . . . [Percy] humanizes the werewolf, turning him from snarling beast into a creature for whom we feel compassion and affection."—Booklist (starred review)

"It would be tempting, or at least easier, to put Percy's book in the werewolf subgenre, but Red Moon is much more than that. Dark, bloody, violent, relentlessly grounded in the post-9/11 world and the Pacific Northwest, not without humor but sparing in its application, Red Moon could well serve as the Heart of Darkness of a new, more anxious generation, one that must somehow come to terms with the enemies, real or perceived, who live quietly among us."—The Oregonian

"A remarkably rendered speculative history of America, as well as a gripping, grisly horror story. . . . Poetic . . . In Percy's plagued fictional reality the allegorical connections to current affairs are complex and clever."—Minneapolis Star-Tribune

"One of America's promising young writers. . . . [Percy] crafts sentences that drip with the same drool of the lycans who both terrorize and save his protagonists. . . . Literary fiction with a menacing tone, a thrilling pace, and no shortage of bloody imagery."—The Inlander (Spokane)

"The prose in this page-turner is purposefully cinematic. . . . Reading Red Moon involves a personal connection with a diverse set of characters, some of whom we may recognize. Percy seems to foster this connection, hoping we relate on a grand scale of humanity. He challenges readers to acknowledge a kinship with the enemy and to 'make yourself heard. Howl.'"—The Missourian

"A remarkably rendered speculative history of America as well as a gripping grisly horror story... Complex, clever and on occasion wonderfully ironic."—Milwaukee Journal Sentinel

"Extraordinary. . . . An ambitious, epic novel. . . . Holds a mirror up to contemporary America to reflect its fears and biases."—Publishers Weekly

"Spellbinding . . . RED MOON is a cross between Stephen King and the Michael Chabon of The Yiddish Policeman's Union . . . . A fat, multilayered page-turner. . . . If you haven't read Percy, get started."—Book Page

"RED MOON is a complex novel, and a thriller of real power. The action sequences are fast moving, often gruesome, and delivered with an edge-of-the-seat pace. The descriptive scenes can take your breath away with the power of the writing."—The Strand

"Packed with suspense, political intrigue and an against-the-odds romance, Percy's latest has all the makings of a summer blockbuster. . . . If you toss this supernatural thriller into your beach bag you're unlikely to regret it."—All You

"Excellent. . . . Benjamin Percy does for werewolves what Justin Cronin did for vampires and, before that, Max Brooks did for zombies. . . . Percy writes in an assured, cool, sexy style: there are shocks aplenty and suspense in spades, but no scares in the traditional horror novel sense. By situating his werewolves firmly in a post-9/11 world, he takes the old horror staple out of the shadows and shines a very contemporary spotlight on it."—The Guardian (UK)

"Red Moon is that rare beast, a genre novel that is literary, politically aware and thought-provoking."—The Guardian (UK)

"A heady mix of political allegory and urban fantasy. . . . Percy is a skilled writer, able to sympathetically portray both sides of this conflict, never resorting to a good-vs.-evil delineation. His novel examines the themes of race, religion, social injustice, and the war on terror while also providing a provocative update on the werewolf mythos. . . . Those looking for some contemporary politics mixed in with their modern horror will definitely find something to sink their teeth into."—Austin Chronicle

"A powerfully written alternative history."—Tampa Bay Times

"Engrossing. . . . Readers shopping for some juicy literary horror to bite into this summer, perhaps starring hungry werewolves, would do well to pick up Benjamin Percy's Red Moon. . . A beast of a tale. . . . tense, slick and as gory as anything you'll read. But Percy's story possesses an unexpected depth, one that forces the reader to hold up a mirror and examine some uncomfortable prejudices."—Wisconsin State Journal

"I can't think of another book that is more timely and relevant to the world we live in at this precise moment-the post-September 11th, post-Boston Marathon bombing landscape of heightened xenophobia and security-than Red Moon."—The Nervous Breakdown

"Red Moon is a serious, politically symbolic novel-a literary novel about lycanthropes. If George Orwell had imagined a future where the werewolf population had grown to the degree that they were colonized and drugged, this terrifying novel might be it."—John Irving, author of In One Person

"Benjamin Percy is one of the most gifted and versatile writers to appear in American publishing in years. His degree of craft and natural talent are extraordinary; his ear for language is absolutely perfect. His prose has the masculine power of Ernest Hemingway's, but also the sensibilities and compassion of Eudora Welty. His writing is like a meeting of Shakespeare and rock 'n' roll. Benjamin Percy knows how to keep it in E-major, and what a ride it is."—James Lee Burke, author of Feast Day of Fools

"With Red Moon one of our most blazingly gifted young writers stakes his claim to national attention. Benjamin Percy has one great advantage over most writers who attempt 'literary horror': he understands the literature of real horror from the inside out, and he speaks it like a native. This is a novel with the power to thrill and transport, also to lead the reader well out of her comfort zone and into emotional territory few people have ever seen."—Peter Straub

"There's no other way to say it: Benjamin Percy has written a stunner, a genre-bending novel of suspense and terror but with Percy's usual force-of-nature language and his deep insights into character. I cannot recommend this novel highly enough, nor could I put it down."—Tom Franklin, author of Crooked Letter, Crooked Letter, Hell at the Breech and Poachers