Identical (Hardcover)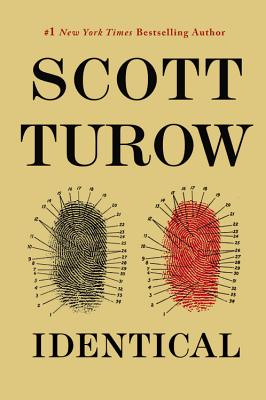 Email or call for price
Special Order - E-mail us directly - We may have a used book!
Staff Reviews
---
Scott Turow is, without a doubt, a masterful writer. Not only is his wordsmithing outstanding, his plots are astonishing. If you've never read Presumed Innocent, you should. They really screwed up the subtle ending in the Harrison Ford movie which was, otherwise, a great movie. If you have – or once you do read it – go on to Innocent. It's a sequel, featuring the hapless Rusty Sabitch accused, once again, of murder. It gives nothing away to say why that book was superb: the killer's motivations hinge on the outcome of the first book but Turow never once gives away that surprise ending of Presumed Innocent, and knowing that ending makes Innocent that much more tense.
Identical takes place between those two books, in 2008. Though Sabitch is not among the cast, Raymond Horgan and Sandy Stern are. And Kindle County (Turow's fictionalized name for Chicago's Cook County predates Amazon's e-lunacy by a long-shot and Bezos should probably pay Turow for naming rights…) is still a political swamp of maneuvering sharpies.
25 years ago, Cass Gianis' girlfriend was murdered. He confessed and is now being released from prison. As this is taking place, his identical twin Paul – a respected prosecutor turned state senator – is running for mayor of the Tri-Cities. The victim's older brother has always felt that Paul was involved and he uses his great wealth to begin running attack ads during the campaign. Paul sues for defamation.
And the ugliness erupts.
The two families used to be close but split apart decades ago. Resentments and suspicions have seethed and festered. Once Hal – the dead girl's brother – runs the first ad there is no going back and everyone involved is at the mercy of events.
The characters are strongly drawn and fully formed. What you think happened back at the time of Dita's death will alter as the story unfolds as what you think of the various characters changes as well. You will find them all, to one extent or another, equally sympathetic – which is no small thing. Once you know what really happened – not until the end – you'll see it for the inevitable and horrible tragedy it was.
Along the way are the high drama of legal fencing, cutting edge forensics trying to work with decades-old evidence, and old-world traditions clashing with modern American realities.
Masterful.
As the book doesn't come out until mid-Fall, we don't know yet if Scott will be touring out our way, or if his publisher will make signed copies available. If either is a possibility, we'll let you know.
Identical  by Scott Turow – the finest in legal thrillers, suspense, and American literature.
— JB
Description
---
State Senator Paul Giannis is a candidate for Mayor of Kindle County. His identical twin brother Cass is newly released from prison, 25 years after pleading guilty to the murder of his girlfriend, Dita Kronon. When Evon Miller, an ex-FBI agent who is the head of security for the Kronon family business, and private investigator Tim Brodie begin a re-investigation of Dita's death, a complex web of murder, sex, and betrayal-as only Scott Turow could weave-dramatically unfolds...
About the Author
---
Scott Turow is the author of ten bestselling works of fiction, including Identical, Innocent, Presumed Innocent, and The Burden of Proof, and two nonfiction books, including One L, about his experience as a law student. His books have been translated into more than forty languages, sold more than thirty million copies worldwide, and have been adapted into movies and television projects. He has frequently contributed essays and op-ed pieces to publications such as the New York Times, Washington Post, Vanity Fair, The New Yorker, and The Atlantic.