Crocodile on the Sandbank (Mass Market Paperbound)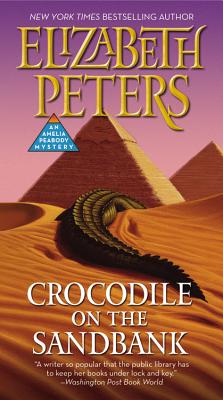 $10.00
Usually Ships in 1-5 Days
Staff Reviews
---
Amelia Peabody's adventure starts with a death in 1884 England. Now mind you, in this case there was nothing sinister – her father passed away of natural causes in his study leaving Amelia whith a nice inheritance and home – allowing her to become a woman of independence and freedom she'd never experienced before. So Amelia in her indominable fashion decided to travel – Greece, Rome, Babylon and Thebes - places she'd read about with her father but never had seen. On her travels, she aquired an odd assortment of friends, a mystery and a mummy in an adventure that even she couldn't have dreamed of having!
I cannot say how much I enjoyed reading this book! I took my time and savored the characters, Egypt and her adventures. Amelia was so herself, forthright, clear and a force of nature that she was wonderful to read. Peters did a fine job of making me feel like I was in Egypt – when the tombs were first being uncovered by archaologists (not the earlier grave robbers) and the excitement over such finds. The adventure told in such a way to remind me of Jane Austen's style but with more action - haunted tombs, wandering mummies and the odd kidnapping. I cannot believe I waited so long to start this series! I am so excited I have so many books ahead of me!
Now there is an odd thing I must mention. I felt a strange-ish sense of déja vu while reading this book – but I knew I'd never cracked the spine before…. It wasn't until Amelia started wielding her parasol in a rather aggressive manner that I keyed into where I'd read this before! Then when I remembered the subtle (and sometimes not so subtle) Egyptian influence I'd read in another book did my suspisions really begin to solidify. I believe Gail Carriger's "Soulless" series, her heroine Alexia Tarabotti especially, is firmly rooted in Elizabeth Peter's Amelia Peabody series! Yes I know, Soulless includes vampires, werewolves and dirigibles – but if you strip these trappings away (which is how Carriger made her books into something new and fresh) the two series are not as dis-similar as you would think! (Now to be fair I don't know for sure that Carriger rooted her first series in the soil planted by Peters – however there is such a degree of familiarity between the women and a few other characters, I am not sure how it could be accidental.)
I would recommend this series to anyone who enjoys reading a strong female lead, historicals or Egypt! I would also recommend this series to anyone who enjoyed reading the "Soulless" series – while there isn't any paranormal activity (well, not that isn't faked) – Amelia & Alexia share so much in common I don't see how a fan would not enjoy reading Amelia's adventures! (btw Peters wrote her first book in 1975 – well before Soulless, in case anyone wonders which came first) Basically, I would recommend this book to anyone who enjoys reading a well written adventure/mystery/Egyptologist book!
Description
---
Set in 1884, this is the first installment in what has become a beloved bestselling series. At thirty-two, strong-willed Amelia Peabody, a self-proclaimed spinster, decides to use her ample inheritance to indulge her passion, Egyptology. On her way to Egypt, Amelia encounters a young woman named Evelyn Barton-Forbes. The two become fast friends and travel on together, encountering mysteries, missing mummies, and Radcliffe Emerson, a dashing and opinionated archaeologist who doesn't need a woman's help -- or so he thinks.
About the Author
---
Elizabeth Peters was born and brought up in Illinois and earned her Ph.D. in Egyptology from the University of Chicago's famed Oriental Institute. Peters was named Grand Master at the inaugural Anthony Awards in 1986 and Grand Master by the Mystery Writers of America at the Edgar Awards in 1998. She lives in a historic farmhouse in western Maryland. You can learn more at: ameliapeabody.com