The Wolf in Winter (Hardcover)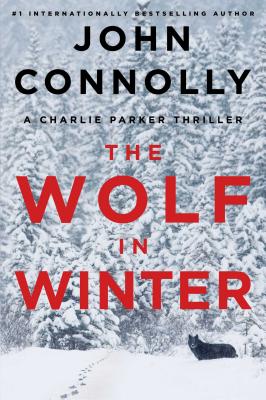 Staff Reviews
---
For the last few books in his Charlie Parker series, John Connolly has been slowly opening up a much larger view of a world of evil that underlies the world as we know it. Killers, demons, dangerous and revolting people – at first you had to wonder how much of this was in Parker's head or imagination but it is now clear that Parker (and by extension, the rest of us) live in a world permeated by these entities. They're very old, very powerful and they are, to one extent or another, frightened of Parker even if he himself isn't aware of his role in this 'other world'.

The Wolf in Winter is ostensibly about Parker's search for a missing young woman who is thought to have gone to a strange and disturbing town called Prosperous. This community traces its origin to England and social battles over religion. Those who founded the town brought over their church and reconstructed it and have kept to themselves ever since. Clearly, there is something wrong with this town and the folks who run it, and they react with fear and horror when Parker turns up to ask questions. Their reactions cause a violent upheaval in this 'other world', or at least those creatures, human or not, who dance at its edge.
This seems to be a bridge book, a story that is going to take us and Parker to a new and staggering level of awareness. Most interestingly, Parker is the center of the book but not in most of the book, and about that I can say no more.
It is a story populated by many familiar characters and some dandy new ones. It'd be nice if there was a 'family tree' of John's actors, something that reminded us where and when they first appeared, with whom they were affiliated, and who was responsible for what nightmares.
The only bad thing about the book is that, as a bridge to the next chapter in Parker's life, we have to wait so long to find out what he discovers on the other side.
Can't wait!
— JB
In some ways, I think the new "Charlie Parker" book by John Connolly, The Wolf in Winter is a transition book. And that's not a bad thing by any stretch of the imagination!

The small Maine town of Prosperous has lived up to its name. For the most part, financial hard times have passed it by and its people are thriving, almost as if the town itself is guarding them. So a missing girl and the death of a homeless man in Portland shouldn't have an impact on Prosperous, and neither event should attract the attention of Charlie Parker, and yet they do. The secret that Prosperous is hiding is one that they'll do anything to keep. What's one lone detective against that?

The events that unfold in The Wolf in Winter tell us a lot about Charlie, make for some interesting and unexpected bedfellows, and are keep-you-up-at-night intense. There are some things I saw coming, some I didn't see at all (which is always great!), and by the end, I was left wanting the next book because I can't wait to see what happens next.

And it's all about the people. Not just Charlie, who is the bedrock of the series, but all those around him, from the folks at the Bear - and I'm thinking specifically of the Fulcis, who both reassure and terrify me - Ronald Straydeer, and Angel and Louis, but others as well, including The Collector. Even the baddest of the bad guys are three dimensional and complex, and I'm always interested to see who the new players will be. The folks of Prosperous, including the board of selectmen, are all fascinating, and while some may not be the kinds of folks you'd want to hang out with, their sense of duty and dedication is inspiring, if creepy.

That's what keeps me coming back to John Connolly's books, the people. And his ability to tell a first-class story!
— Fran
Description
---
The next pulse-pounding thriller in John Connolly's internationally bestselling Charlie Parker series. The community of Prosperous, Maine has always thrived when others have suffered. Its inhabitants are wealthy, its children's future secure. It shuns outsiders. It guards its own. And at the heart of Prosperous lie the ruins of an ancient church, transported stone by stone from England centuries earlier by the founders of the town... But the death of a homeless man and the disappearance of his daughter draw the haunted, lethal private investigator Charlie Parker to Prosperous. Parker is a dangerous man, driven by compassion, by rage, and by the desire for vengeance. In him the town and its protectors sense a threat graver than any they have faced in their long history, and in the comfortable, sheltered inhabitants of a small Maine town, Parker will encounter his most vicious opponents yet. Charlie Parker has been marked to die so that Prosperous may survive. Prosperous, and the secret that it hides beneath its ruins...