Light of the World (Hardcover)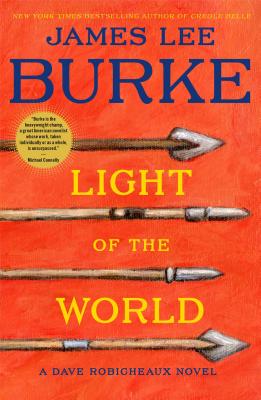 Email or call for price
Special Order - E-mail us directly - We may have a used book!
Staff Reviews
---
Light of the World is the 20th in the Dave Robicheaux series from James Lee Burke. Recently, they've been ending as if it could be the last in the series and I am relieved and elated to find out each year that is not so. These books will go down in time as major American literature and, like Chandler or Hammett, will be read and enjoyed and discussed for decades to come.
He's one of the few writers in the world of crime and mystery (Ellroy, Lehane and Connolly being three others) who deal with personal and societal evil as a central theme of his novels, and Dave and his life-long friend Clete are incapable of walking away from the evil they encounter. Which is how we'd all like to be. Both are haunted by their past actions but know that someone has to do what needs to be done. "At some point in your life, you have to give up anger or it will destroy your spirit the way cancer destroys living tissue. At least that is what I told myself, even though I was not very good at taking my own advice."
This time out, the noble men are vacationing in Montana, staying with a respected author who sounds much like Burke himself. As Dave and his host tangle at times it is fun to read, as if listening in on Burke's own inner-monologue. But while it is always a delight to spend time with this cast of characters – added to with Clete's newfound daughter Gretchen – it is Burke's writing that holds you fast and his descriptions of Montana are expecially sharp – "The sky was clear and blue, and fresh snow had fallen on the tops of the Missions during the night: in the sunlight, you could see the ice on the waterfalls melting. The mountains were so massive, the rock chain they formed against the sky so vast, that you lost perspective and the forests growing up the sides resembled green velvet rather than trees. It was one of those places that seemed to reduce discussions about theology to the level of folly."
Still and all, with a man so evil as Asa Surette that he gives off the vile smug of death and decay, Dave and Clete (aided by Alafair and Gretchen) do not shy from taking it to the bad guys. "I have never laid strong claim on rationality, in fact have often felt that its value is overrated. Let's face it, life is easier if we maintain a semblance of reasonable behavior and hide some of our eccentricities and not say more than is necessary in our dealing with others. The same applies to our actions. Why attract attention? No one takes an accordian band to a deer hunt." These folks do. They can do nothing else.
Burke seems to be calling us all to action, to be players in the games of our own lives.
"If you're wired a certain way, you'll always be in motion, clicking to your own rhythm, all of it in four-four time, avoiding convention and predictability and control as you would a sickness, the whole world waiting for you like an enormous dance pavillion lit by colored lights and surrounded with palm trees. I'm not talking about the dirty boogie. The music of the spheres is right outside your bedroom window. It just comes packaged on a strange CD sometimes."
Light of the World is yet another masterful work, full of courage and heroes as well as horrors and mendacity. It's affirming and lively, even amongst the bullets and blood. Your summer won't be complete until you read it.
— JB
Description
---
"America's best novelist" (The Denver Post) and "the reigning champ of nostalgia noir" (The New York Times Book Review) introduces his most evil character yet in the twentieth thriller in the bestselling Dave Robicheaux series. Louisiana Sherriff's Detective Dave Robicheaux and his longtime friend and partner Clete Purcel are vacationing in Montana's spectacular Big Sky country when a series of suspicious events leads them to believe their lives--and the lives of their families--are in danger. In contrast to the tranquil beauty of Flathead Lake and the colorful summertime larch and fir unspooling across unblemished ranchland, a venomous presence lurks in the caves and hills, intent on destroying innocent lives. First, Alafair Robicheaux is nearly killed by an arrow while hiking alone on a trail. Then Clete's daughter, Gretchen Horowitz, whom readers met in Burke's previous bestseller Creole Belle, runs afoul of a local cop, with dire consequences. Next, Alafair thinks she sees a familiar face following her around town--but how could convicted sadist and serial killer Asa Surette be loose on the streets of Montana? Surrette committed a string of heinous murders while capital punishment was outlawed in his home state of Kansas. Years ago, Alafair, a lawyer and novelist, interviewed Surette in prison, aiming to prove him guilty of other crimes and eligible for the death penalty. Recently, a prison transport van carrying Surette crashed and he is believed dead, but Alafair isn't so sure. Says The Plain Dealer (Cleveland), "Already designated a Grand Master by the Mystery Writers of America, Burke should get another title, say, for sustained literary brilliance in his Dave Robicheaux series." Light of the World is a harrowing novel that examines the nature of evil and pits Dave Robicheaux against the most diabolical villain he has ever faced.
Praise For…
---
"Burke produces his most sharply focused, and perhaps his most harrowing, study of human evil, refracted through the conventions of the crime novel."

"A powerful meditation on the nature—and smell—of evil . . . But even as the stomach roils, the fingers keep turning the pages because the much-honored Burke (two Edgars, a Guggenheim Fellowship) is a master storyteller."

"A hellbent death-row inmate escapes and comes gunning for Cajun police detective-troubleshooter Dave Robicheaux, his family and friends. This is the 20th Robicheaux tale by a celebrated master of the thriller genre."

"Over the years, James Lee Burke's voice has grown more messianic, his books more biblical. He's in full fire-and-brimstone mode in Light of the World. . . . [The] monstrous villain [makes] life a living hell for an expanded cast of the quaintly insane characters who are Burke's specialty. For that alone, let's give the devil his due."

"Hats off to the Library of Congress cataloger who applied the subject heading 'Good and Evil' to Burke's latest Dave Robicheaux novel. In that simple tag lies the core of this acclaimed series. . . . Occasionally the evil comes in a more chilling, vaguely supernatural form—depravity beyond sociology—giving these novels a darker, more mythic tone . . . but it works, enveloping the reader in the visceral terror of the moment."