The Ascendant (Hardcover)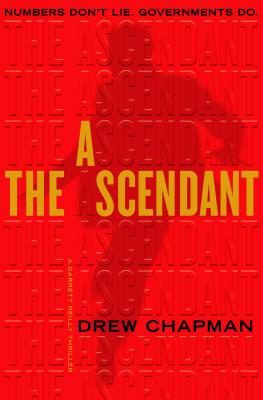 Email or call for price
Special Order - E-mail us directly - We may have a used book!
Staff Reviews
---
The premise of Drew Chapman's debut novel, The Ascendant is that the next global war might end with boots on the ground, but it will begin in cyberspace, and that's a premise he brings to vivid and disturbing life.
Garrett Reilly is a 26-year-old bond trader from Long Beach who's rocketing up the ladder in his New York firm. Garrett has a knack for numbers, a talent for seeing patterns that others can't see. In the wash of information, Reilly can detect hidden patterns, and he has no problem using them for his own gain, and to make money for the firm. To him, it's a game and he's very good at it.
So when Garrett notices a subtle trend - Chinese dumping bonds in numbers that, when taken together, could shake the US economy - he's excited. Sure, the US dollar will tank, but he'll make huge profits. He tells his mentor (and one of his two only friends), Avery Bernstein, and Garrett is surprised by Avery's reaction. Instead of jumping on it, Avery tells Garrett not to mention it to anyone, and the next thing Garrett knows, the military is at his doorstep, asking questions.
From that point on, Chapman takes us on a twisting and incredibly fast journey stretching from a lone woman's unhappiness with her situation in China all the way to the White House. Skillfully weaving various story-lines into one cohesive unit, we follow all the players in a global game of chicken that could be the beginning of the end.
One of the most disturbing concepts that Drew Chapman has come up with is how very easily manipulated so many of us are by what we see and read online, and how perception influences reality. The scenarios he has envisioned are altogether too plausible, and it's scary to realize how precarious our day-to-day life can be. But he also delves into the power of people to create change on a very human level, and that's what stayed with me.
Chapman's protagonist is not a very likeable guy, but that doesn't really matter. He's compelling, and he's volatile and he's unexpected, which makes him interesting. For those who read science fiction, you'll probably notice, as I did, a certain nod to Card's hit novel, Ender's Game, but the end result of The Ascendant is a story that is uniquely Drew Chapman's, and I can't wait to see if he's going to follow it up!
And, on a side note:
If you pick up the new Playboy magazine for the story by Don Winslow (which is fabulous!), there's also an article about real-life Russian hackers. That article ties into Drew's book so closely that all of a sudden, The Ascendant is incredibly terrifying!
What, doesn't everyone pick up Playboy for the articles?
— Fran
January 2014 Indie Next List
---
"A ruthless entity has declared war on America, not through military attacks or terrorist activities but by targeting our economy. Two hundred billion dollars in U.S. Treasury bonds are sold off, precious natural resources are destroyed, our power grid is sabotaged, and the real estate market is gutted when property is sold for cutthroat prices. Only one man, Garret Reilly, a trading prodigy who has an uncanny ability to recognize patterns, has a sense of what is being perpetrated and who is behind it. Chapman has created a brilliant, gripping thriller that is all the more frightening in its distinct possibility!"
— Jerry Brown, The Bookstore, Radcliff, KY
Description
---
"Like his intriguing protagonist Garrett Reilly, author Drew Chapman possesses startling skills and this first novel just blows the doors off. The Ascendant is a rollicking, globe-hopping, timely, and prescient page-turner--a twenty-first century thriller" (C.J. Box, New York Times bestselling author of Breaking Point and The Highway). Hidden deep within the figures tracking the ups and downs of the stock market lies a terrifying truth: America is under attack. Our government . . . our economy . . . our very way of life are in the crosshairs of a ruthless enemy . . . and no one knows. Except Garrett Reilly. He has a knack for numbers. He sees patterns no one else can. His gift has made him a rising star on Wall Street. But when he notices that two hundred billion dollars' worth of U.S. Treasury bonds are being sold off at a terrifying rate, his gift makes him the most wanted man alive. The U.S. military wants him for his extraordinary abilities. They need someone to lead a crack squad of rogue soldiers to act as the last line of defense in a war that could mean the end of everything America holds dear. And everyone else? They just want him dead. In this explosive debut novel, ranging from the offices of Wall Street to the casinos of Vegas to the back roads of the Chinese countryside, Drew Chapman introduces readers to a new kind of action hero: one uniquely skilled to fight a new kind of war.