The Princeling of Nanjing: The Triad Years: An Ava Lee Novel (Paperback)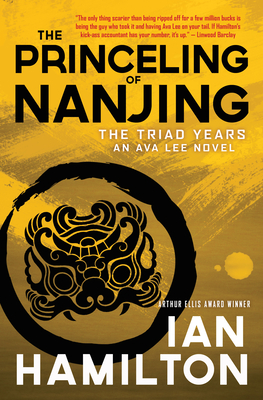 $15.95
Usually Ships in 1-5 Days
Staff Reviews
---
At first glance, Ian Hamilton's new "Ava Lee" novel seems to be massive in comparison to the others. And it is longer, but with good reason. When you dive into The Princeling of Nanking, both you and Ava are dropped into two whirlwind situations.
First of all, the Three Sisters group is putting together their first fashion show to introduce the line of clothing that came up in The King of Shanghai. I don't want to say too much about it in case you haven't read that one yet, but things are looking good for everyone, if they can pull this off, and if some big backers show up. Ava happens to have a connection that she wasn't even aware of, and that's a surprise for all of them.
Then she meets up with Xu, one of the triad heads and her good friend, to catch up. It turns out that Xu is being pressured into returning to the drug trade, which he had removed from his organization. But the pressure is coming from a powerful and wealthy family, and Xu can't find a way to say no without losing his own businesses. And if he goes into the drug trade again, the other heads of the triad will not be pleased.
So Ava Lee decides to look for leverage, to get the Tsai family to back off. But it's not that simple, and once again, Ava's back in the game.
The Princeling of Nanking is long because there are a lot of financial trails to follow, and it becomes so complex that Ian Hamilton has included flow charts!
But here's the deal - The Princeling of Nanking is a fast and easy read. You won't get bogged down in the quagmire of who's getting money from whom, it's all about Ava and Xu and their friends. Then too, don't forget the fashion show and all the drama it entails. This is another excellent example of Ian Hamilton's ability to acquaint Westerners with Chinese culture while making the story entertaining and compelling. My only complaint? Not enough time with Sonny. Sometimes secondary characters win our hearts, and I adore Sonny!
If you haven't read the "Ava Lee" series, start with The Water Rat of Wanchai ($16.00, Picador), but be forewarned - there are two titles in this series that are not available in the US (yet, I hope) so you might have to go to Canada or the UK to find The Scottish Banker of Surabaya and The Two Sisters of Borneo. It's totally worth it to track them down, though, because this is a great series!
Postscript: I just blew through the next two Ava Lee books – The Couturier of Milan (out Oct. 3rd) and The Imam of Tawi-Tawi (out Feb. 6, 2018 – Thank you, Ian, for the personalized copy and the note! *swoon* - and I'll talk about them both closer to the onsale dates, but put these titles in your Must Have list, because wow, are they good! We get some quality time with Sonny in the Milan problem, and Ava is put into a situation that is way out of her knowledge and comfort zone whlile in Tawi-Tawi,which is both exciting and terrifying. You're going to love them!
But as I was winding down the problem Ava was facing in the Philippines, it occurred to me that I'm goinig to have to go a whole year without a new Ava Lee! However, I console myself that I can re-read them when I need to visit with her again, and I'll try to be patient while I wait for what happens next!
— Fran
Description
---
Ava is in Shanghai for the launch of the PO clothing line. She has invited Xu, and over the course of the glitzy event and a late-night dinner, she detects a certain hesitancy in him. He confides that the Tsai family, headed by Tsai Lian, the governor of Jiangsu Province and a "princeling" -- he is the son of a general who was on the Long March with Mao and a member of China's power elite -- is trying to force him and his Triad organization back into the drug business. Xu is already paying millions of dollars a year to various Tsai businesses, but the family wants more and thinks the new venture can deliver it. Xu believes this move would lead to his eventual destruction and feels he has nowhere to turn. If he opposes them, they will crush him. If he goes along with them, he thinks that inevitably the police and military will hunt him down. Ava sets out to help Xu deter the Tsai family. As she digs into the breadth and depth of the family's wealth and corruption, she gets caught up in a huge tangled web, extending all the way to the U.S. and the U.K., where it reaches the top echelons of political power.
About the Author
---
Ian Hamilton is the author of seven novels. He has won the Arthur Ellis Award for Best First Novel and been a finalist for a number of awards, including the Barry Award for Best Original Trade Paperback, the Barry Award for Best Thriller, a LAMBDA Literary Award for Lesbian Mystery, and the Arthur Ellis Award for Best Novella. The BBC named him one of the Top Ten Crime Writers to Read Now. A former journalist, businessman, and diplomat, Ian lives in Burlington, Ontario, with his wife, Lorraine.