A Game of Ghosts (Hardcover)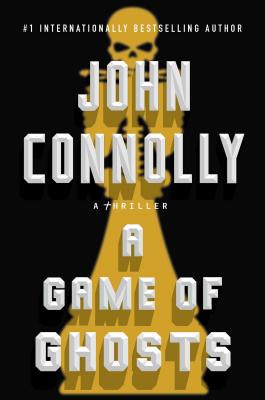 $26.99
Usually Ships in 1-5 Days
Staff Reviews
---
It is often very difficult to write about the books we've read. If it is a new book in a favorite series, we're far along in that string of books and know the history (well, we mostly remember it) and the difficulty is giving enough of the story to entice new readers to the author while not giving too much away or boring the hell out of the author's other fans. Case in point: John Connolly's A Game of Ghosts.
This is the 15th in his weird and wild Charlie Parker series. This is a series that builds book upon book and you really can't dip in anywhere; you have to read them in order. If you've not read them, they're hardboiled private eye books that veer into supernatural evil. I wouldn't call them Urban Fantasy, more haunted noir. They're beautifully written and enlivened with a mordant wit. And they're always moving toward some kind of massive clash but we don't know when, or with whom, that will happen.
As with the last book, there are huge changes afoot: Parker how admits to being afraid of his daughter Sam, whose powers are no always within her control; Angel is sick and Louis is beginning to see things from Parker's view; and we are beginning to get a glimpse of FBI agent Ross's larger efforts.
It all makes for a great read, fast for its thickness and jammed with fun – wickedness and heartbreak and killers working for good and evil, nosey neighbors and people with second sight, some who want it and others who don't. And then there's the love of two daughters, both of whom do their best to watch over Parker, as do his friends. Where's it all going? Can't wait to follow along.
— JB
Description
---
"An epic supernatural suspense that will forever reset your standards for summer thrillers. From secret realms and horrific homicides to hauntings and criminal empires, there isn't a single dull sentence found in the pages of A Game of Ghosts--and you'll love it." --Redbook 10 Books You Have to Read This Summer Books Every Dad Will Love This Father's Day--PopSugar Internationally bestselling author John Connolly returns with another "superb fusion of noir and the supernatural" (My Bookish Ways) in this latest thriller in his gripping Charlie Parker series. It is deep winter and the darkness is unending. A private detective named Jaycob Eklund has vanished and Charlie Parker is assigned to track him down. Parker's employer, Edgar Ross, an agent of the Federal Bureau of Investigation, has his own reasons for wanting Eklund found. Eklund is no ordinary investigator--he is obsessively tracking a series of homicides and disappearances, each linked to reports of hauntings. Now Parker is drawn into Eklund's world: a realm in which the monstrous Mother rules a crumbling criminal empire, in which men strike bargains with angels, and in which the innocent and guilty alike are pawns in a game of ghosts...