A Perilous Conception: A Detective Baumgartner Mystery (Paperback)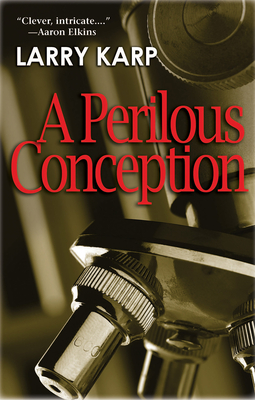 Email or call for price
Out of Print - E-mail us directly - We may have a used book!
Staff Reviews
---
Seattle author Larry Karp first caught my attention about 20 years ago with a light, entertaining series of mysteries involving music boxes. Then he kept me reading with a not-quite-so-light but still entertaining trilogy involving ragtime music and especially composer Scott Joplin. Now he returns to his erstwhile day job as an obstetrician with A Perilous Conception (in TP or HB).
It's 1976 when Joyce and James Kennett, a couple in Emerald, WA (where could that be?) struggling with infertility, consult OB Dr. Colin Sanford, who, as it happens, is eager to perform the world's first in vitro fertilization. With the aid of PhD embryologist Giselle Hearn, Dr. Sanford succeeds, and Joyce Kennett delivers a healthy baby. But then James Kennett pulls a gun and fatally shoots Dr. Hearn and himself! What's going on here?
Well, in addition to IVF and murder, there's blackmail, a disappearing lab supervisor, illicit affairs, and ultimately a whodunit plot worthy of Agatha Christie, all told with Larry Karp's characteristic dry wit. In the process we meet Emerald Police Detective Bernie Baumgartner, who deserves several more books. But is this the first book in a Detective Baumgartner series?
That's a mystery for Larry Karp to solve.
— B
When Larry Karp told me about his latest novel, I was intrigued. A mystery set during the first in vitro fertilization trials, with all its scientific, religious and moral dilemmas sounded just like the sort of thing I'd be interested in, and knowing that Dr. Karp was instrumental in helping couples become families using IVF back then added that touch of authenticity that I knew would make A Perilous Conception a must-read. And wow, is it ever! I hope this is the beginning of a series with Baumgartner!
— FRAN
Description
---
 It's 1976. Despite fierce international controversy over whether in vitro fertilization should ever be performed in humans, doctors around the world race to be first to produce a baby by this procedure. Dr. Colin Sanford, a brilliant, ambitious obstetrician in the Pacific Northwest city of Emerald, has a plan. He recruits Dr. Giselle Hearn, an experienced laboratory geneticist-embryologist at the University. Drs. Sanford and Hearn, working secretly, set out to put their names in history books. Several months later, Dr. Sanford's patient, Joyce Kennett, gives birth to a healthy boy, and Sanford prepares to make an announcement at a press conference. But before it convenes, Ms. Kennett's marginally- schizophrenic husband kills Dr. Hearn and then himself. Police Detective Bernie Baumgartner's investigation is hampered by pressure from influential people at the University who want to control sensationalism that might harm the institution. Tenacious Baumgartner suspects more at play...
Praise For…
---
"In A Perilous Conception Larry Karp provides a clever, intricate medical mystery with plenty of twists, an inventive touch with metaphors, and an ample helping of wit. As any writer knows, telling a story from more than one point of view is a tricky business, but Karp brings it off with aplomb, keeping his characters separate, distinctive . . . and interesting. And as an added bonus, the next time the subject of in vitro fertilization comes up at a cocktail party, you'll blow everybody's socks off." —Aaron Elkins, Edgar winner and author of The Worst Thing