Lexicon (Hardcover)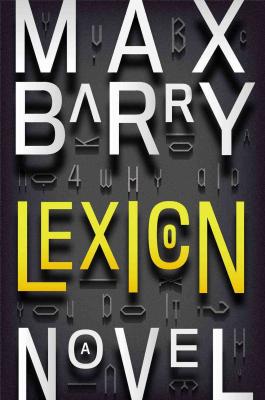 Email or call for price
Special Order - E-mail us directly - We may have a used book!
Staff Reviews
---
Max Barry's upcoming novel, Lexicon (If we get signed copies, we'll let you know) will appeal to those of us who enjoy a good conspiracy theory with an off-beat concept. "Get this: in my city we spent $1.6 billion on a new ticketing system for the trains. We replaced paper tickets with smartcards and now they can tell where people get on and off. So, question: how is that worth $1.6 billion?" In an exclusive school outside Alexandria, VA, an elite group of students are being recruited to become "poets", people who can manipulate others through the power of words. Emily Ruff is a street hustler who is recruited right off the streets, and she's got the potential to be one of the most powerful poets they've ever found. Then there's Wil, a man who's brutally attacked in a restroom for reasons he can't fathom. He doesn't remember his past, but he's being pursued by poets and he has no idea why. He has to rely on a man named Tom to save him, and Wil has no idea if they're running to or away from danger. Wil and Emily's trajectories are sending them headlong toward each other and the intersection could be cataclysmic. "Everyone's making pages for themselves. Imagine a hundred million people clicking polls and typing in their favorite TV shows and products and political leanings, day after day. It's the biggest data profile ever. And it's voluntary. That's the funny part. People resist a census, but give them a profile page and they'll spend all day telling you who they are. Which is…good…for us…obviously…"
Max Barry has come up with an unusual and complex premise that I found utterly intriguing. My only complaint was that the novel bounced between events in the past and the present, and there was no warning, so there was often an abrupt shift in my perceptions that threw me out of the story momentarily. That being said, Lexicon is a fantastic and deeply engrossing novel about the power of language, about power in general and its uses and abuses, and about the power of love. It's fast and disturbing and beautiful. But you will have to get through the fairly graphic opening scene to get to it – fair warning! "Every story ever written is The same letters, same marks Differently arranged Sometimes the marks bring joy And sometimes sorrow And sometimes people have thrown them into fires Because they were arranged in such terrible ways."
— Fran
July 2013 Indie Next List
---
"Max Barry's newest novel manages to be a gripping, page-turning thriller as well as a phenomenally intelligent dissertation on language's raw, neurological power. Barry manages to maintain a blistering pace inside an ingenious, complex plot structure with seeming ease while he takes the time to explore conspiracy theories, intense paranoia, privacy concerns in an internet era, and countless other frightening ideas for your brain to chew on long after the book is over. Lexicon is simultaneously brainy and muscular, like a Heisman trophy winner who just happens to work as a semiotics professor on the side."
— Hank Stephenson, Flyleaf Books, Chapel Hill, NC
Description
---
At an exclusive school somewhere outside of Arlington, Virginia, students aren t taught history, geography, or mathematics they are taught to persuade. Students learn to use language to manipulate minds, wielding words as weapons. The very best graduate as poets, and enter a nameless organization of unknown purpose.
Whip-smart runaway Emily Ruff is making a living from three-card Monte on the streets of San Francisco when she attracts the attention of the organization's recruiters. Drawn in to their strage world, which is populated by people named Bronte and Eliot, she learns their key rule: That every person can be classified by personality type, his mind segmented and ultimately unlocked by the skilful application of words. For this reason, she must never allow another person to truly know her, lest she herself be coerced. Adapting quickly, Emily becomes the school's most talented prodigy, until she makes a catastrophic mistake: She falls in love.
Meanwhile, a seemingly innocent man named Wil Parke is brutally ambushed by two men in an airport bathroom. They claim he is the key to a secret war he knows nothing about, that he is an outlier, immune to segmentation. Attempting to stay one step ahead of the organization and its mind-bending poets, Wil and his captors seek salvation in the toxically decimated town of Broken Hill, Australia, which, if ancient stories are true, sits above an ancient glyph of frightening power.
A brilliant thriller that traverses very modern questions of privacy, identity, and the rising obsession of data-collection, connecting them to centuries-old ideas about the power of language and coercion, Lexicon is Max Barry's most ambitious and spellbinding novel yet.
About the Author
---
Max Barry is the author of Syrup (1999), Jennifer Government (2003), Company (2006), and Machine Man (2011). He lives in Melbourne, Australia.