Countdown City (Paperback)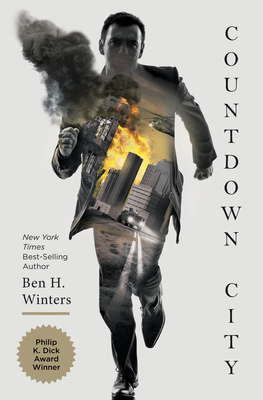 $14.95
Usually Ships in 1-5 Days
Staff Reviews
---
"There is an aspect of my character that tends to latch on to one difficult but potentially solvable problem, rather than grapple with the vast and unsolvable problem that would be all I could see, if I were to look up, figuratively speaking, from my small blue notebooks."
That's how Ben Winters' character, Henry "Hank" Palace, describes himself in the second of this amazing trilogy, Countdown City. In the first book, The Last Policeman (winner of the Edgar Award for Best Paperback Original), we meet Hank when the world has realized that our days are, quite literally, numbered. An asteroid, Maia, will hit sometime in October, and it's a dinosaur killer. Mankind is doomed.
I don't want to give too much away if you haven't read the first one (and you really, really should!), but once again, Hank takes on a job he shouldn't. A man has left his wife, and she begs Palace to find him, send him home. But at a time when so many people are going Bucket-List, and when there are no conventional resources to find anyone -- there's no electricity, so computer searches are right out -- this is the sort of thing that Henry's good at. It's what he can do. But people keep asking him why he's doing it, when everything's going to end anyway.
"There are undoubtedly other things I could be doing with my time, things of value to myself and to others. But an investiagion of this sort has its own force -- it pulls you forward, and at a certain point it's no longer profitable to question your reasons for being pulled."
One of the great things about the world Ben Winters has created is how absolutely matter-of-fact Henry is about what's going on. He's budgeted food resources for himself and his dog through the day of impact -- 77 days from the beginning of Countdown City. He's got his routines, the people he looks after, and he's getting by. The events in this second book change everything, and we get to see more of his sister, which is great. But the changes are those you would realistically expect when a society is rapidly dying, and Winters handles it smoothly and with a deft hand.
"Because a promise is a promise, Officer Cavatone, and civilization is just a bunch of promises, that's all it is. A mortgage, a wedding vow, a promise to obey the law, a pledge to enforce it. And now the world is falling apart, the whole rickety world, and every broken promise is a small rock tossed at the wooden side of its tumbling form."
I absolutely cannot wait until October, when the third in the trilogy comes out!
— Fran
Description
---
- The] weird, beautiful, unapologetically apocalyptic Last Policeman trilogy is one of my favorite mystery series.---John Green, author of The Fault in Our Stars and Paper Towns
Winner of the 2014 Philip K. Dick Award
The Last Policeman received the 2013 Edgar Award for Best Paperback Original--along with plenty of glowing reviews.
Now Detective Hank Palace returns in Countdown City, the second volume of the Last Policeman trilogy. There are just 77 days before a deadly asteroid collides with Earth, and Detective Palace is out of a job. With the Concord police force operating under the auspices of the U.S. Justice Department, Hank's days of solving crimes are over...until a woman from his past begs for help finding her missing husband.
Brett Cavatone disappeared without a trace--an easy feat in a world with no phones, no cars, and no way to tell whether someone's gone -bucket list- or just gone. With society falling to shambles, Hank pieces together what few clues he can, on a search that leads him from a college-campus-turned-anarchist-encampment to a crumbling coastal landscape where anti-immigrant militia fend off -impact zone- refugees.
Countdown City presents another fascinating mystery set on brink of an apocalypse--and once again, Hank Palace confronts questions way beyond -whodunit.- What do we as human beings owe to one another? And what does it mean to be civilized when civilization is collapsing all around you?
About the Author
---
New York Times best-selling author Ben H. Winters won an Edgar Award for his debut mysteryThe Last Policeman. His YA novel The Secret Life of Ms. Finkleman was also nominated for an Edgar Award. He lives in Indianapolis with his wife and three children.