The Sinister Sweetness of Splendid Academy (Paperback)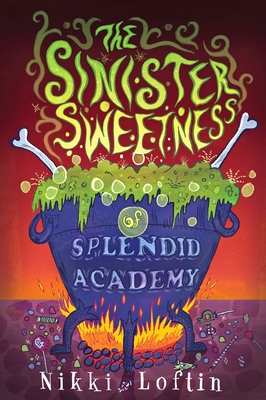 $8.99
Usually Ships in 1-5 Days
Staff Reviews
---
Splendid Academy is a very special school, where candy dishes are on every students' desk, students are serve scrumptious and nutritionally dubious breakfast/ lunch/snacks. The playground equipment is out of every kid's fanatsy….however there is something strange about the school, Lorelei notices it right from the beginning….it only took three days for the school to be built, the candy dishes never empty, and the students never stop eating!
Lorelei, and her new friend Andrew, discover the school and its students are in the grip of a magic spell; but every spell can be broken, all poisons have an anitdote; sometimes however the cure is more painful than the disease.
Dr. Who meets Grimm in a middle school!
I cannot tell you enough how much I enjoyed reading this book! It has the quirky Dr. Who mystery, where our heroine knows there is somethig wrong but can't quite place exactly what the problem is. Plus Grimm's (as in the Grimm fairy tales) use of dark creatures which are at the heart of the sinister magical spell, but it's grounded in the social dynamics and antics of a middle school.
I really enjoyed the dark and twisty turns the author takes on in her mystery. Where everyone is layered and you never know if someone is exactly how they seem. Over-arching themes of how love is blind, what evil really is and friendship make this a book anyone could enjoy reading over and over again.
I would recommend this book for all kids (it is told exclusively from Lorelei's point of view, however Andrew is very prominent in the story) 10+. It would make a fantastic Halloween present!
— Amber
Description
---
Spooky twists and soaring prose make this foodie update on Hansel and Gretel an unforgettable must-read. Lorelei is bowled over by Splendid Academy--Principal Trapp encourages the students to run in the hallways, the classrooms are stocked with candy dishes, and the cafeteria serves lavish meals featuring all Lorelei's favorite foods. But the more time she spends at school, the more suspicious she becomes. Why are her classmates growing so chubby? And why do the teachers seem so sinister? It's up to Lorelei and her new friend Andrew to figure out what secret this supposedly splendid school is hiding. What they discover chills their bones--and might even pick them clean Mix one part magic, one part mystery, and just a dash of Grimm, and you've got the recipe for a cozy-creepy read that kids will gobble up like candy.
About the Author
---
Nikki Loftin is a writer and native Texan who lives just outside Austin, Texas, with her two boys, two dogs, nine chickens, and one very patient husband. The Sinister Sweetness of Splendid Academy is her first novel.