Windigo Thrall (Paperback)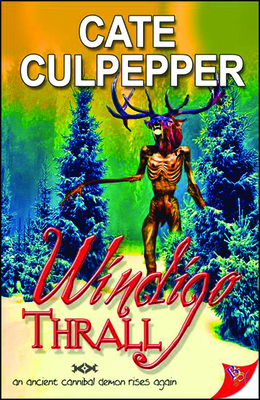 Staff Reviews
---
In Windigo Thrall Cate Culpepper brings Grady and Elena, whom we met in River Walker
(backordered, so reserve a copy for later!) from their home in New
Mexico up to the Pacific Northwest to meet with one of Grady's
professers and her girlfriend to study a Chippewa family that has moved
from Minnesota to the base of Mount Rainier in an attempt to outrun a
family curse. What should be a scholarly exercise -- with plenty of
relaxation time in Jo's luxurious mountain retreat -- turns into
something quite different. The curse of the Windigo that came with the
Abequa family has turned its terrible hunger on the four women and their
park ranger caretaker, Pat. But if you don't believe in a curse, can it
hurt you anyway?
"They want us so badly." Elena rested
her shoulder against the mantel. "Our ghosts are lonely for us. They
are bonded so strongly to the people they left behind, they cannot bear
the silence."
Full disclosure: I've known Cate
since college, so my opinions are suspect. However, I'm not alone in
knowing Cate can spin a tale. She's won three Golden Crown Literary
Society Awards, a Lambda Literary award, a Lesbian Fiction Reader's
Choice award and an Alice B. Medal for her writing, so I feel confident
when I say that Windigo Thrall is a compelling read. I suspect it won't
appeal to folks who aren't at least accepting of a lesbian-only cast, or
to anyone who isn't interested in supernatural suspense, but if you're
open to both, Windigo Thrall is great fun and perfect for this windy,
cold time of year. And one of Cate's strengths is her abiltiy to craft
characters with depth, strength, and flaws who can resonate, even when
they're not immediately appealing.
I also enjoy her research into myths
and legends. From La Llorona to the wendigo, her sympathy and
understanding of the history of these stories shines through. I can't
wait to see where she goes next with these great ladies!
— Fran
Description
---
"The Windigo has a heart of ice."
The legends of an ancient cannibal demon might have been enthralling, but they were folklore. To Jo and Becca, investigating reports of a Windigo is a lively scholarly exercise, and for Grady and Elena, it means a weekend at an idyllic mountain retreat. Only Pat and Maggie can draw on their Native roots to recognize a monster out of Algonquin myth, but only if they unlock the mystery of their shared past. Throw six volatile personalities into a snowbound cabin, beset by a blizzard, and stalked by a monster, and there's no assurance they'll survive the night with their sanity intact--or their lives.

About the Author
---
Cate Culpepper lives in the Pacific Northwest, where she works with homeless LGBTQ youth. She is the author of the four-volume Tristaine series, tales of a modern-day Amazon clan, which won two Golden Crown Literary Society awards and an Alice B. Readers' Choice award. Her recent novels include Fireside and the Lambda Literary Award-winning River Walker, set in the spooky New Mexico valley Cate still considers home. She loves writing about ghosts and passionate, flawed women, but she struggles turning out a fascinating author's bio.