Sacred Games (Hardcover)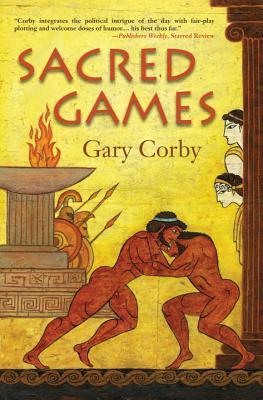 Email or call for price
Special Order - E-mail us directly - We may have a used book!
Staff Reviews
---
One of the things I like best about Gary Corby's novels about Nicolaos, investigator for Pericles in ancient Greece (aside from the humor!) is how he weaves actual history and real-life people into his stories and makes them believeable. And in Sacred Games (May 21st, no signed copies available, I'm afraid), he takes Nico to the 460 BC Olympics.
One of Nico's good friends, Timodemus, is the odds-on favorite to win the pankration, the deadliest of all the Olympic games. His only real competition is the Spartan, Arakos, and when Arakos is found beaten to death, Timo is the top suspect. Relations are strained between Athens and Sparta as it is; if an Athenian is convicted of murdering a Spartan, more will be at stake than a medal. War will break out, a war that could engulf all of Greece.
Can Nico clear his friend and find the real killer? But what if Timodemus really did it?
And, in what may be an even more serious situation, Nico and Diotima's relationship has been vetoed by both their fathers. So in addition to clearing Timo's name, Nico has to find a way to convince both fathers that he and Diotima should be allowed to marry, especially since they already are!
I learned so much about the original Olympic games, which truly were sacred. Oaths were taken by all the competitors before Zeus, and those oaths were binding beyond death. And it was great to see Nico's kid brother, Socrates, playing an important role in the investigation!
There were twists I didn't see coming, the pace was non-stop, and some of the new characters will be with me for a long, long time, especially dowager Queen Gorgo. Man, I liked her! All three books in the series are brilliant, and Gary Corby just keeps the quality going.
If you haven't read this series, you should start with The Pericles Commission. Each story stands on its own, but the back stories grow with each subsequent book, and your enjoyment will be richer for reading them in order.
— Fran
Description
---
The third book in the critically acclaimed series set in Classical Athens, featuring the historically inspiredamateur detective Nicolaos.
It is the Olympics of 460 BC. Nico's best friend, Timodemus, is a competitor in the pankration, the deadlymartial art of ancient Greece. Timo is hot favorite to win. His only serious rival isArakos from Sparta. WhenArakos is found beaten to death, it is obvious Timodemus must be the killer. Who else could have killed the second-best fighter in all Hellas but the very best? The Judges of the Games sentence Timodemus to be executed in four days' time, as soon as the Sacred Games have finished.
Complicating everything is the fact that Athens and Sparta are already at each other's throats, in the opening stages of a power struggle for control of Hellas. If an Athenian is found to have cheated at the Games by murdering a Spartan, it will be everything the hawks in Sparta need to declare open war the moment the Sacred Truce is over. And that's a war Athens cannot hope to win.
Nico and his partner in sleuthing, the annoyingly clever priestess Diotima, have four days to save their friend and avert a war that would tear their world apart.
About the Author
---
Gary Corby lives in Sydney, Australia, with his wife and two daughters. He blogs at A Dead Man Fell from the Sky, on all things ancient, Athenian, and mysterious.
Praise For…
---
Praise for Sacred Games

"Like its two predecessors, Sacred Games has an extremely well-orchestrated climax and a key revelation you'll happily kick yourself for not having spotted earlier. And like all the best murder mysteries, these books don't depend on revelation: they're a joy to re-read."
—Open Letters Monthly

"[Corby's] best thus far ... Corby integrates the political intrigue of the day with fair-play plotting and welcome doses of humor. Fans of Steven Saylor's Gordianus novels will be enthralled."
—Publishers Weekly, STARRED Review

"A well-paced story that kept me turning the pages. It is extremely well-researched and taught me a lot about Greek culture and the Olympic Games. Read it for the history and the story."
—Historical Novel Society

"Dive into this book. Immerse yourself in the entire experience." 
—Kittling Books

Praise for Gary Corby

"Corby has not only made Greek history accessible—he's made it first-rate entertainment."
—Kelli Stanley, award-winning author of Nox Dormienda and City of Dragons

"Those who like their historicals with a touch of humor will welcome Australian author Corby's promising debut... Corby displays a real gift for pacing and plotting."
—Publishers Weekly, STARRED Review

"Mix one part ancient history, one part clever and contemporary banter, and one part action, and you have a top-notch crime caper…. Highly recommended for those looking for humor with their crime detecting."
—Library Journal

"Energetic.... Very entertaining."
—Kirkus Reviews
 
"Full of real historical figures and fascinating insights into Greek and Persian culture…. A delightful romp."
—Shelf Awareness
 
"Filled with detail, atmosphere and history, but also humor. The characters feel like real people…. Complete with maps, a list of characters both real and made up and an afterword with historical information, this is a fun and funny as well as accurate historical."
—Romantic Times
 
"A riotous romp through ancient Greece. Lovers of history, especially of the ancient world, will definitely want to read this mystery."
—Gumshoe Review
 
"An entertaining read…. One does not need knowledge of classical history to enjoy this mystery, because details of culture, politics, and history as so deftly woven into the threads of the story that life in ancient Athens comes vividly alive."
—Historical Novel Review