The Ionia Sanction (Paperback)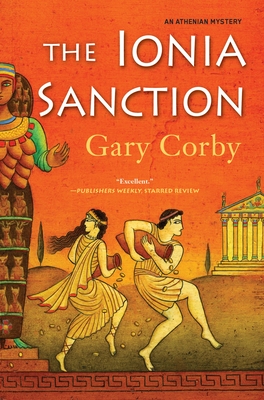 List Price: $15.95
Our Price: $14.95
(Save: $1.00 6%)
Staff Reviews
---
Nico's life has taken a decided downturn. Not only has his girlfriend, Diotima, left town, but Nico's sponsor, Pericles, is threatening to fire Nico.
In order to keep his job, Nico agrees to transport a beautiful slave girl to Persia while investigating the murder of an Athenian statesman. But outwitting the brigands sent to kill him and solving the mystery of the murder may very well pale when Nico runs into Diotima with his slave girl in tow!
Gary Corby's series has been likened to Lindsay Davis' "Marcus Didius Falco" series, but that comparison only goes so far, in my opinion. Corby's characters are just as compelling, his research into the time is excellent, and his storytelling is wonderful. But Gary Corby proves in this sequel to The Pericles Commission (Minotaur, $14.99, October) that he is his own author, and that he's not afraid to write about customs as they really were, without prettying things up. There are a few scenes that had me glancing away from the page, but I had to go immediately back because his writing is so absorbing, and I really do care about what happens to the folks who inhabit Corby's books.
— FRAN
Description
---
And to solve the crime, Nico must uncover a secret that could not only destroy Athens, but will force him to choose between love, ambition, and his own life. The case takes Nico, in the company of a beautiful slave girl, to the land of Ionia within the Persian Empire. The Persians will execute him on the spot if they think he's a spy. Beyond that, there are only a few minor problems: He's being chased by brigands who are only waiting for the right price before they kill him; somehow he has to placate his girlfriend, who is very angry about that slave girl; he must meet Themistocles, the military genius who saved Greece during the Persian Wars, and then defected to the hated enemy. Athens, 460 B.C. Life's tough for Nicolaos, the only investigating agent in ancient Athens. His girlfriend's left him and his boss wants to fire him. But when an Athenian official is murdered, the brilliant statesman Pericles has no choice but to put Nico on the job.
About the Author
---
Gary Corby lives in Sydney, Australia, with his wife and two daughters. He blogs at A Dead Man Fell from the Sky, on all things ancient, Athenian, and mysterious.
Praise For…
---
Praise for Gary Corby:

"Full of real historical figures and fascinating insights into Greek and Persian culture, The Ionia Sanction is a delightful romp."
—Shelf Awareness

"Corby has not only made Greek history accessible—he's made it first-rate entertainment."
—Kelli Stanley, award-winning author of Nox Dormienda and City of Dragons

"Those who like their historicals with a touch of humor will welcome Australian author Corby's promising debut... Corby displays a real gift for pacing and plotting."
—Publishers Weekly (starred review)

"Details of culture, politics and history are so deftly woven into the threads of the story that life in ancient Athens comes vividly alive."
—Historical Novel Review

"Energetic.... Very entertaining."
—Kirkus Reviews